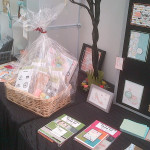 Hello everyone, well I've had a brilliant weekend at the Make It Show with my fellow demonstrators (Fiona, Elaine, Natalie, Diane and Cayleigh) – what an amazing number of people who came to see us and were so interested in the Stampin' Up! products.
We had people from as far away as Belfast and Aberdeen, to people who live 2 minutes away from the venue and everywhere in between. Every day was different and brought different questions and comments about our demonstrations and Make n Takes.
It really was a happy, fun weekend for me talking about what I love best – crafting and stamping!
Everyone who was interested could enter into our Prize Draw and then last night we pulled the winner …. drum roll …. and that was Rachael B from Church Crookham – just a few miles from the show – she won all the stamp sets from the Sale-a-bration promotion along with the matching Banner Punch, Heartfelt Banner set, Good as Gold card set and the Sweet Sorbet Accessory Pack – a very lucky lady and I can confirm she was extremely pleased to have won! Congratulations Rachael 🙂
So, another year at Make It is over and I've met some wonderful new people who I hope will come to love Stampin' Up! as much as I do and who I hope I'll have a chance to craft with again in the near future.
During the show I demonstrated the Envelope Punch Board and made some envelopes (of course) but also some boxes – I will be creating a short sheet with all the details on sizes, measurements and score lines and posting it up later this week – so keep your eyes out if you liked what you saw!
I'm off to finish unpacking now but will be back again soon! Thanks, Pip