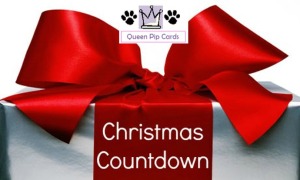 Welcome to Queen Pip's Christmas Countdown Day 4! What are we opening today in our countdown calendar? Well, today I thought I'd share more details on my tiny treat boxes that were part of my Christmas Special back on November 1st.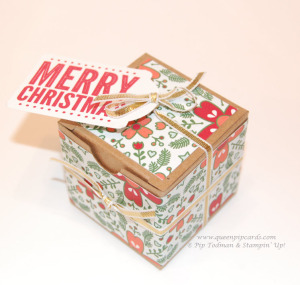 These are cute & are great to make into an advent calendar themselves, but are also big enough for some table gifts or boxing day gifts to hang on the tree. I'm not sure how many people do St Stephen's Day these days, but it was generally the day when the house servants got a present from their employers (in a box) and went home to their families for a well earned rest! Also tradesmen would call on houses and get a little present to say thank you for all their work during the year. Now of course it's the start (or continuance) of Sales! I like the idea though of having little presents on the tree just in case people come to call – and you can give them a small boxing day gift. These tiny treat boxes are perfect!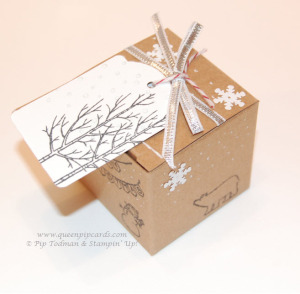 Directions:
Always stamp your box before assembly! It's a lot easier that way. My stamped box uses the White Christmas Stampset and has a different image on each side and then 2 birds & some snow on top.
My other two boxes use a 1 3/4″ strip wide piece of any Christmas Designer Series Paper wrapped around the box, with another piece on top.
The great thing is you can wrap the ribbon around it's middle, or tie on top, or tie under the lid & on top, so you can open it without having to untie it! They're all pretty.
If you'd like to make your own, you get 25 boxes in a packet for just £6.25 – you don't need to wait for the sales for these! Again, I used a lot of different papers and ribbons on mine so you can see lots of styles, but you can make them with just one stampset and punch and get a great result x 25!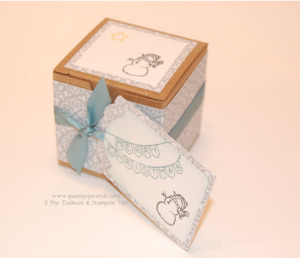 Hope you liked today's project, if you did pop back tomorrow night for some more instruction and inspiration! Below you will find the items I used to make this card, just click the links to go to My Shop.
Thanks, Pip x