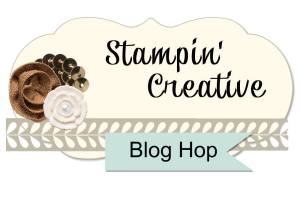 Hi everyone, here we are back again the Stampin' Creative Blog Hop team! So that means another month has gone by already – I really don't know where this year is going! It also means that it's Retirement List time, so this month we decided we'd use our hop for saying goodbye to our favourite yet In-Colour range. Whether you've joined me from the amazing Caroline or you're starting here, you'll want to hop around our blog hop and see the creations we've made using our favourites from the In Colours 2013-2015 range.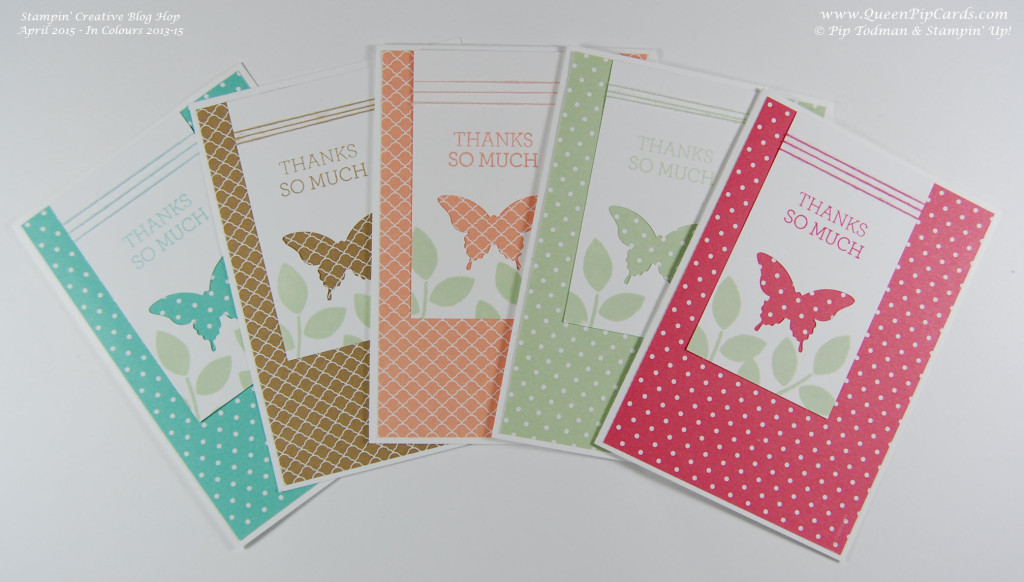 Now I know that all of the ladies had their favourite colours, but me, I loved them ALL so I couldn't choose which to focus on. I'm sure that you'll forgive me that, because it means I had to make multiple projects with all the colours in!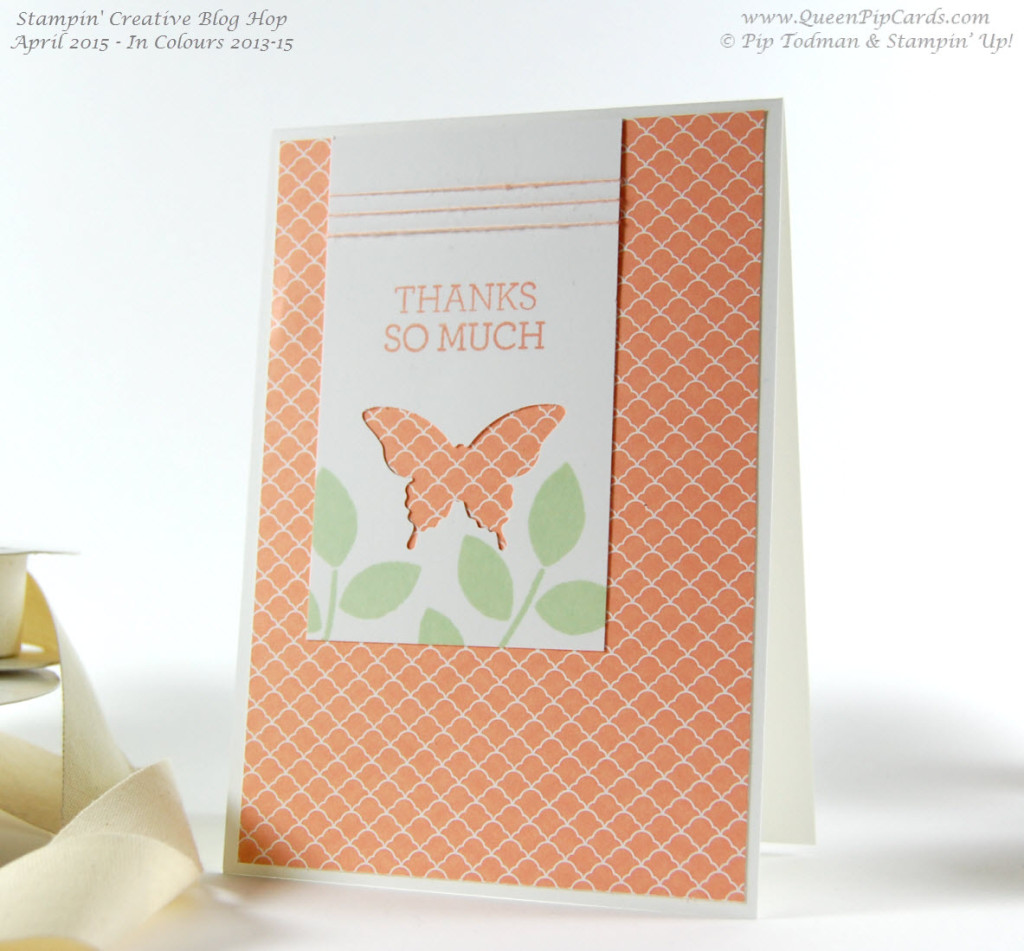 I was inspired by a card I saw on Pinterest and decided to change it up a bit, using just one thread from the Thick Bakers Twine, the Elegant Butterfly Punch and the new Crazy About You stampset along with the Designer Series Paperstack and inks I made a set of 5 cards. I thought about making a box or big envelope to put them in, but decided I'd done something similar on my Spring Special post, so I decided to go for a Bag and separate Box – either of which you could use with any of the cards.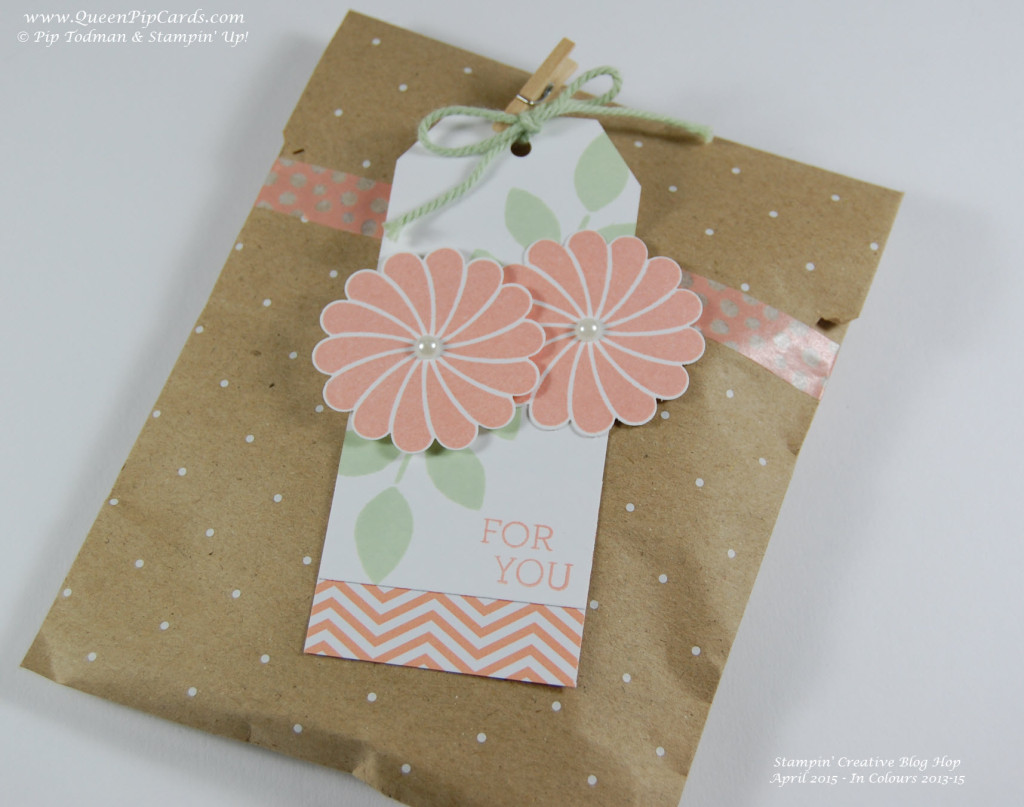 The Bag also used some of the yummy Washi tape from the Sweet Dreams Designer Washi Tape collection of 5 rolls! Here's a close up of the tag itself. I changed it up from the Elegant Butterfly in the cards to the spiral flower as a stamped image punched out with the scallop circle punch that perfectly matches the stamp.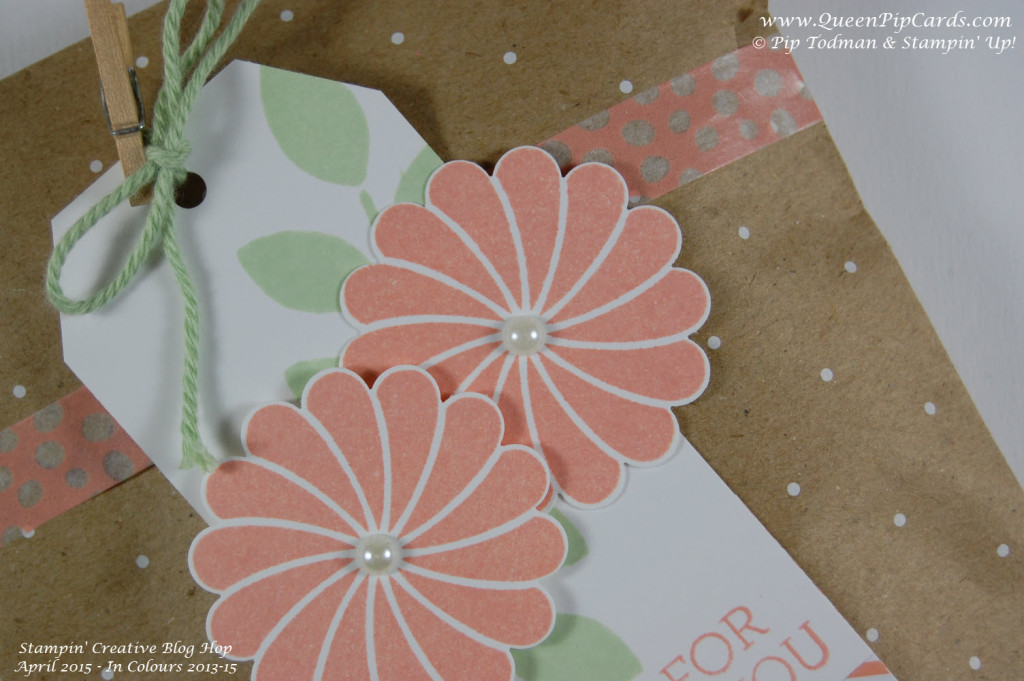 For the Box I decided to use our medium size box and the beautiful White Jute Ribbon as a belly band – with a difference – because what you can't see is that I velcroed each end, so you can pull the band apart rather than having to worry about slipping it on & off – by putting a supporting punched circle under & over each ribbon end it was quite secure – but also allowed easy access!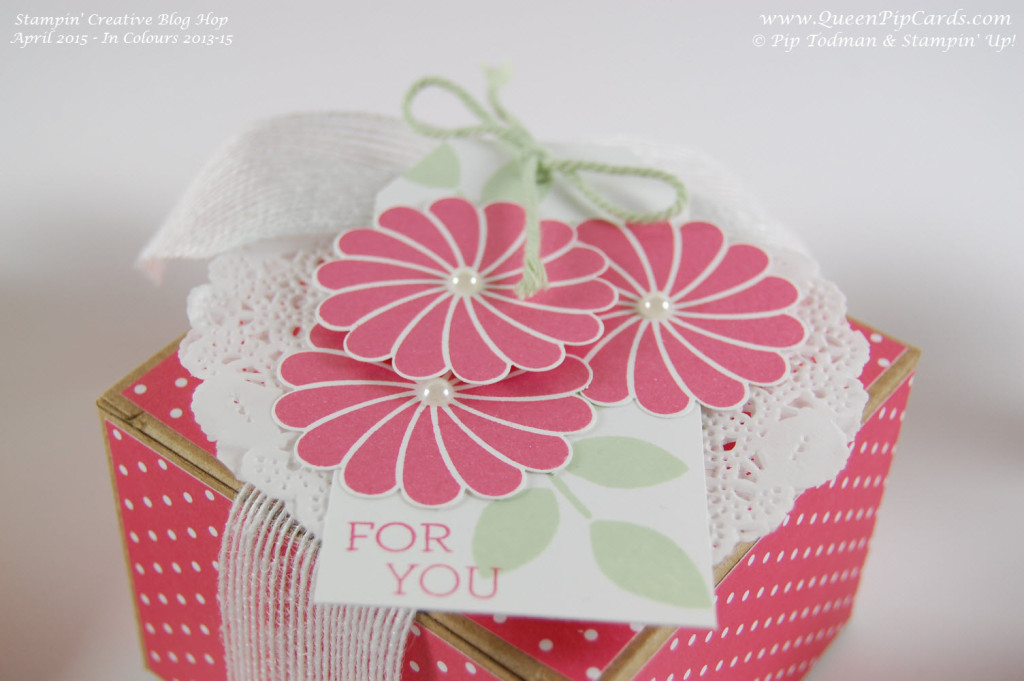 The stampset Crazy About You is one of my new time favourites and I really hope that it carries over into the next catalogue (not long now to find out!) but, I will be very sad to see these gorgeous In Colours go out – I know we'll get new colours too, but I've loved these spring fresh colours and I know so many of you have aswell. I think, if I had to pick just one, it would have to be Coastal Cabana!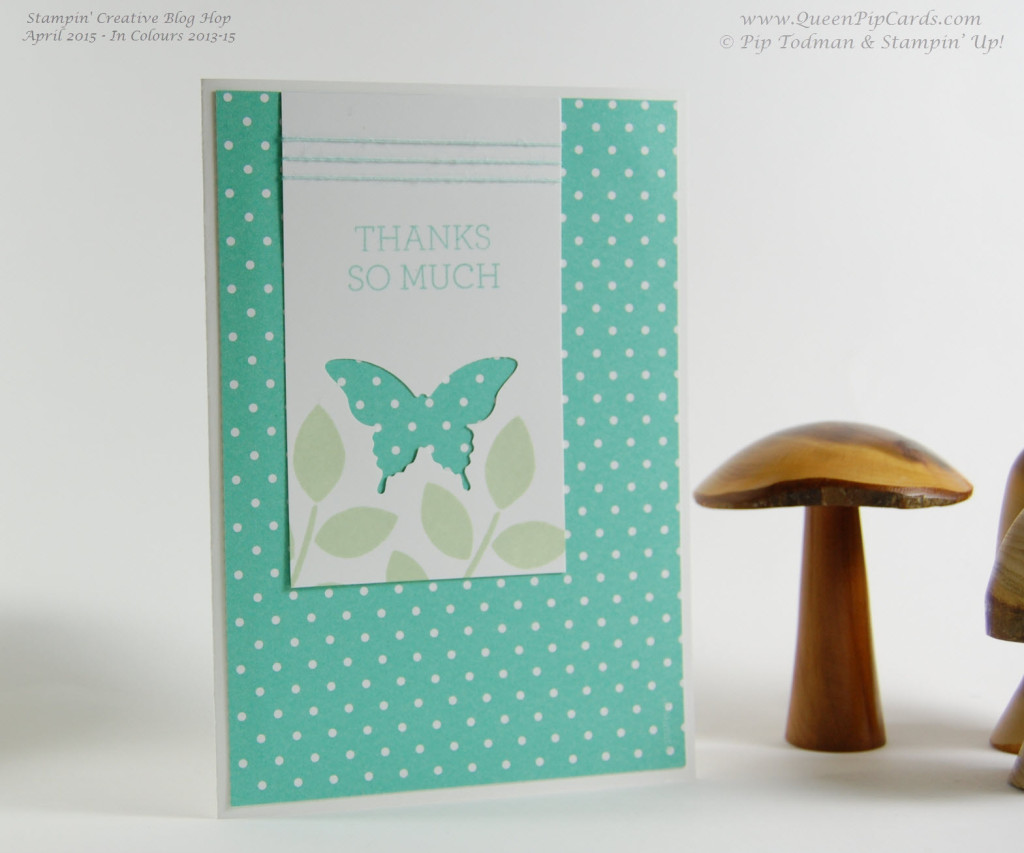 So, for more inspiration on what you can do with the In Colours that you have (because I'm sad to say they've ALL Sold Out now!!!) please hop on over to my fellow Stampin' Creative team members and see what amazing projects they have in store for you. Even if you haven't got the In Colours, all of these can be re-made with alternative colours – so have a play and CASE away!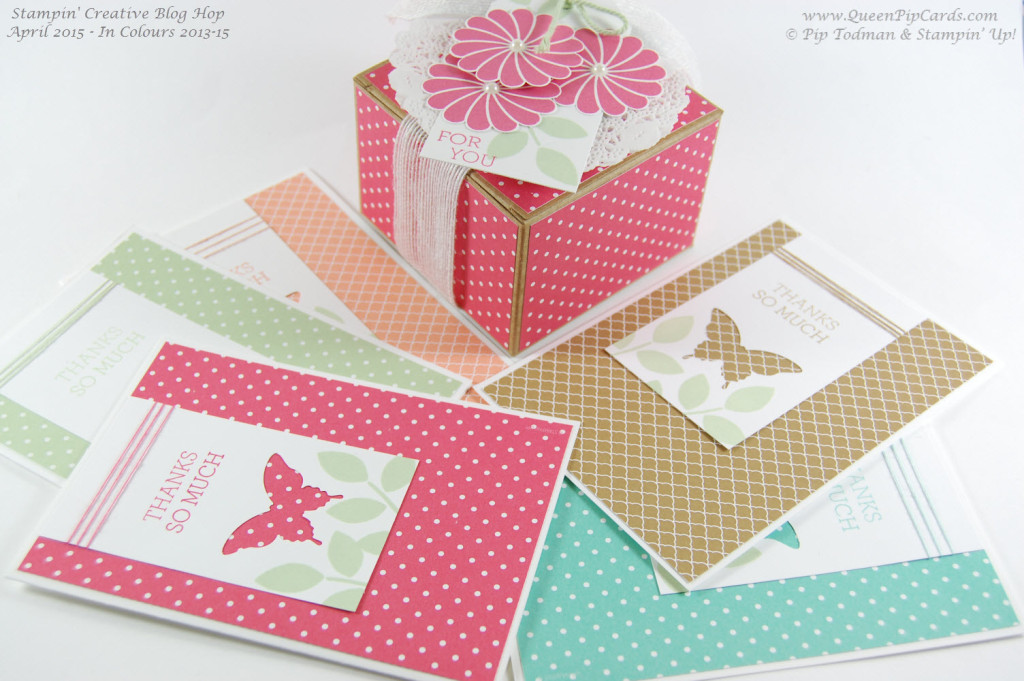 Hop along and have fun, but come back and order any of the remaining items you like the look of, just click on the items below to go straight to my SHOP and if your order is less than £150 please use the Hostess Code NBETBFVU (valid until Monday) to support Queen Pip Cards and to receive a little thank you in the post from me!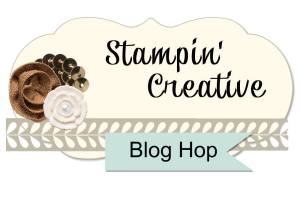 Click on the image or link HERE to hop over to the lovely Lesley, who has some delights in store for you!
Thanks for hopping by, take care & happy hopping, hugs Pip x
Full list of Creative Stampin' Hop this month is:
Kim
Emily
Mikaela
Emma
Caroline
Pip – YOU ARE HERE
Lesley