It's a question lots of people ask me – Why Should I Join Stampin' Up!? and my reply is really simple – why wouldn't you want to? It's the best thing I've ever done apart from marrying my husband. And it was the best thing long before I ever started it as a business. I think lots of people forget I joined Stampin' Up! for the same reason you probably will – for the discount!
Why Did I Join Stampin' Up!?
I had a busy, full time corporate job, travelling all over the place and I had no spare time to speak of.  But, we'd just lost our gorgeous dog after 11 lovely years with him, and I was so stressed with work & so sad not to have him with us, that I needed something to escape into. Card making had become that escape previously and it came back with a passion when I found Stampin' Up! So my "Why Should I Join Stampin' Up!" was very simple – discount on fabulous products, friends to craft with and something to cheer me up!
Why Should I Join Stampin' Up!?
Your reasons will be personal to you! All I can tell you is it was a really good decision for me! It has enabled me to change my life. In the early days, it gave me people to craft with and have a laugh with. A new circle of friends who liked the same products I did, so it made it easy to make stuff together as we'd always have something between us. As time went on, I found I enjoyed sharing Stampin' Up! with others and had a go at a vendor show. That really started the ball rolling for me. I never looked back! Somehow I managed to fit classes and a team around my job. Stampin' Up! filled the void left by our dog and took the stress out of my job. Today it IS my job, I run my own business, have a team of my own and wonderful customers. A dream I never even had 7 years ago!
What will I get if I Join Stampin' Up!?
I can't say it will do exactly the same for you, you wouldn't want it to! You have to decide what YOU want Stampin' Up! to bring to your life. Is it friends? Finding fellow crafters to share ideas and get inspiration from? Or is it the chance to get your craft stash at a discount? Or do you dream that one day, you could build a team of customers and teamies yourself? Get to go on the amazing Incentive Trips? Have fun at OnStage events and see the catalogues early? I can tell you – all of this is possible.
How Do I Join?
If you want any of it, then joining is the first step. It's always the right time to join Stampin' Up! and my team called the Royal Stampers. During Sale-a-bration it just gets a little better because you choose 2 extra free stamp sets if you join before 31st March 2018. So, on top of choosing £130 worth of crafty stuff you add your 2 favourite stamp sets of any value. You only pay £99 and it's shipped to your door for free. If you live in the UK, France, Germany, Austria or the Netherlands you can join Stampin' Up! and my team today.
It's a no hassle, no pressure, no commitment offer. Stampin' Up! and I will not force you either through words, hassling emails or anything to stay longer than you want to. But if you want to, we will welcome you into our world for as long as you want to be a part of something amazing! Who knows where it might lead??
Sounds too good to be true doesn't it? That's why I should have celebrated my Stampaversary this month, but I won't until July, because it took me that long to believe it wasn't too good to be true! 7 years on I signed when I was ready, so that was the right time for me, but I did miss out on the special offer. So if there is no reason not to, don't be like me! Sign up today. There really, really is no catch! LOL.
Here are the steps to join
STEP 1. Click on the Join Now images or links on this page to join Stampin' Up!.
STEP 2. Read and agree to the Independent Demonstrator Agreement.
STEP 3. Purchase your Starter Kit using a credit or debit card. The online form will prompt you to choose up to 175 €uro / £130 worth of products to create your own custom Starter Kit, allowing you to start your demoship, your way!
I look forward to joining Sara Douglas CEO of Stampin' Up! in welcoming you to the Stampin' Up! and Royal Stampers families very soon. Any questions, just contact me at pip@queenpipcards.com I'll answer any question you may have. Totally honestly, totally openly. It really is that good an offer! I have a card waiting just for you too, it might look a little like this one!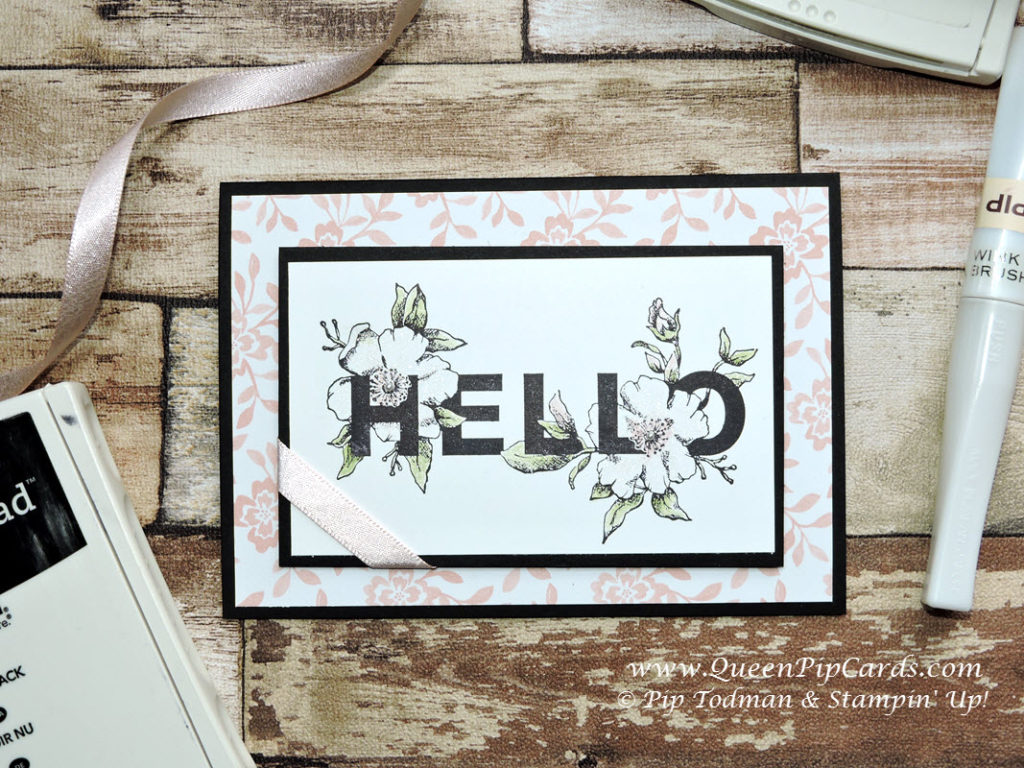 Crafty hugs, Pip x
#QueenPipCards #StampinUp #papercraft #InspiringYourCreativity
Join during Sale-a-bration and get the best offer going! Choose £130 plus TWO additional Stamp Sets (of any value) and pay just £99 with NO shipping charges. THEN get 20% off your future shopping until July 2018! WOW isn't that amazing? No catches, just a great opportunity to get all your favourites at 20% off and join Stampin' Up! and my team the Royal Stampers!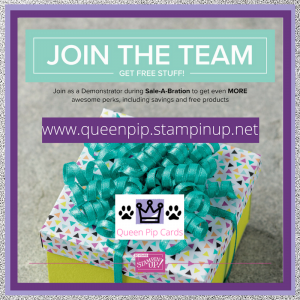 Click HERE to Join my fabulous team the Royal Stampers today or Click here to read about us!
Use my Monthly Giveaway Code for all orders under £150 in the Host Reward box on your Basket screen online. I will send you a special thank you gift from me. Ordering over £150? Keep the rewards for yourself & still get my gift! Click here to read more .
Fill in the Subscribe form below to keep up to date with all the news and get exclusive projects from Queen Pip Cards