Happy Bank Holiday Monday to those of you who have today off work – I've managed to do a lot of crafting so far this weekend as I've been preparing for my technique class next Saturday and a Wedding Design Session for a customer next Sunday, and today will be no exception either! I have to say I have a lot of fun doing both these things!
It's T-1 until the launch of the Autumn / Winter Catalogue from Stampin' Up!, but I decided today to give you something from the current Annual Catalogue and let you use it yourself as inspiration for some Bank Holiday crafting of your own.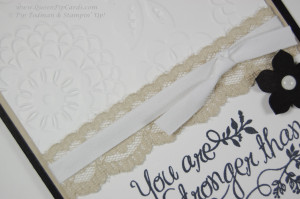 So a simple card this one, for those who might need a little lift or pick me up – I know a lot of people who sometimes have so much going on, they need to be reminded that they can get through everything that life throws at them and keep going and life will get better.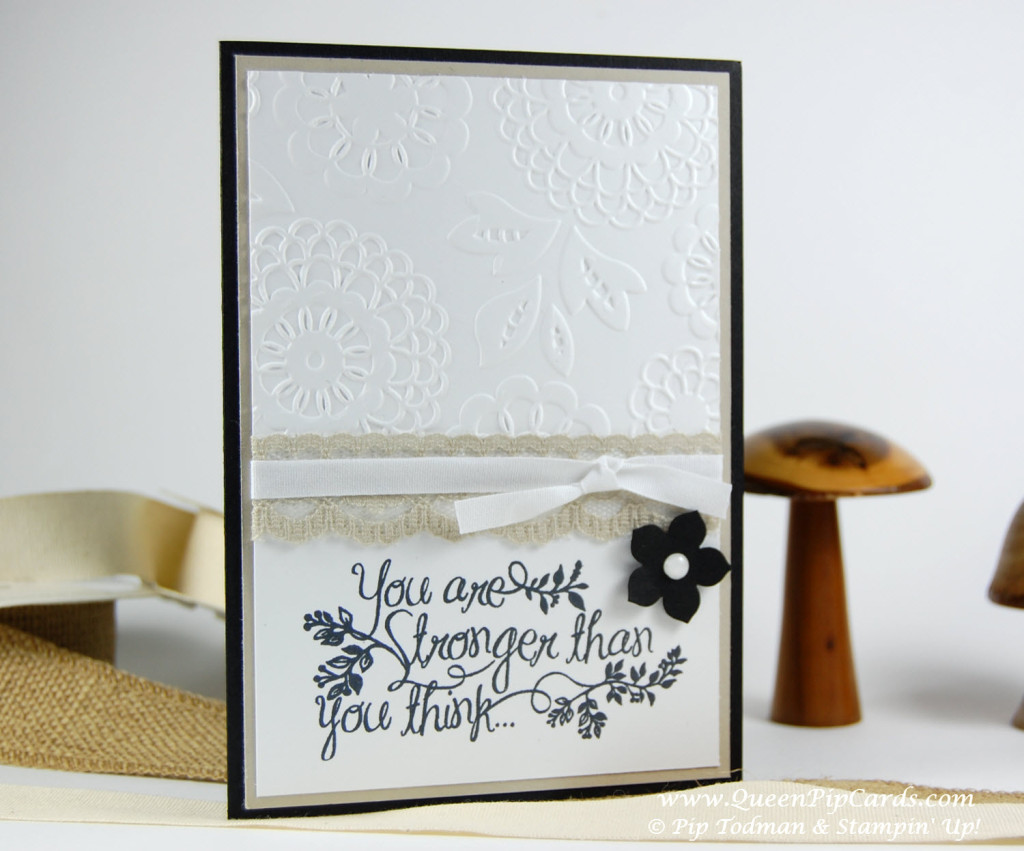 This was just a little card to say – times are hard and dark – but you really are stronger than you think you are – and the matching image for the inside says "and you are not alone" which is just beautiful and in the case of many of my friends very, very true!
So to action steps:
Card base is Basic Black (A5 folded in half), first layer is Sahara Sand (14.4cm x 10cm) with Whisper White (13.9cm x 9.5cm) to top it off.
Take the Whisper White card stock and dry emboss the top half using the Lovely Lace Embossing Folder
Stamp your sentiment in Momento Black – this is from the Heartfelt Sympathy stampset which comes in Photopolymer so it's easy to see where you are stamping
Wrap around the Sahara Sand Lace Ribbon and Whisper White Cotton Ribbon. Add a knot with a separate piece of cotton ribbon (I find this is easier to handle!)
Glue down all the layers onto the card base
Punch a black Petite Petals flower and add a White Accent to the centre. Stick down with a Stampin' Dimensional to give some height.
Inside stick a piece of 14.4cm x 10cm Whisper White card stock and stamp the second sentiment either in the centre or at the bottom – whichever you prefer.
That's it – done! You could make it in brighter colours, but this way it could be used either as a pick me up, or for someone struggling with the aftermath of losing a loved one, without being too "in your face" if you know what I mean. I love the simplicity sometimes of just black and white. The White Accents are a lovely smooth opal white and make a nice change from Rhinestones or Pearls.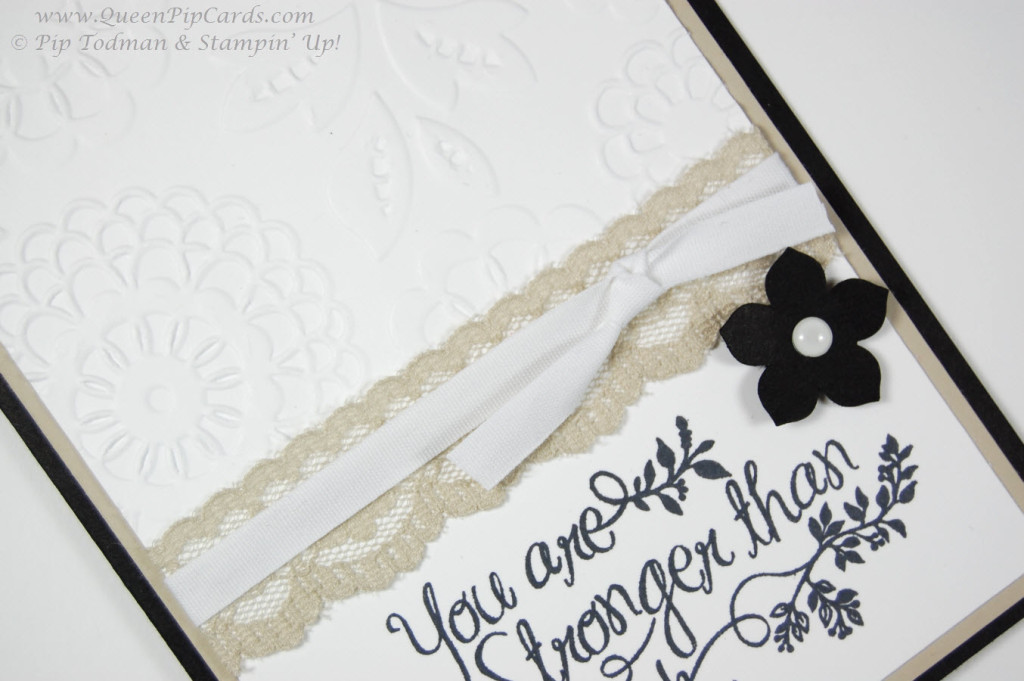 I hope you liked today's card and instruction – check back again tomorrow for the launch of the new catalogue!
Happy crafting, hugs, Pip x