Welcome to my Stampin' Up! Colours page. Here you can see the colour families and read about the 2018 Colour Revamp coming over the next few weeks.
THE STAMPIN' UP! COLOURS ARE EVOLVING!
The spice of life is variety, and that's especially true in the world of colour. Stampin' Up! makes a point to keep an eye on colour trends across different markets and industries. When we see changes happening, we review our colour spectrum to ensure that we remain consistently on top of the trends. This brings us to the 2018 Colour Revamp! In order to keep bringing you the most current and on trend colours, we decided it was time to give our colour collections a makeover.
With this revamp, you'll not only have a new innovative ink case design, but also have a new variety of shades that will inspire creativity and allow you to explore more sides of your crafting.
COLOUR COLLECTIONS
There are still four colour collections, each with ten colours. There is also a new colour group called Basics.
In order to keep our colour collections to exclusive Stampin' Up! colours, we moved Basic Black, Very Vanilla, and Whisper White out of the Neutrals collection. We've also moved a few colours into the Neutrals collection, making it more exciting and colourful!
Some colours have moved around a bit too! These make the new colour families (or collections) balanced.
IN COLOURS
These are colours that are bang up to date on trend, and they have a 2 year life span, although some Stampin' Up! and personal favourites have over the years also made the move into the colour collections.
Here are the current 2017-19 and NEW 2018-2020 In Colour Collections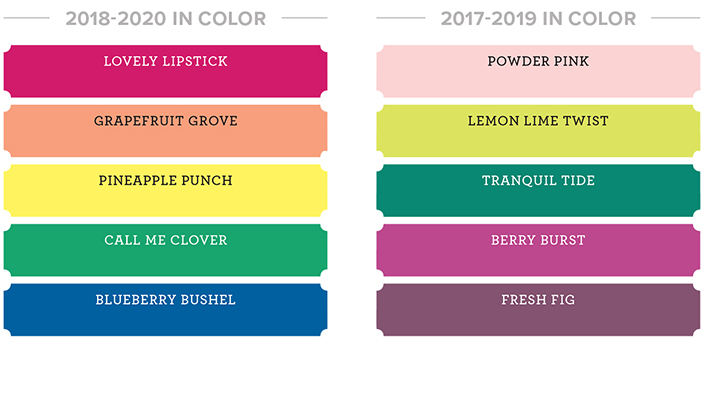 NEW LAUNCHING COLOURS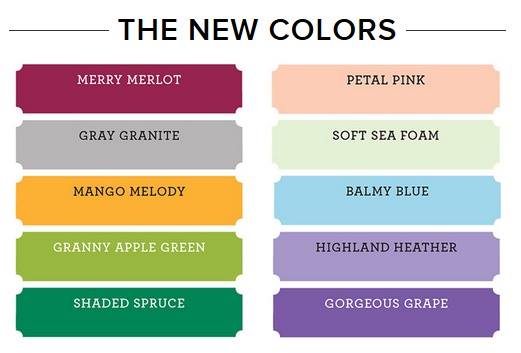 THE FULL COLOUR COLLECTIONS
Here's your at a glance look at all of the wonderful colours you'll be able to play and create with from June 2018! Aren't they beautiful?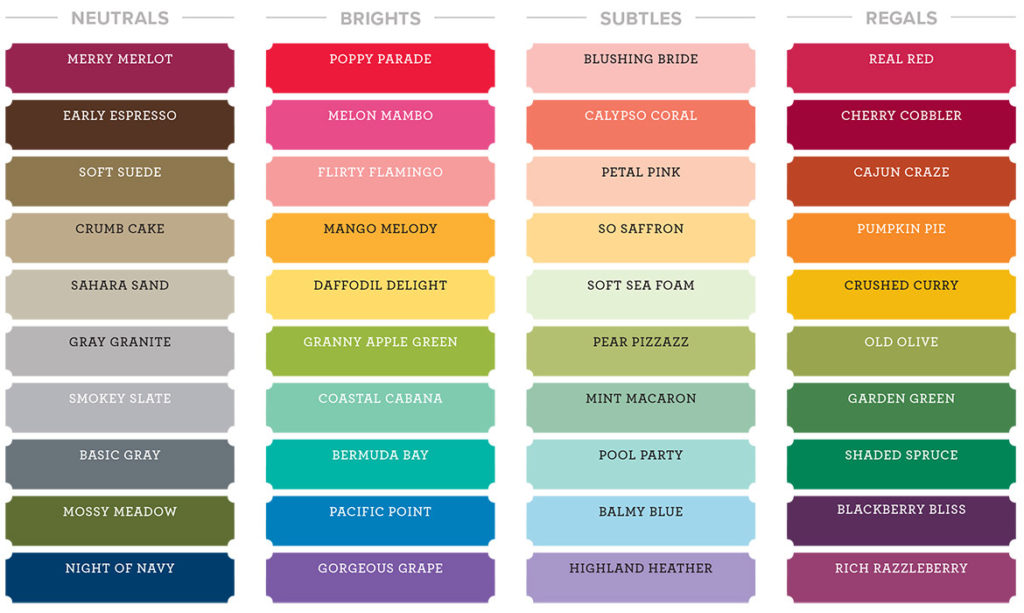 Did you see the great returning in colours that now join the core colours:
Mossy Meadow
Poppy Parade
Flirty Flamingo
Coastal Cabana
Mint Macaron
Blackberry Bliss
I LOVE Colour, and coordinating colours was one of the reasons I fell in love with Stampin' Up! all those years ago. This new set of amazing colours makes my heart sing and my fingers itch to get stamping and combining them.
Want to purchase the colours? Well hop over to my online store from the 1st May when some of them are launching early!
For your reference, here's a list of those colours that are retiring:
On 31 May 2018, thirteen colours are retiring.
Always Artichoke
Chocolate Chip
Elegant Eggplant
Island Indigo
Marina Mist
Perfect Plum
Pink Pirouette
Rose Red
Soft Sky
Tangerine Tango
Tempting Turquoise
Wild Wasabi
Wisteria Wonder
Please note inks are on a while stocks last basis on the retirement list.