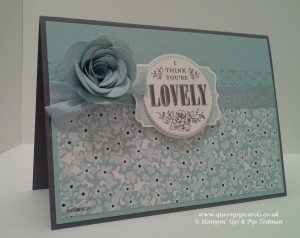 Day 3: Oh how lovely!
This is my FAVOURITE item from Sale-A-Bration, I love the stampset and the papers are now my second favourite, I think, although there are so many lovely things it's hard to choose!
The stampset comes with two large images, the border pattern and some smaller words too, they could be used for any occasion but this is I think a lovely girly card for a friend or female family member.
The flower is created using a new product to be launched in the Spring Seasonal catalogue, so watch this space for more on that next month – and those lucky people who have booked in for my February Technique class will get this as a bonus project at class – sadly the class is full, but if you'd like to make this, then contact me and choose one of my available dates so you can hold your own private class or party and have this as one of the projects.
It's lovely to know that there is just 3 days to go before you can order all of the wonderful Spring items and get Sale-a-bration products FREE with evey £45 you spend (excl p+p) – so keep adding to your wishlist and let me know what your FAVOURITE item is going to be!