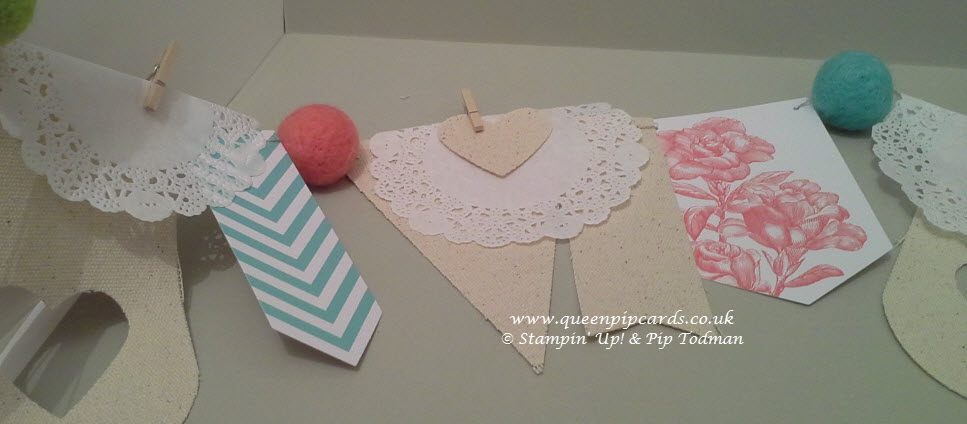 Day 2: Hip, Hip Hurray!
We're nearly there and this is almost my last Sale-a-bration post, so far I've shown you stampsets and the punch and the paper set that are coming, but today I wanted to share the new Sale-a-bration Heartfelt banner kit with you, this is kit that allows you to create a banner from scratch within minutes – I haven't yet added my personalised photo's or elements, but you can stamp on the canvas fabric and you can add pretty much any embellishment you fancy to it along with words, photo's or images.
It's so easy, all the banner pieces have holes pre-punched, it comes with the twine and needle for easy threading, and you get the doilies, pom-poms and pegs too – how great is that, easy party banner which you can mix and match as you want!
Buy the products to make your invitations, party bags or boxes and you could get this for FREE!
Heartfelt Banner Kit: Item # 133514
kit includes
• 6 die-cut Designer Series Paper banners (3 each of 2 designs; largest banner: 6.5 x 10.2 cm)
• 5 doilies (10.2 cm diam.), 9 felt balls (2.5 cm)
• 9 die-cut fabric canvas banners
– 2 each of 3 designs (largest banner: 9.5 x 12.7 cm)
– 3 each of 1 design (7.6 x 12.7 cm)
• 7 mini wooden clothespins
• 2 pieces of Natural Linen Thread (1.8 m each)
• 1 needle (5.4 cm)
Back tomorrow with my final countdown day! I may have to put up my banner to celebrate 🙂