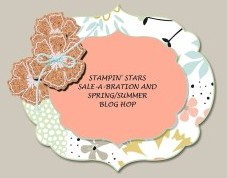 It's what we've all been waiting for, yes it's here. Today you can order from the NEW Seasonal Spring Catalogue and if you spend over £45 you can choose a Sale-a-bration item for FREE.
To mark the occasion we're holding a Stampin' Stars Blog Hop – so you've got the chance to see both my creations and those from some of my fellow demonstrators. If you've not done a blog hop before, it's very easy to follow. Each of us in the hop have created a blog post and we've got forward and backward links on our posts so you can hop around each blog post looking at all the wonderful inspiration and end up back where you started, so have a read, hop around and then hop back here to let me know what you think. Don't forget you can place your order directly on via my SHOP, or you can contact me via email or phone.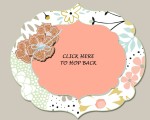 So either you've started here with me, or you've hopped here from Nicky, either way welcome to you and I hope you're having a good day. Nicky's stuff is always fab, so I hope if you have arrived here you hop all the way around so you see everyone … but first!
I want to share a couple of projects with you using products from the Sale-a-bration catalogue and the new Spring Seasonal catalogue. Here you can see the Good as Gold card kits that you can earn as a Sale-a-bration item with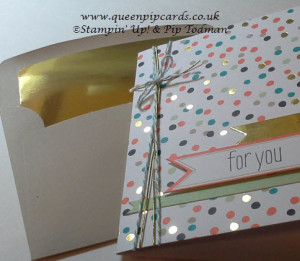 an order of £45 or more, you get enough to make 8 cards, with matching envelopes with GOLD liners, it's very lush – there is a lot of foiling on the cards too, it's very simple and quick as it's all pre-done for you – but if you're in a rush or need a bulk set of cards this could be a choice for you.
It matches well with the new Seasonal's  Happenings Simply Created Card Kit 133329  £13.50 which gives you a set to make up 15 cards (5 each of 3 designs) Check out page 31 of our new Seasonal Catalogue!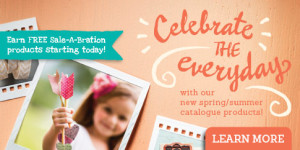 This next card showcases some of the lovely new Fresh Prints DSP, one of the new Stampsets Perfect Pennants along with a new tool – Fringe Scissors which are great fun to use.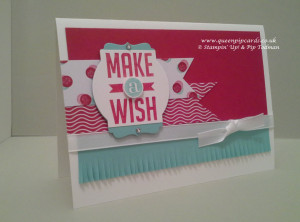 Real Red, Whisper White and Costal Cobana are the colours used and they are so bright and fresh, I just love them.
I've added the use of the Deco Framelits and some White Taffeta ribbon to make this effective and bold card for someone's birthday or celebration.
If you'd like to see any of these products in person then I hope you've booked to come to my launch party on 2nd February or maybe one of my classes next month – I'll also be at the Make It show at the end of February, so you can always come and see me and my designs there along with some of my fellow demonstrators – some of whom you'll blog hop to today!
So that's it, my countdown is complete and Sale-a-bration and the lovely new catalogue is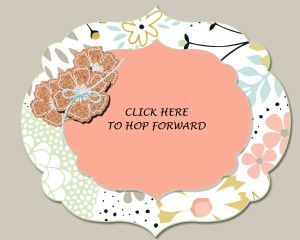 LIVE today. You can buy any of the items you've seen here at my SHOP or from me in person. Why don't you hop around the blog hop and see what other lovely inspiration my fellow crafters have for you, Next it's onto see Christine who always has some gorgeous ideas.