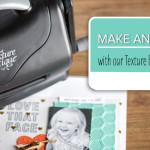 Hello friends, today I'm sharing the new product just launched by Stampin' Up! as I can't share any of the cards I've been making as they are all for my next couple of classes – mean I know! Maybe next week I'll give you a sneak peek 🙂
So what's this new product? It's the Texture Boutique Embossing Machine (item 132657) for just £26.95. It's embossing made easy. Texture Boutique is the perfect, portable tool to create embossed cards, tags, embellishments, and more. Use it with the Stampin' Up! exclusive Textured Impressions Embossing Folders. If you haven't the space for a Big Shot, or if you want something light to transport to crops or classes, then try this for all your embossing projects.
If you add a few Embossing Folders from our new Seasonal Catalogue or from our Annual Catalogue and your order reaches £45 don't forget you'll get a FREE Sale-A-Bration item of your choice from the Sale-A-Bration catalogue too!
Read all about the Sale-A-Bration offers here.
Embossing provides a unique texture to cards and boxes that brings them alive and gives a more 3D effect. If you've never tried it, it's really simple to do providing you have a good product to help you – you can try out some very simple embossing with your scoreboard. Take a piece of cardstock 14.4cm x 10cm which will form the base matt of a card and place it onto your scoreboard with the long side at the top. Now score at the 12cm and the 13cm score lines. Pick up the cardstock and turn it over – you will see you've now embossed 2 lines 1 cm apart on the cardstock – this would be the side you leave showing on your card to add interest or to maybe the backdrop for a sentiment. With an embossing machine like the Texture Boutique you can use plastic folders that you place your cardstock into, run the whole folder through the machine and the pressure pushes out an image – just like you pushed out the lines using your scoring tool – that's dry embossing and it can look wonderful.
Here are some examples: