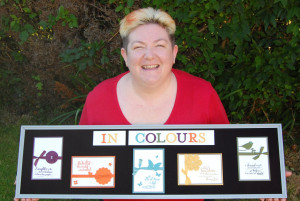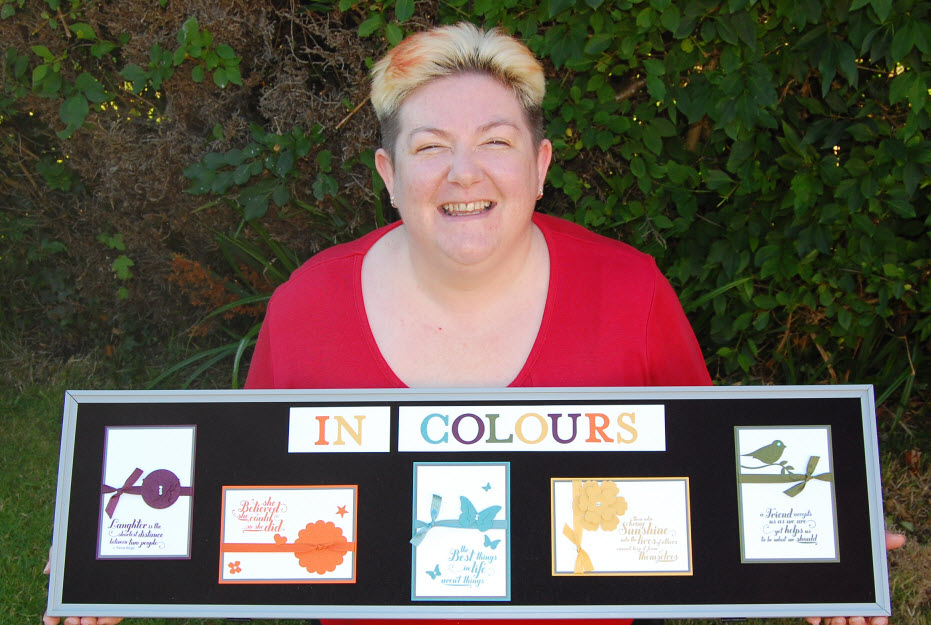 Good morning everyone and welcome to the first day you can order from the new Stampin' Up! Annual Catalogue – yes it's LIVE! The new 2014-2015 Catalogue is packed full of goodies and to showcase it properly our team have organised a blog hop just for your inspiration and pleasure. So here's the scoop, we've each done a project to share with you and you can hop back and forth between us all – if you've arrived here from 2BigGirlsCrafting welcome, if you're starting here then you have some treats in store! Yes this is me with the lovely new In Colours … do I look happy – told you I was excited 🙂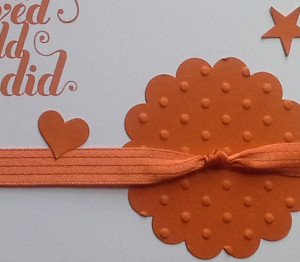 These in colour cards are so easy to make, just pick a new in colour for your base, Basic Grey for the mat, then Whisper White for the top layer onto which you stamp your favourite saying from Feel Goods – then decide which punches you'd like to use and there you go! A few embossed bits, some of the new Satin Ribbon and Rhinestones and you're done!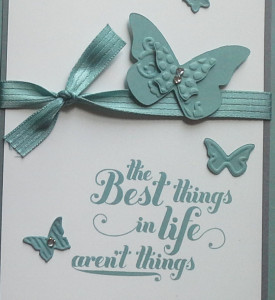 Apart from my set of in colour cards above, which was CASED from Ronda Wade, here is another little project for today's blog hop – a Hamburger Die box in the new Maritime Designer Series Papers (DSPs), with new Coastal Cabana thick twine, and using the Open Sea and new Traveller Stampsets.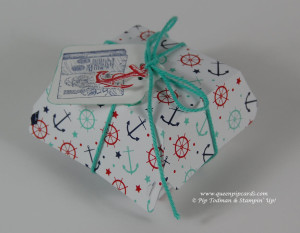 Do you like it? I LOVE these little boxes and I can see them being brilliant for wedding favours and Christmas presents alike – I have another one to show you next week after class 🙂 I also promised you a link to the new Catalogue online but I'm doing this in advance, so I can't link it yet – in the meantime you can see all the new lovely items in my SHOP or you can check the catalogue out at the Stampin' Up! main site; but before you dash off and look around, please remember use my Hostess Code TBRJYRXN (valid until 8pm 1st July) on any order under £150 and I'll send you a gift of appreciation for doing so, if you order more than £150 then you'll get your own Hostess Pounds to spend AND remember to hop around the blog posts from the other Stampin' Stars and see all the inspiration they've got for you.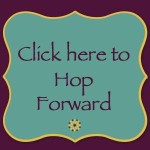 Next u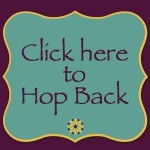 p is the lovely Too Crafty Jo – click here or use the buttons to hop forwards or back. The list below shows everyone taking part, so you can see where you're up to at any point. Thanks for visiting & hope to see you again soon, happy stamping, love Pip x
Pip Todman – You are Here!