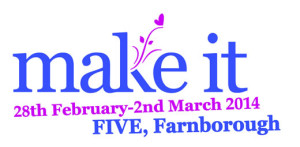 Hi everyone, a quick mid-week post to remind you all that I'll be at the Make It Show at Five Farnborough this weekend from tomorrow through Sunday. The Stampin' Up! Stand is number D28 and I'm very excited to be doing all 3 days this year, so I hope to see you all, no matter what day you're visiting.
We have some great "make n takes" planned for you and there will be demonstrations by the whole team. As promised, I will be demonstrating some of the wonderful things you can make with the Envelope Punch Board and yes these will be different from the class I did earlier this month, so come along and have a chat.
I'll be taking orders and we're offering a special Show discount of 10% so if you can come along and make use of that special offer that's great – but I know some of you can't come to Make It this year, so … if you order from me online between tomorrow morning Friday 28th Feb and Sunday night 2nd March and you enter this Hostess Code:  VBJAQKAQ I will send you a crafty gift worth 10% of your order value (excluding p+p and to UK addresses only), it might be some handmade cards if your order is small, or some Stampin' Up! Product if your order is large – but I will send you something I think you'll like. So now you can join in even if you can't be there! To enter my shop just click HERE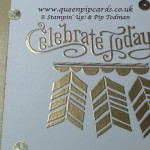 Today we're setting up the stand and then tomorrow it all starts, I'll be back on Saturday with my normal weekly post – in the meantime, have fun and happy stamping where ever you are!