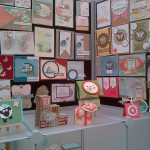 Well hi there! I may well have seen many of you over the last 2 days, and I have another day to go at this years Make It Show. If you've not been or haven't managed to get here this year I can tell you it's been brilliant fun! Here is a close up of some of our display boards that everyone can come, photograph and generally ask "how did you to that?".
We've had free Make n Takes for all our customers at the stand and we've been filled to capacity both days so far.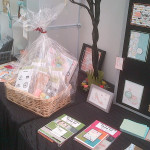 I think everyone is really hoping to win this years prize which is a full collection of items from this years Sale-A-Bration catalogue – here's a photo of it on the stand, how amazing is that? All you have to do is fill in one of our Prize Draw forms, so if you didn't do it so far & you're back tomorrow, make sure you pop your's in the box!
Make It always has a special place in my heart as it's my home venue – I live 10 minutes away and work even closer than that – I can see the venue from my office windows! Every year I hope it will be better than the last and that I'll meet some more amazing crafters who will inspire me, share my passion for crafting and join my team – so far it's lived up to expectations.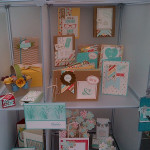 I've also been showing what we've got in store for our Special Event on the 15th March, along with some of the projects from our Envelope Punch Board class. So far everyone's liked the projects which is great! If you don't have your place booked I have a few left, so get in touch today!
I've met many of my customers through the Make It show and they've been coming to Make It for years and yet there are always more for whom it's their first year or they've just started out in crafting – I love meeting you all! It's also been such a delight to have current friends and customers pop over & say hi, it's been great seeing you all!
If you came along and took my details, you may well be reading my blog for the first time – so welcome and I hope you'll find what you're looking for and come and join us at class sometime soon, or shop online if you live too far away, but I hope you always find some inspiration here with Queen Pip Cards.