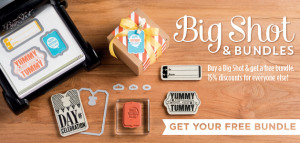 Oooooh I couldn't help a sneaky post to tell you all about this months amazing promotion. It's amazing 🙂
Want a Big Shot? NEED a Big Shot? Not sure you can justify the price?
Well, buy a Big Shot this month via my Shop and you get to choose one of 5 exclusive bundles of a stampset and matching framelits FOR FREE!!! That's up to an amazing £50+ saving (depending on which bundle you go for).
Already have a Big Shot and feeling sulky you don't get anything …. don't worry you DO … you can choose one of the 5 exclusive bundles and get 15% off!
So everyone is a winner. This promotion is amazing (did I say that already once or twice?!?).
So here's what you need to know (the small print), you can't use the bundles in your hostess spend or 1/2 price items – but hey, if you buy a Big Shot, get the FREE bundle and add in some card stock & embellishments you'll soon be hitting the Hostess Amount of £150 and then you can choose another £25 worth of products FOR FREE! It goes on & on.
Want to see the bundles? Head over to My Shop or check out this Flyer_BS_Demo_8.1-31.2014_UK with all the information on it.
So, don't delay (although it's available on this offer until 31st August), buy that present that keeps on giving TODAY via My Shop!