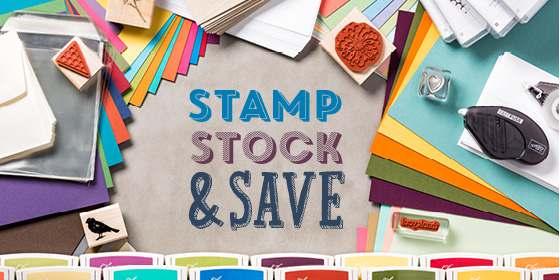 Hello stampers! Wow what a crazy time it is at the moment, we have 2 yes TWO amazing promotions that I have to tell you about. Firstly, we have our Stamp, Stock and Save promotion that runs out Monday night – YES tomorrow night!
Get 15% off cardstock, ink pads, envelopes, and fast fuse and get 20% off selected Stampsets too!!
Click this link to get all the details and Shop Now before it's too late – last orders to be submitted by 23.50pm Monday 6th October.

And for our next Promotion … Join the Royal Stampers team and you'll get a FREE stack of Designer Series Paper (of your choice, excluding specialities) EVERY MONTH for a whopping SIX MONTHS.
You'll receive one FREE package of Designer Series Paper, every month for the next six months, when you sign up to my team. After signing up, you simply need to place a demonstrator order each month to redeem your chosen qualifying paper!
You must Join during the month of October to qualify for this sweet deal.
Details:
One FREE package of Designer Series Paper, every month for six months, when you sign up to be a demonstrator during the month of October.
Redeemable beginning November 2014 and ending April 2015.
Free paper must be redeemed on demonstrator order and is subject to shipping and handling.
You must remain active during incentive period (November 2014-April 2015) to be eligible for free items.
Specialty Designer Series Paper and Designer Series Paper Stacks not included.
Deadlines:
Read all about being a member of the Stampin' Up! family here or if you think this is too good an offer to miss, click here to Join My Team NOW! I'd love for you to be a member of my team, we have such a lot of fun and you get all of this as well as your FREE DSP.
30% discount* off your first qualifying order
20% discount* off every order after that
The opportunity to make 20% commission* on all sales to friends, family or anyone else!
Preview of new catalogues or specials before anyone else
Online support centre for everything you need to help you from how to place an order, to running a party and lots of inspiration too
Membership of the Queen Pip Royal Stampers team
Monthly team meetings (face to face, conference calls, all day sessions)
Help and support from me on how to make the most from being a Royal Stamper and Stampin' Up! independent demonstrator
The opportunity to earn FREE products in your first 6 months of membership (on top of your FREE paper)
Ability to attend Stampin' Up! events
Best of all the chance to meet and create with like minded people, meeting new friends and having a lot of fun
How much you do is up to you – but the more you do the greater the rewards
* Discount & commission are applied to the pre-VAT amount of catalogue prices.
No strings, no pressure to do anything – but my help and support to make your demoship what you want it to be and to have a lot of fun along the way. Maybe you don't just want to purchase the Starter Kit, you might need to earn some extra money or you might be looking for a new challenge and want to be your own boss – everything is possible it's up to you, but I can help you get started – that's why it's called the Starter Kit!
So what are you waiting for? There is really nothing to lose; you get £130 worth of products for just £99 – what a bargain! Do you want to get this deal? YES – then select your products (you cannot go over £130) and then read and agree to the Independent Demonstrator Agreement by clicking here once you've done that you'll be asked to purchase your Starter Kit and that's it – just sit back and wait for your parcel to arrive! If you'd like more information before you purchase the Starter Kit then click this link here.
I'd love for you to be a member of my team, we have such a lot of fun. Happy stamping this week, hope you make the most of these wonderful offers, will be back next week, enjoy and thanks for stopping by, Pip xx