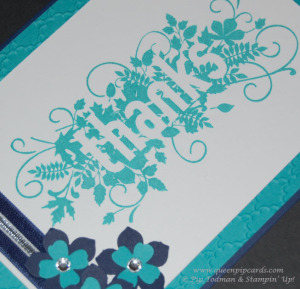 Hi everyone, it's been a while since I shared my Simply Stylish class with you, so I thought I'd share September's as it was held today and shows off a few of the lovely new stamps in the Autumn / Winter catalogue that I've fallen in love with.
Firstly, the Seasonably Scattered stampset makes another return to my crafting – I know you've seen this one with the resist embossing technique class, but I wanted to show you how cool it looks just stamped on it's own in a single colour – isn't it stunning – so very easy to do and achieve a great result, I thought I'd share it for anyone who thought that resist embossing might be a step too far for them at the moment or for quick cards where you don't have time to faff!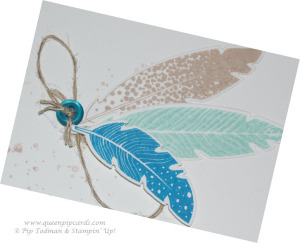 The next card shows off the Four Feathers stamps and their matching framelits, are they not just really fun? Very simple again, yet because they're cut out it looks like you've spent ages making it but you know the secret that the dies do the work for you.
I went for calm tones on this one for the class today and paired them with some thread and a button, but this could also be done in Melon Mambo or Tempting Turquoise which would be much more vibrant, and of course embossing is always an option. So many possibilities and designs from just 4 little feathers and a framelit set. With a combined cost of just £18.80 I can't see how anyone can resist it. Here's the full size card where you can see I pulled out the Pool Party and the Crumb Cake colours in the base card and mat, the sentiments is from Petite Pairs which is a good set to stamp on two sides of an image which draws the eye from right to left.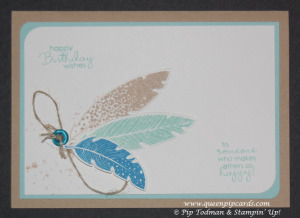 Next is a simple white on white card just to say Hello!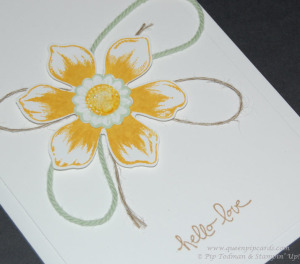 Using one of the Beautiful Bunch flowers stamped in Crushed Curry with a Pistachio Pudding outer ring and then a Crushed Curry middle topped with Dazzling Details.
The sentiment is from the new Good Greetings set which you can earn for FREE by hosting a party with me and reaching just £200 in party sales, AND you get your normal hostess benefits too. A great promotion which lasts until the end of October – have you booked your party with me yet? Check out my Events dates for Available for Party dates & RSVP today to book yours.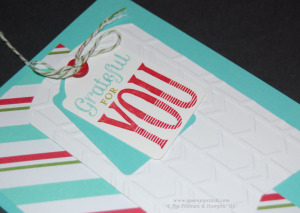 For our fourth card I decided to use one of the kits from last year and change it up a bit using this years newest Stamp and Punch combo – the Merry Everything Stampset and the Note Tag Punch. Using Write Markers you can get the 3 coloured stamp effect which works even though one of the original colours in the kit has retired – I think Old Olive works as a contrast to the original Gumball Green – what do you think?
Finally, I felt we had been a bit subdued in the colours and so I decided to go all out for Gold in the next card. This uses the gorgeous Gold Vellum, and the Gold Metallic ink, some of the old style Silver Glimmer and the That's the Ticket Stampset and matching punch and it's a WOW card!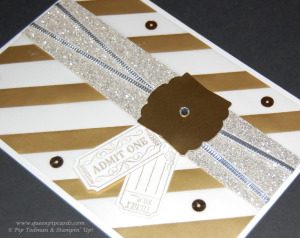 Here it is from another angle, hopefully you can see all the shine on this one – sequins, Rhinestones, Gold Foil and Silver ribbon I know it sounds so over the top, but I think it works!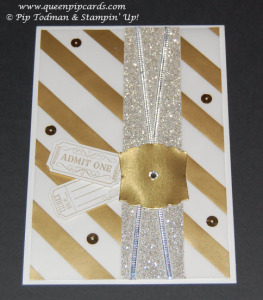 So, I hope you've enjoyed the glimpse of this month's cards, next month we'll probably be hitting a few Christmas themes as it's getting ever closer and a few extra always come in handy! Until then, thanks for stopping by, click below to purchase anything you like and happy stamping until next week, Pip xx