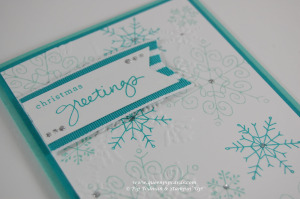 Happy Sunday everyone! I hope you've been having a good week? I'm much better than I was last week and today I held my final Simply Stylish class of the year! This class is all about stamping and having fun, it's not technical and it's much more about everyone going home with a stock of cards they can use throughout the next month – so whilst there was Christmas, we also did other occasions that come in handy too. I'm going to share my class designs but make sure you scroll to the end for some news of an exciting Promotion starting Tuesday 25th November for 1 week only!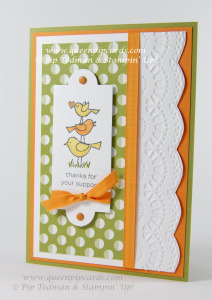 I have wanted to do a set of cards with the For the Birds stamps for a long time and they finally made an outing today. This is a great all occasions set as it covers birthdays, valentines / anniversary's, missing you, thank you and Christmas. We didn't use them all – so they will come out again at some point!
Here is I think my favourite card from the set – I love the Pumpkin Pie colours with Old Olive and using the Delicate Designs embossing folder to look like a lacy border.
This is the Christmas one, a penguin on skates, what's not to love there? I think the Lucky Star embossing Folder and Star border punch really sets him off.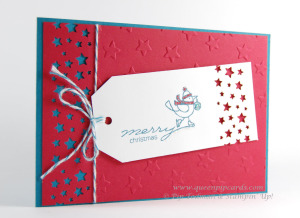 This was the final one of the For The Birds cards we did today – again this is for any occasion and we produced the different coloured image by using Write Markers directly on the stamp, but you could also use Momento and then colour in with Blendabilities, or Staz-on and colour in with Write Markers – so many options!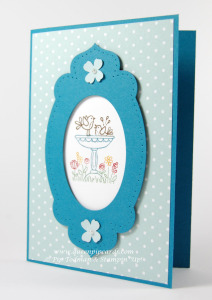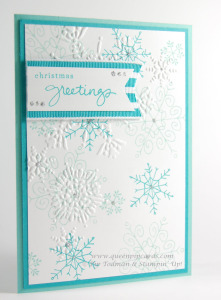 I was then going to stop with this card as my last card, which uses the Endless Wishes stampset and the Northern Flurry Embossing Folder – and the gorgeous stripped ribbon!
Such amazing colours for a really cool Christmas look.
But then I saw this amazing Snowman card & fell in love and knew my ladies would love him too – but I decided to change him up from the one I saw on Ronda Wade's blog and use Blackberry Bliss and I think he pops! Such a clever idea to create his silhouette using punches – so he looks like he's there, but really he's not! So very snazzy and you have to love a Snowman! He doesn't have to be just for Christmas, he could easily be for someone who has a December birthday – just don't put any candles close by – he could melt!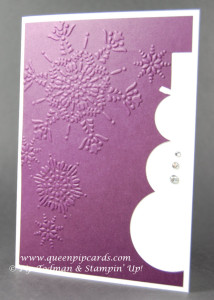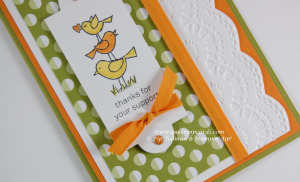 I hope you liked seeing all the cards we made at our final Simply Stylish of the year – my new dates for 2015 will be up on my Classes Calendar shortly, but I can tell you the first one in January is Sunday the 25th – so use the Contact Me form here if you'd like to book your place. Just £10 for the class or FREE with a minimum order on the day with postage capped at £1 per person!
In the meantime if you'd like to purchase any of the items I've used in my designs, please click on the links below – remember you only have until 5th January to buy anything from the Winter Catalogue!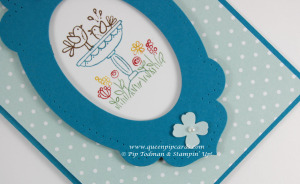 Now for that exciting news I mentioned earlier … would you like 25% off the starter kit price? Would you like to get 5% cash back on your purchases or sales in December? Well join my team between 25th Nov and 2nd Dec (just 1 week) and that's what you'll get, in addition to all the other benefits of buying the starter kit and being a Royal Stamper. I can't release more information until Tuesday – but if you want to know what you get as standard then head over to my Join the Fun page here. You could get all of the items we used today and more in your Starter Kit (you can choose up to £130 worth of products) and you pay £99 – 25% that's an amazing offer! So check it out on Tuesday when it goes live!
Until next time, have a great week, happy stamping & thanks for stopping by, hugs Pip xx