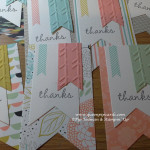 Hello my lovely stampers, today I wanted to share with you some of the fun and games we got up to at my Celebrate Sale-a-bration event. This was an invitation only event for those who either:
Joined my team
Spent over £100
Hosted a qualifying party
Provided they did one of the above during the Sale-a-bration period, then they got an invite to come and have a big thank you party with me. The tags went on their welcome goody bags which they collected upon arrival.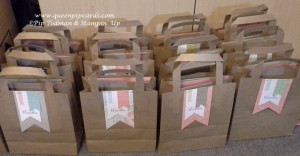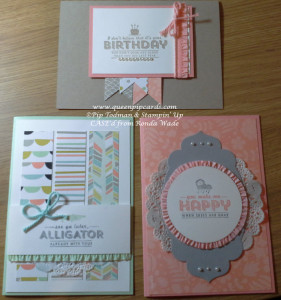 Guests were also welcome for a nominal fee, so all in all we had 12 on the day which was fantastic. We had cakes (of course), and refreshments and there were cards to be made – the whole afternoon was themed around Sale-a-bration.
Each decorated bag contained:
3 Make & Takes for the cards we made during the afternoon
A bingo card!
A Bag in a Box with some chocolate inside (chocolate is a must)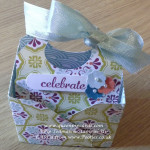 Here's their little Chocolate gift, all wrapped up in last years Sale-a-bration papers – just to keep the theme going!
I wanted to make it a real party – so games were on the agenda, Bingo (hence the card) and Pass the Parcel plus a Raffle and a special Sale-a-bration table too – the fun just kept on coming. I wanted to make this a really special afternoon, because I'm nothing without great customers and team members so this was my way of giving something back and saying how much I appreciate them for joining my team or spending big during the Sale-a-bration period.
I do spoil all my customers no matter how much or little they spend with me, but Sale-a-bration is special and only happens once a year, so I wanted to start a tradition that will hopefully last for years to come. So if you want to join in the celebration next year, remember to ask me about it when Sale-a-bration launches in January 2015!