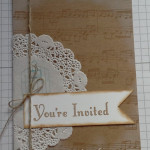 Hi everyone, I'm writing this in advance of Saturday as I'll be away at Stampin Up's UK Regional Training, but I wanted to share one of my wedding style design sessions I run to a) inspire you and b) let you know I can do the same for you if you're having trouble getting started!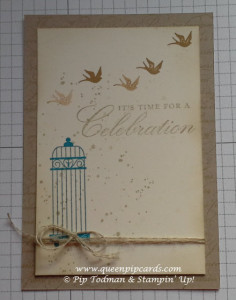 My customer was getting married abroad, but wanted a UK based wedding celebration. She wanted the shabby chic look and she gave me banners, birdcages, dollies and swallows as things she liked. She didn't want hearts, flowers etc. She sent me a few pictures from the web she'd found that she quite liked, but she needed to mass produce them and wanted it simple enough to do that and flat enough to post the invites (to keep postage low), but stylish enough to draw the eye and make her own style statement too.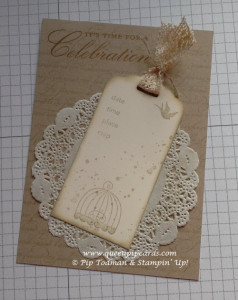 Once I had the rough scope it was up to me to come up with some ideas. I aim to create 4 card fronts to show what can be done and then have some additional ideas – I ended up getting a little carried away as I realised there was so much stuff that Stampin' Up! does that fits the bill!
We then had a design selection session, where she got to decide (with future hubby, mum and mum-in-law & father-in-law to be) which design she liked the most. I explained the techniques used in each, demonstrating it where necessary and showing her how to get the stamping / layering right. Then she could either just take that design & buy all the stuff herself tweaking it as she wanted to, or she could purchase the Stampin' Up! supplies through me – there is no pressure either way. She got to keep all the designs I made so she could have something to look at when working her final invite and also just to put in her wedding scrapbook / design box / smash book etc!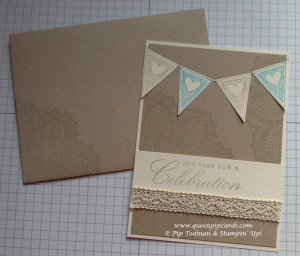 So she decided to merge two of the designs together and I've not yet seen the finished article, but I know it will have been great. I did use some retired stampsets so she just borrowed those off me to keep the costs down and because she didn't want to try to find a similar stamp elsewhere. The great thing about wedding invitations or any celebration invite – they are individual to each and every person making them, it's a lot cheaper to make your own rather than buy pre-printed, shop designed ones and they are more personal to your guests. Even if you get me to help you design them, they're still yours in a very special way.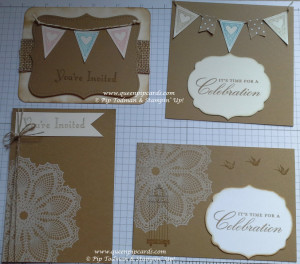 The design session costs just £20 and there is never pressure to buy, so if you're interested why not get in touch – just fill in the contact me form on my About Me Page.