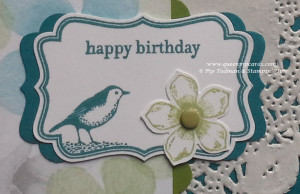 Welcome everyone to my weekly blog post, you might have noticed I've moved from Saturday to Sunday night, this way I hope to get you more timely posts! Today I wanted to highlight the Four Frames stampset from the annual catalogue; it's a lovely set that often gets overlooked because it's been there for a few years and people wonder what they can do with it. Today's card shows how it can be the highlight of a card and how you can use it with other stampsets and embellishments to really get the most out of this versatile set.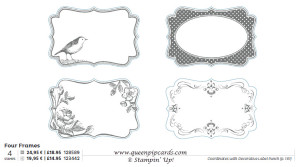 As the name suggests there are 4 stamps in the set and each one of them is a frame of some kind for words or an embellishment. They all match the Decorative Label punch for easy punching so you can get a perfect frame every time.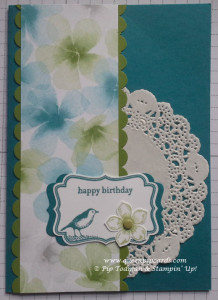 Here's a shot of the full card so you can see how it looks real size – this is an A6 card so you can see these stamps are a good size for the main focal point, in this case I've punched another Decorative Label in Island Indigo cardstock and split it to extend the frame sideways – you can do this vertically or horizontally with any punch that is symmetrical and it gives it just that extra edge – you can double it up if you like and do both sides, top and bottom, but I didn't want that much on this card.
If you like the stampset or punch and would like to purchase them from me online just click on the images below to be taken directly to my online store.
This is one of the cards that we'll be doing at my Simply Stylish class next Sunday, I hope the ladies will enjoy this one and the others we're doing on the day – they're not all using the Four Frame stampset and I'll upload the full set of cards next week to my gallery.
My final note of today is please make sure you've ordered anything that's still on your list from the Retirement Lists – these are also selling out fast, I've updated the sheets on my Retirement List page above or you can see them in real-time in my online shop.
So until next week – happy stampin, love Pip