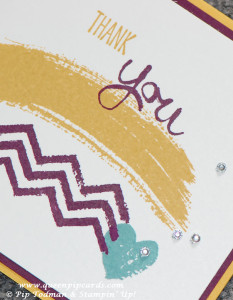 Hello everyone, I'm very pleased to launch my New Catalogue Countdown day 1 posting today. We only have a few more days left before you can order from the new Catalogue and I know you're going to love not only the products, but the new layout and the exciting new ways of using Stampin' Up! products that they've come up with this year.
I can see my classes for the next few months already in my head, I'm just bursting with new ideas on what we can do – so over the next week, until we launch live on the 1st July I'll be posting DAILY inspiration and ideas on using some of the new products.
Hopefully it will whet your appetite for some new projects or the new colours or just trying out some of the new products. I will be placing an order on the night of the 1st July, so if you want anything, please let me know and I'll send you information on how to order and collect from me – or of course you can just order straight away on the 1st July from my online Shop.
So, my first post features the beautiful Work of Art Stampset which contains 11 stamps with some lovely swishing shapes and a great two step stamping set of words with the big "You" and then "Thank" and "Just For" as separate stamps so you can mix and match – very cool.
This card also features 3 out of the 5 new In Colours, Hello Honey, Blackberry Bliss and Lost Lagoon – yep they've pulled those great names out of the bag again – they must spend all year thinking up the names for the new In Colours!
I hope you like this card, it is to say Thank You to all of you for stopping by and reading my blog, I hope to see you again tomorrow when I unleash another teaser for you all.
Until then, happy stamping, Pip x