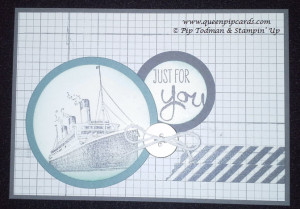 Happy Sunday everyone, and happy T-2 days to the Launch of this years new annual catalogue. Today I thought we'd do some very vintage cards using one of the new stamp sets from the catalogue called Traveller. It has such an evocative name and instantly brings up thoughts of trains and boats – which is handy, because those are in the stampset! There is also some really cool other stamps, but I'm going to just tease you with the Ship and the Train today.
These images cry out to be done in a vintage style – although I'm going to try some more modern twists on them over the coming months just to see what can be done. Apologies again for the photo quality on these ones – another late night photo shoot! My hubby normally takes my photo's as he's much better at it than I am – you can always tell the difference – and he's back on duty for tomorrow's images thankfully.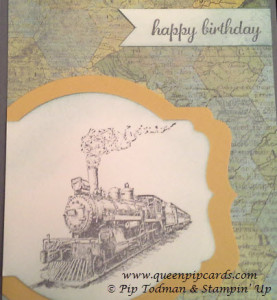 These use the new in colours Lost Lagoon and Hello Honey along with some Basic Grey and the Epic Day background papers (which are about to leave us – sniff).
A bit of sponging and that's all they really need to set them off as the focal point of the cards. I have to admit I totally CASE'd these from my friend and upline Diane who is about to move miles away, so travelling will be required to see her in future – so I thought it apt that I do this post in her honor – and to say that I WILL be travelling to see her – she can't get rid of me that easily 🙂
The final thing I have to say today is CONGRATULATIONS to Moira C who was the winner of yesterday's Catalogue Treasure Hunt at my Launch Party – although no one got the answer to question 1 totally correct, I'm pleased to say all other questions were answered correctly, so hubby chose a random number & that was Moira's entry – so well done Moira and a little prize will be on its way to you soon!
In case anyone is wondering what the actual answer is …. there are FIVE (yes 5) different types of stamps you can get in the new catalogue …. Wood mount, Clear mount, COOKIE stamps, ROTARY stamps and the brand new Photopolymer stamps 🙂 i know!!! How awesome is that, I can't think of another company that does so many different types of stamps in their collections, and they're all brilliant.
So on that note, I'll say adieu until tomorrow which is our last countdown day – yay, until then happy stamping, love Pip