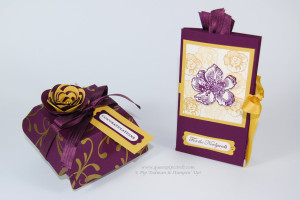 Hello stampers, I'm so excited to be sharing yesterday's class with you, ever since one of our Royal Stampers shared her idea for gold embossing on the new Blackberry Bliss I thought – yep I want to do that too! So I decided to make a wedding card and matching box using the new hamburger box die.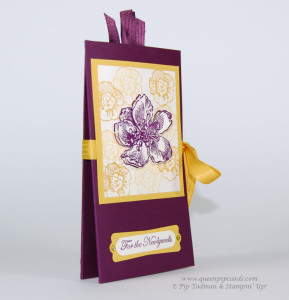 So here they are – what do you think? Stylish and elegant or what!!!??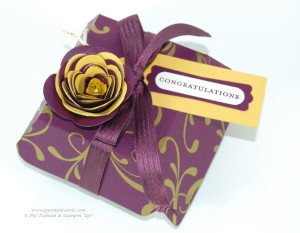 The card was CASEd from Ronda Wade from her Stamping Best Friend site and it was her "Make something that means something" item of the month last month – which I thought was just a lovely idea – and what could be more appropriate than a card for a wedding – the tags inside could be written on by the parents, bridesmaids, best man / ushers etc or could have photographs attached. It could be to the bride from her sisters or friends – a real little memento of the special day.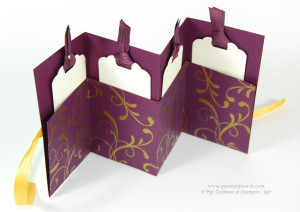 The box is also a nice size to store a special gift, a bracelet or a necklace – so this could be used in reverse by the bride to give to her bridesmaids too!
The possibilities are endless, because of course it could be used for babies, birthdays, anniversaries or anything where you want to add a bit more "wow" to your normal card and gift. Just a note on the Hamburger box die, it does need the extended cutting plates because you get a box and 2 tags on the die so it's a long one!
I hope you like these, if you do please leave me a comment and if you want to purchase any of the items just click on the images below to be taken directly to my shop.
Thanks for stopping by and see you again next week! Happy stamping, love Pip