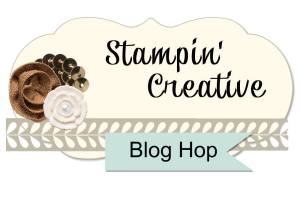 Welcome to month two of our Stampin' Creative Blog Hop! This month was a Sketch challenge and boy did it turn out to be a challenge for me! Do you know I've never used a sketch before – I KNOW – shock and horror abound across the globe but I've happily CASE'd (Copy & Share Everything) from people or I've made up my own designs, I've never looked at a sketch and turned it into a card – so I knew it was going to be a stretch for me – which is good, to always grow in what you're doing by pushing yourself!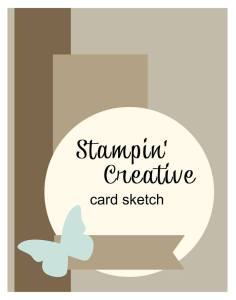 So, I had a commission for a 60th Wedding Anniversary card (wow what a responsibility!) and I thought, that sketch looks like it could work for me and make a lovely card – so off I ventured into my craft room to whip up a wonder. Several attempts later and with much blue air I threw my hands up – something was wrong, but I couldn't tell what – do you ever have days like that? Anyway to the rescue came my lovely fellow Stampin' Creative team, I stuck up a photo of my creation and asked for some serious criticism and ideas on "what is missing?"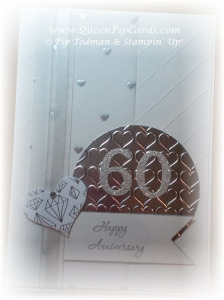 And that's what I LOVE about crafters, they're so generous with their time, their ideas, their thoughts and none of their criticism is harsh – they always want to help you get to the best outcome. So I took the ideas of adding some colour, and some heat embossed silver, we all felt the embossed silver circle was too much, I changed the words I'd used because I didn't like them (these sadly are retired – but I love the set so much I can't get rid of it!), then I jiggled things around a bit, got what I thought was the final version – everyone said "yes Pip that's so much better".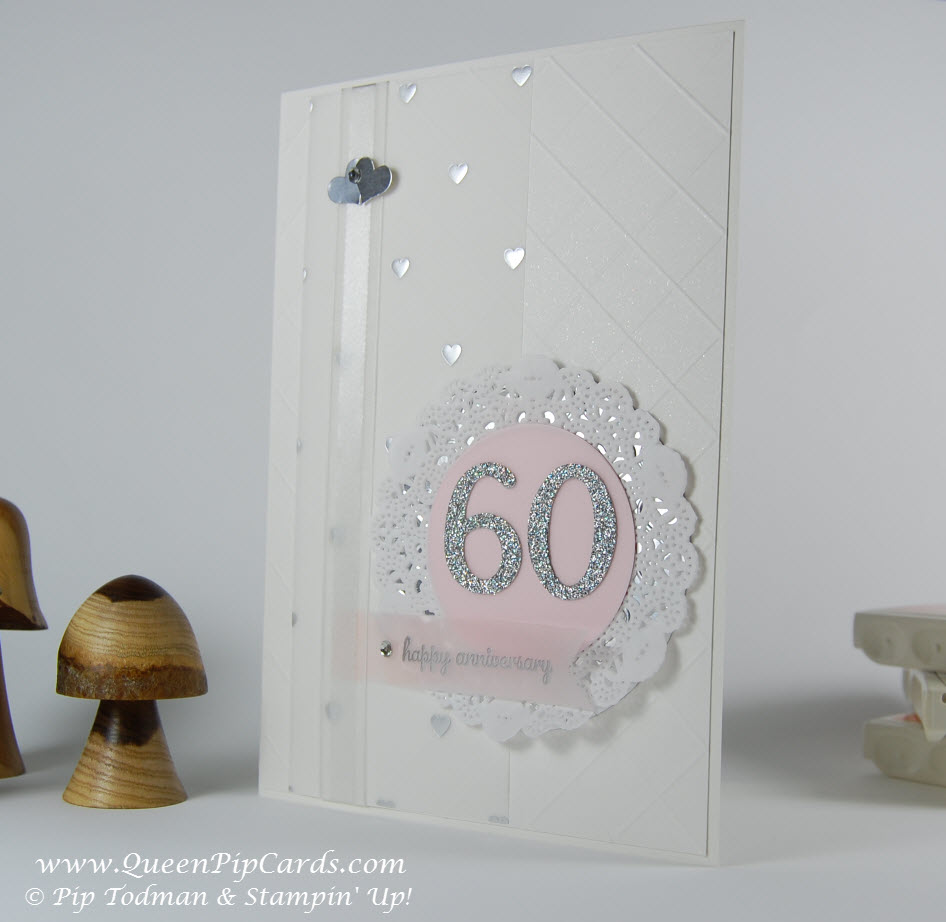 So that's that I thought – then just the other night I got to thinking it was still missing something – which is why I then added a bow – and I reckon it's now complete! Luckily the recipient who'd asked me to commission it didn't know all the background and loved it! So all is good with the world again! I've gone for a few blurred edges on the photo's to give a more wedding feel – not sure if it works – thoughts welcome!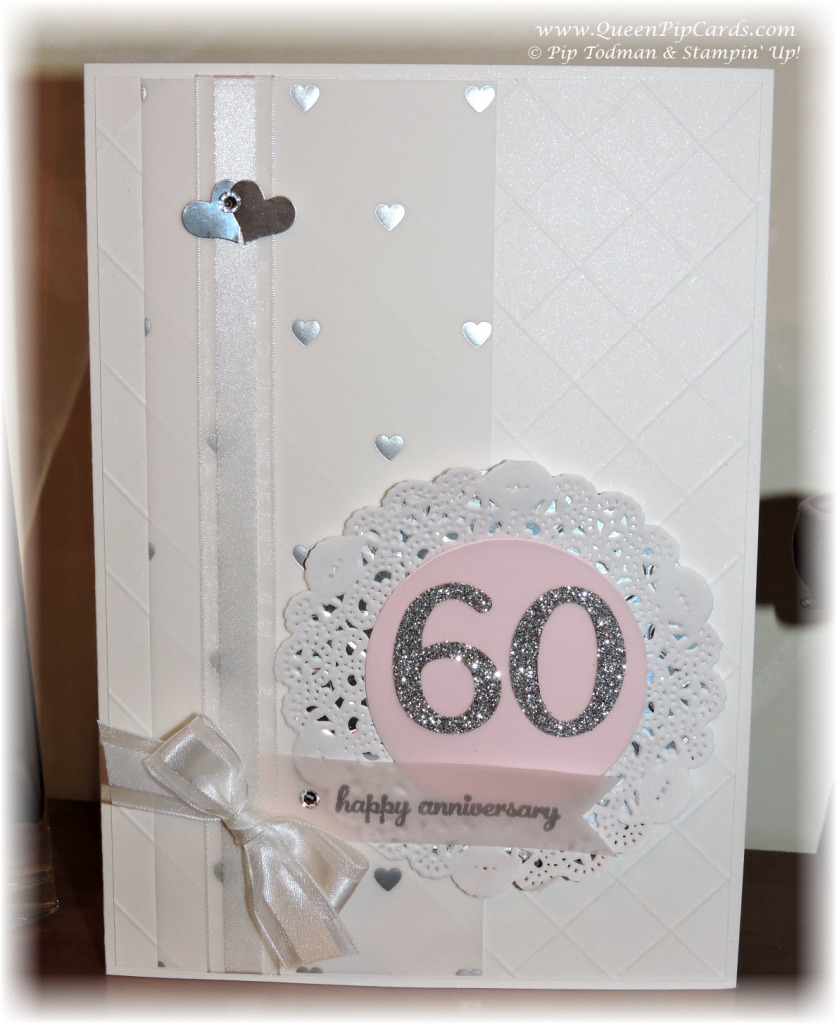 This is what I finally used on the finished card… the gorgeous Shimmer Card for the A5 size base (half an A4 sheet), I then added another front piece that I'd scored using the Stampin' Up! Scoring Board every 1" on the diagonal plate. Silver Foil hearts with a Diamond for the years, and one of the Silver Vellum sheets for the back strip and to jazz up the envelope. White Organza Ribbon for some lushness and some Pink Pirouette card stock with plain vellum over the top for colour.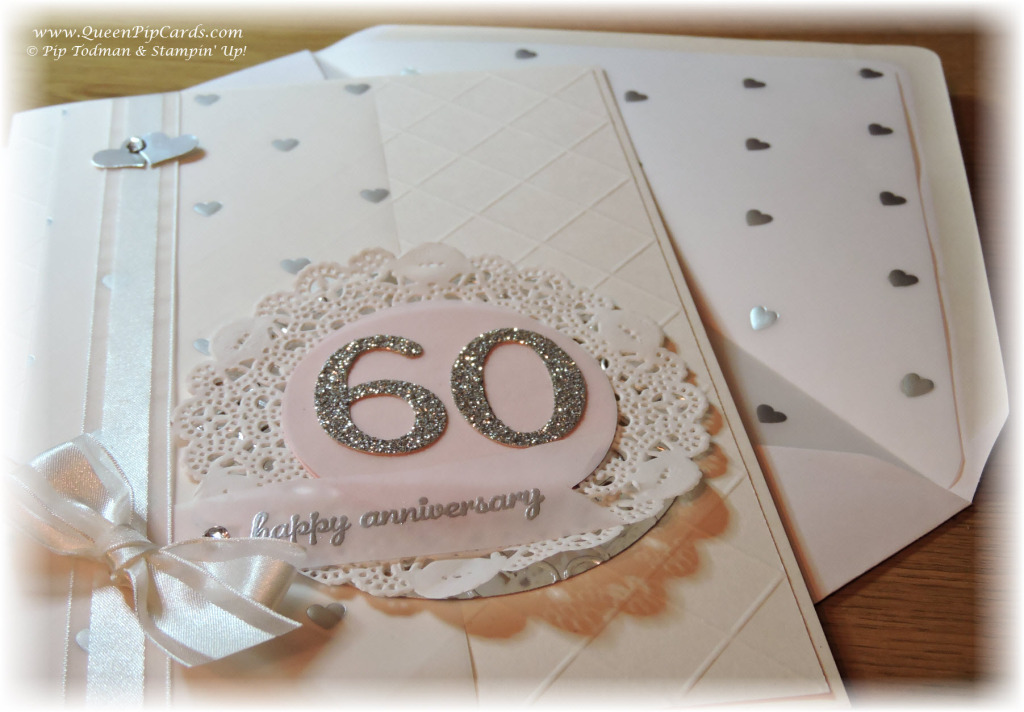 I also stamped & embossed with Silver Emboss Powder and then coloured the back of the vellum with Pink Pirouette Blendabilities – love these! Inside I used the retired Curly Cute stampset for the Congratulations and two hearts from one of the Project Life stampsets for the linked hearts.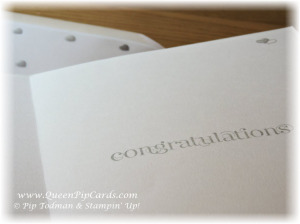 So, whilst I needed a little help from my friends (who doesn't) I did manage to do my first ever Sketch challenge – and it's a little bit muted in colour for me, however I know you won't be disappointed for some colour in the rest of the hop, so I think that's ok! If you'd like to buy some of the items I used for this card, then click on My Shop here or up top (don't forget Sale-a-bration products for every £45 spent) but make sure you hop around the blog too for some added inspiration and instruction from the rest of the fab girls! You can hop on to Kim's blog now by clicking the image here or the link below.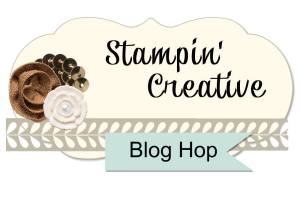 Chat tomorrow for our normal weekly update! Thanks for stopping by, hugs, Pip x
Running order – permalink on the name or blog Home!
Caroline – www.craftwithcaro.com
Mikaela – www.thecraftyoinkpen.blogspot.co.uk
Lesley – www.lellyjellys.blogspot.co.uk
Eimear – www.stampincolour.com
Emily – www.stampinmermaid.blogspot.co.uk
Pip – www.queenpipcards.com (you are here!)
Kim – www.kimfeecrafter.blogspot.co.uk
Emma – www.coastalcrafter.com
Lou – www.stampindelight.co.uk