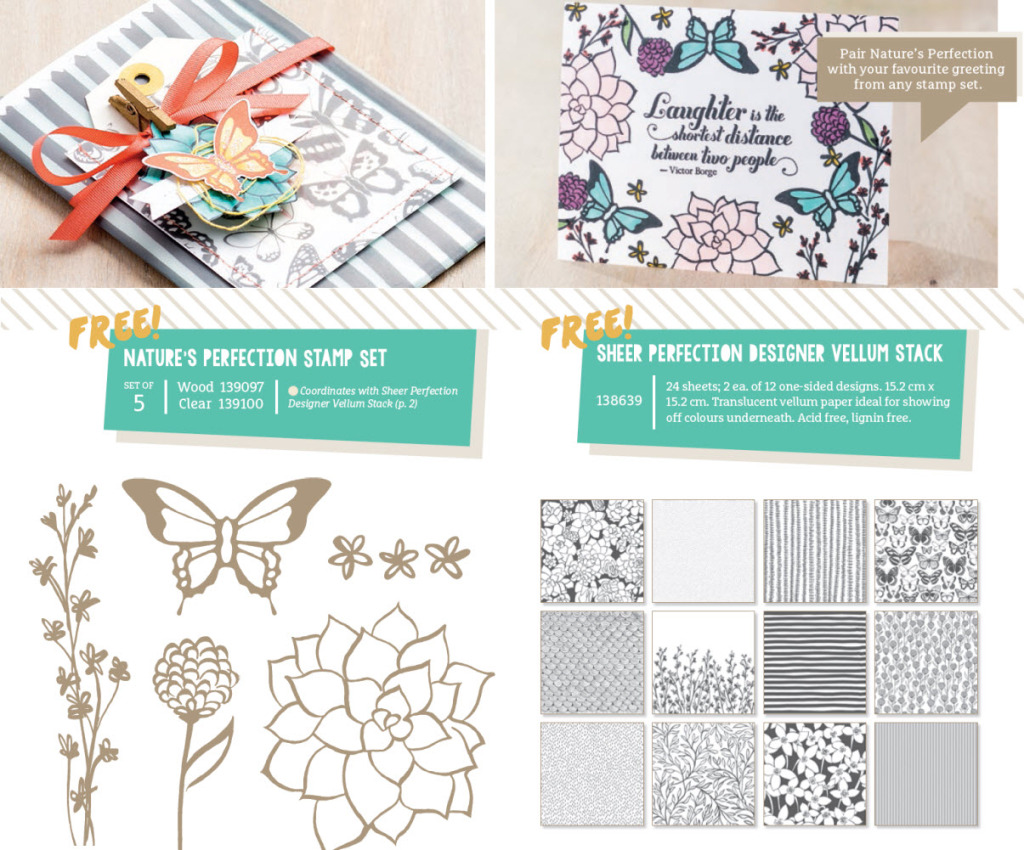 Happy Sunday everyone, there are only 3 days left of Sale-a-bration and I wanted to make sure you didn't miss out – especially with the latest stampsets and vellum packs which include some gorgeous butterflies! I also wanted to give you more details on some of the news from Stampin' Up! and finally I want to share with you my shadow box of butterflies that I created for my great friend Vanessa, whose name means butterfly!
So the important things to know are:
Sale-a-bration ENDS on Tuesday 31st March, at 11pm for online orders, earlier for phone orders – and when it's finished, that's it – Stampin' Up! have told us nothing will come back or be available again in terms of special stampsets or DSP – so don't miss out.
31st March is your LAST CHANCE to get your invite to my invitation only Celebrate Sale-a-bration! If your cumulative sales during the period = £150 then you'll get an invite OR if you join my Royal Stampers team you'll get one too! Sadly, it's too late to host a party 🙁
Blendabilities have been removed from the Stampin' Up! product line until they can find a supplier that doesn't have the quality issues that have been found. This decision was NOT taken lightly! Some of you will know I've had to return your pens as they were dry on arrival or dried out very, very quickly – this was due to a microscopic fault in the manufacturing process. Stampin' Up! make their own ink and stamps, but use suppliers for other items, and SU realised that the supplier was producing a line with up to a 40% failure rate, which is unacceptable. Rather than have you be disappointed in your order they took the very hard decision to remove the line until they can find a supplier who can manufacture them properly. Blendabilities will, I hope be back soon, because fundamentally there is nothing wrong with the ink or the way they work, it's just the delivery mechanism that is failing.
To make up for the loss of Blendabilities in the Sale-a-bration catalogue they've added some more items that you can claim instead – including some of our amazing Embossing Folders and Fast Fuse items too! Click on the image to see all the details
Finally, due to a collection of distribution issues (including a strike at the docks in the US) the following items cannot be ordered at the moment, but they'll hopefully be back online soon:

126199: Stampin' Pierce Mat
137360: Butterflies Thinlits Die
139322: Butterfly Bundle (Wood)
139323: Butterfly Bundle (Clear)
138865: Butterfly Bundle (Photopolymer)

PHEW, so that's a lot of news eh? Want some EXCITING NEWS? The NEW annual catalogue launches 2nd June – woo hooo a whole month earlier than normal, so we'll now be aligned around the world, with all regions launching together! I'm so excited about this – and I hope you will be too!
So, after a lot of information, let's get back to some inspiration! I made this shadow box frame as a Christmas present for my friend Vanessa, but I only managed to get to see her in March! So she had to wait and I had to wait to post it up here! I couldn't risk sending it by mail, and I wanted to see her face when she opened it up – she's been one of my biggest supporters in my business, she isn't a customer as she has no time for adding paper crafting into her life (at the moment!) but she does some beautiful cross-stitch work, and she really appreciates handmade gifts because she understands the work and time and love that goes into making them. So she really, really loved this!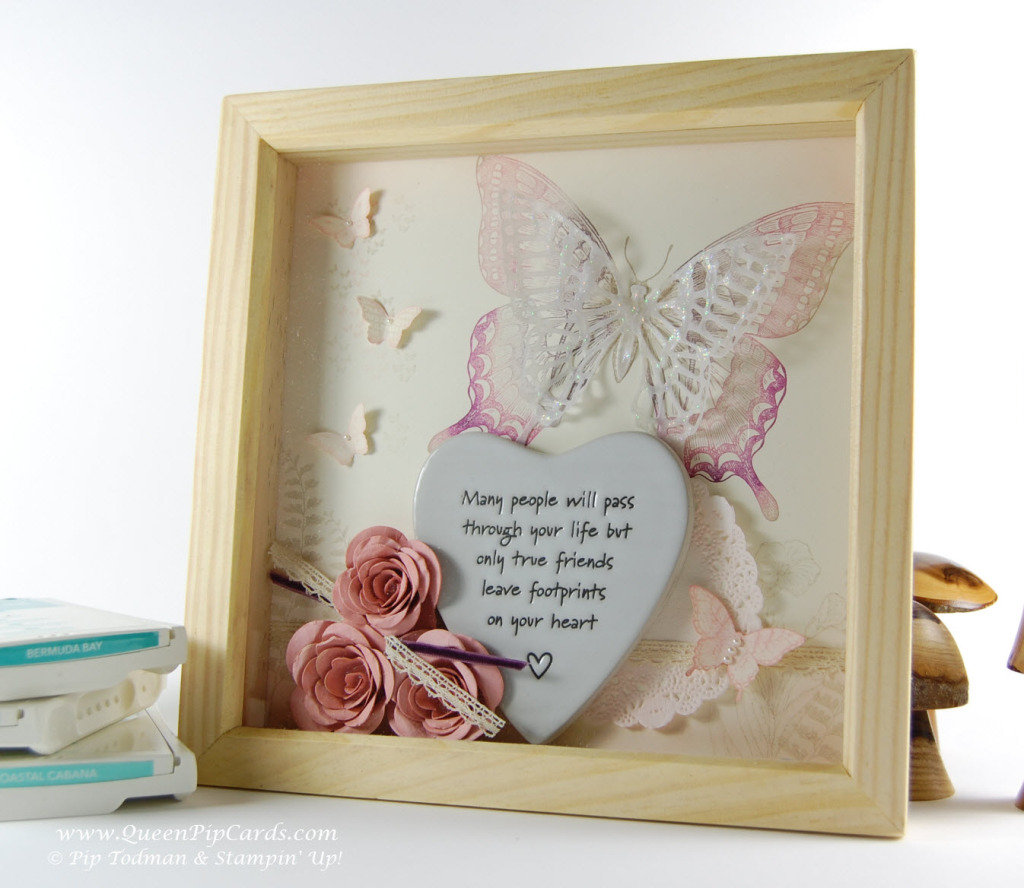 It was so nice to know she loved it, and that I could do something so personal for her to say not only thanks for being a great friend, but also thanks for supporting my business and helping me get my head around things at times! The roses are made with the Spiral Flower Die and just fitted in there perfectly – our colours suited so well too – I took my inspiration from the Artisan Embellishment kit colours!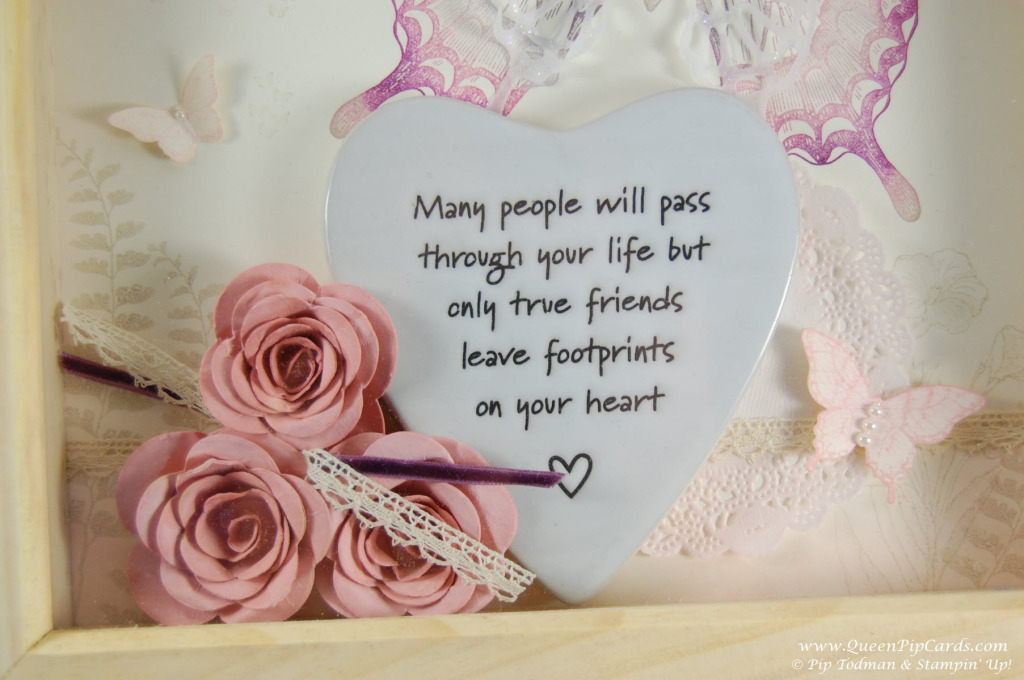 I just hope she keeps a house big enough for me to fill it with lots of presents in the coming years!! And I hope Stampin' Up! continues to have some amazing butterfly stamps, dies and punches! Vanessa's was 8 x 8″ in size so you can see how the Swallowtail fits in there beautifully.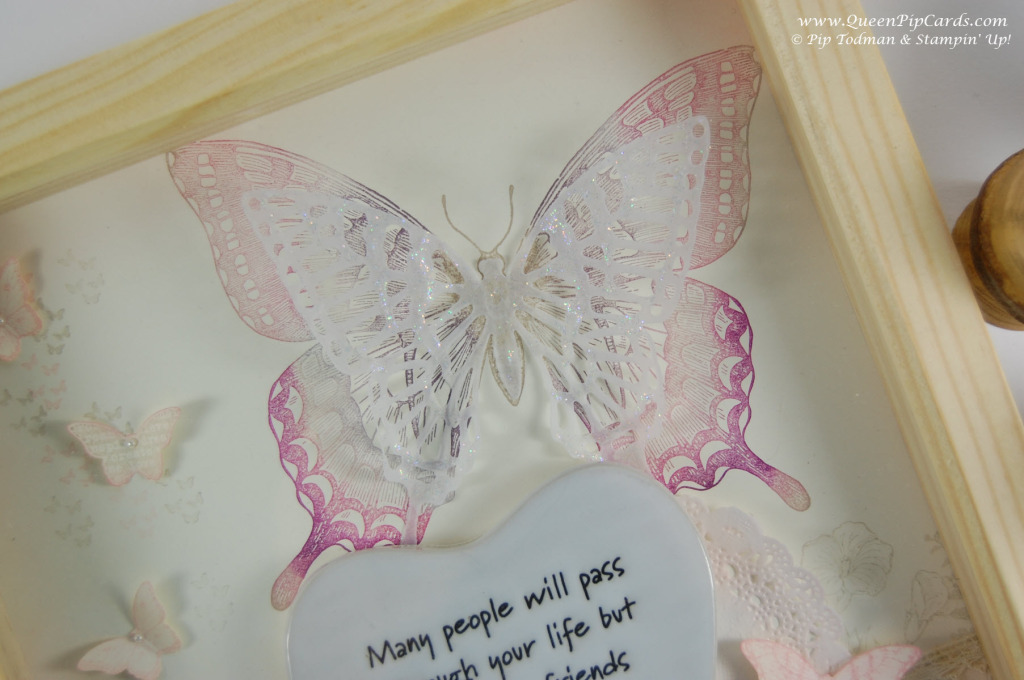 I also made a smaller one (6×6″) for myself and another friend as a Christmas / house warming gift and so far they've been a hit! I know that sadly the Butterfly thinlits are not available, but I also know that a lot of you have them already! So I thought this would give you some inspiration on what else you can make with them, they're not just for cards!
My one uses the Something Borrowed Designer Series Paper as the background, and the Artisan Embellishment kit features in both along with the Butterfly Basics stampset.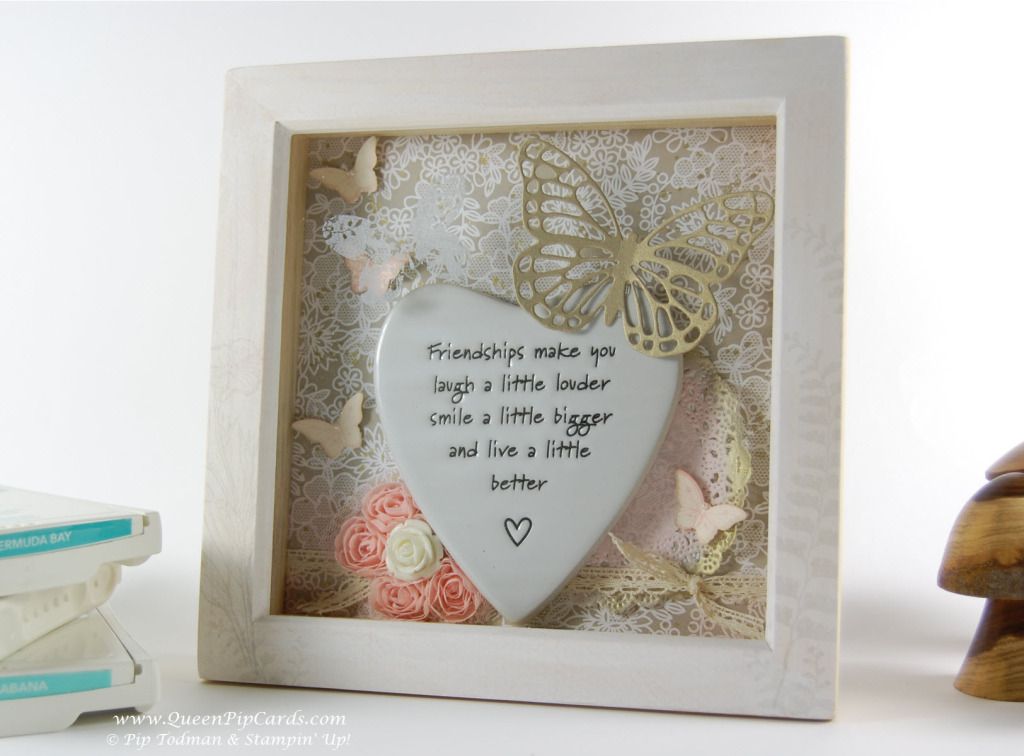 So, that's my Sunday posting done, I've put a few things that are available and were used in the making of these frames below, so why not get in before the end of March stock up your craft cupboard while you an & get a FREE item for every £45 you spend? Spend enough and your personal invitation will come in the post for my Celebrate Sale-a-bration on 2nd May, you won't want to miss that! Until next week (which is EASTER!) have a great week and have fun stamping, thanks for stopping by, Pip x