Hi everyone, well here we are the last day of summer (I count the last day of August as summer's end – but I'm probably wrong!), how on earth did it come around so fast – it always catches me out! Still, it's nice to have said that in the most part we've had a good summer and dried out somewhat from the wet start to the year, let's hope the rain holds off for a bit longer!
I promised you last week I would share another couple of the cards we made at my monthly Simply Stylish class last Sunday.
So here you are, and I hope you like these too! The first card is using a mixture of Pictogram Punches stampset and the Project Life Remember This stampset. I use my Project Life by Stampin' Up! sets for cards just as much as for my memory keeping – I think they're the perfect size and work well in tandem.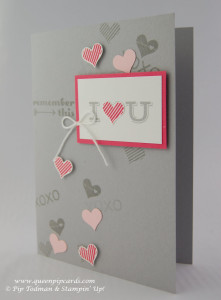 The cute little heart punch is from the new Itty Bitty Accents Punch set and it's very popular with my customers (and me!), even though sometimes they ping out and then you have to hunt them down! The colours are Strawberry Slush and Smoky Slate.
The second card uses a set from last year that carried over, Mosaic Madness with the words from Really Good Greetings.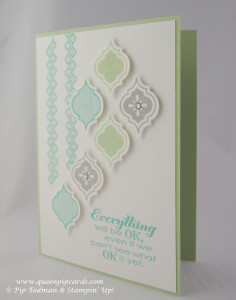 I love the fresh new look with the new colours Pistachio Pudding, Coastal Cabana, and with the Smoky Slate accented by Rhinestones, and of course having a punch to match the Mosaic Madness stamps is fantastic and saves so much time!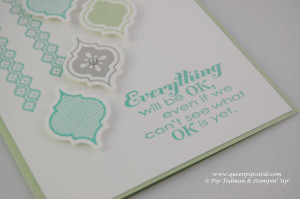 Two very simple cards, but very pretty and you could change the sentiments around if you wanted to make the I Love You into a wedding card and the Mosaic Madness could have any words or just be left blank and would still be lovely.
If you'd like to make these at home, please find below the list of items used, you can just click on them and it will take you to My Shop.
Next week is going to be a busy one for me, with my Technique Class on Saturday and Team Training on Sunday, so if I'm not replying to emails or comments, that will be why! I'll post up some of my Reflection and Resistance cards next Sunday so you can see what we got up to at class. Until then, happy stamping, thanks for popping over, Pip x