Happy Sunday everyone – I hope you're having a wonderful summer, although it's a little damp today it's been amazingly hot so far this summer! Today I wanted to share some of the beautiful and sizzling swaps I received at last weekend's Team Training day. What are swaps? They are card fronts or 3D items made by creative folk to swap with another person – each of us made 20 (the number swapping at training) all the same (or with just a colour variation) – then we formed a swap line & swapped our creation with each other, thus we ended up with 20 beautiful inspirational, creative ideas we can copy, display or just enjoy!
What an amazingly creative bunch we've got in our team – here are just some I picked out because I couldn't do all 20 in one posting! You'll see more on my Facebook page and later I'm sure as I CASE (Copy and Share Everything) these ideas over the coming months.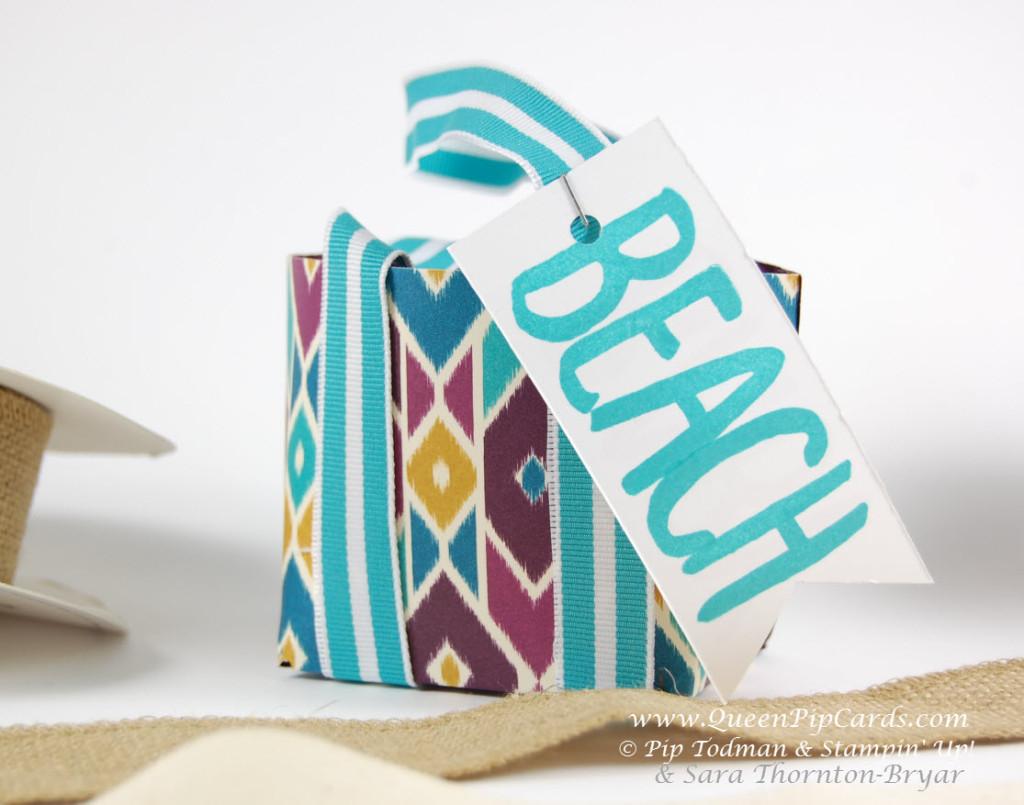 This one is from Sara and she's totally a Bohemian DSP colours and designs lady – as soon as I saw it in the catalogue I knew she would have to have it – here she's used the Gift Bag Punch Board and made a cute mini Beach Bag with fab handles using Bermuda Bay Grosgrain Ribbon and a tag that reads Beach Baby one on either side! CUTE!!!!
Next is a tissue holder from Diane my team leader – isn't it gorgeous – although what she was thinking doing Heat Embossing in this weather I do not know – but I'm very glad she did, it really shows off these stamps, Wild about Flowers, beautifully (another set on my wishlist!) Fabulous use of Mint Macaron and Watermelon Wonder new In-Colours.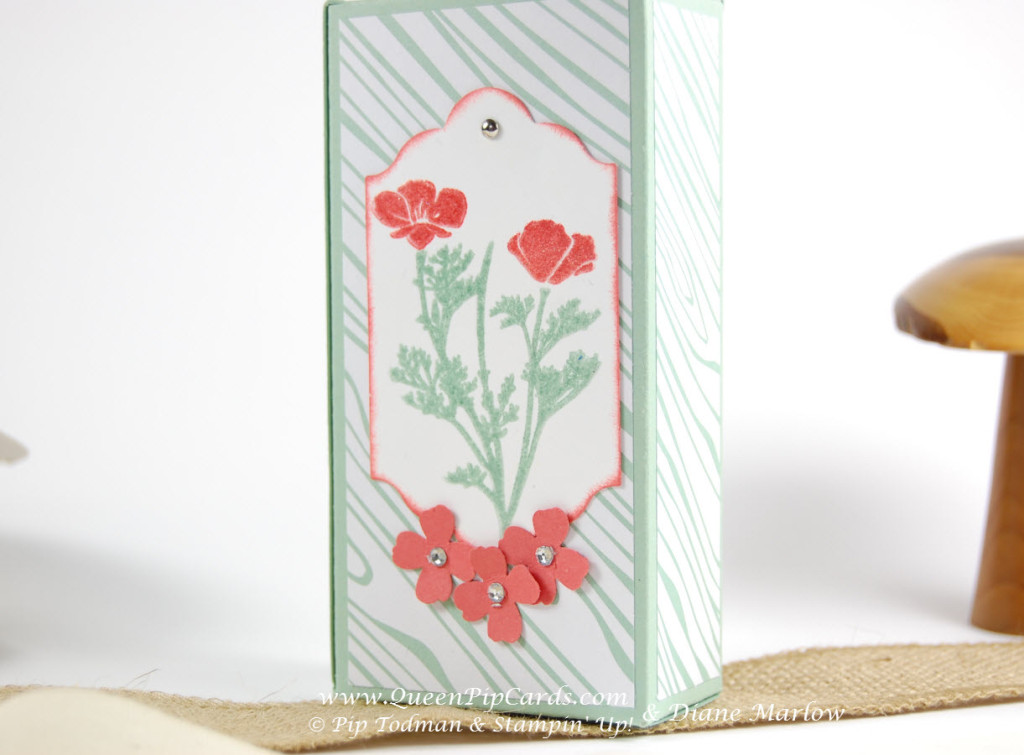 Finally, this is from one of Fiona's team Carol who has made a tiny box with MINIONS chocolates inside – cool factor times FIVE for that! I love a gift that includes chocolate but it could easily be a bit of jewellery or just a note to say Hello! She used the Bow Punch Builder and Pretty Petals Designer Series Paper Stack for the top design and Pacific Point cardstock for the box itself.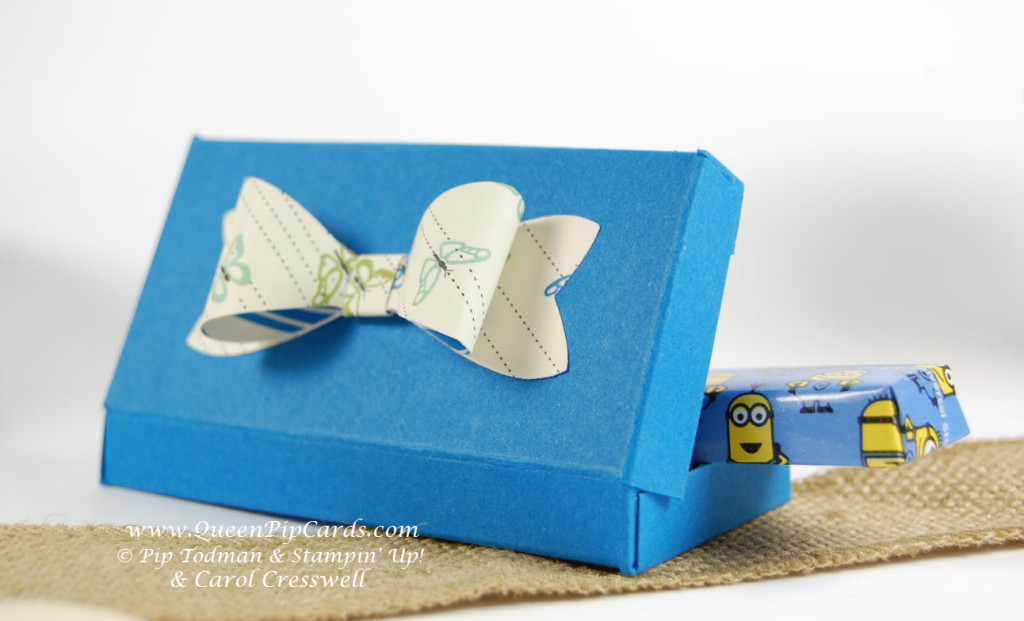 So, what do you think? They're all amazing aren't they? Oh and my swap – a Jelly Beans tube – gotta love sweeties too 🙂 a really simple gift to give out at a child's / adults party etc. I used the Amazing Birthday stampset (which also comes in a Bundle with the Banner Framelits where you can save 15%) with Silver Glimmer paper and the new Brights Designer Series Paper Stack and Cherry on Top Designer Series Paper Stack.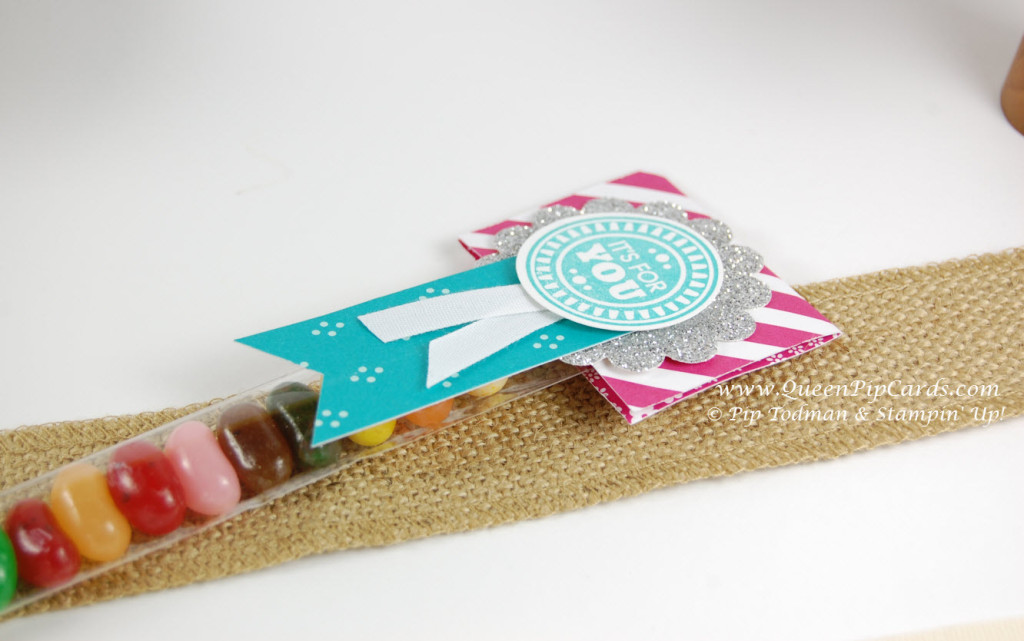 So please leave me a comment and tell me YOUR favourite swap and I'll see you next weekend for some more summer sizzler's I've crafted this week! Happy stamping and thanks for stopping by, don't forget you can shop by clicking the images below, and it's class RSVP time so if you're not booked in yet – click on Classes above or HERE and have a look at my schedule, it would be lovely to see you! Take care, Pip x