Hello campers, today it's a very short post as we're out & about in the Isle of Wight. Yesterday we visited the Isle of Wight Zoo for an amazing behind the scenes / VIP experience which we won't forget for a long time – as many of you know we love animals and this was a great chance to get up close and personal with them. We won the tickets at last years Hawk Conservancy Auction so it was all in a good cause as well as getting us a fab day out!
So in the spirit of all things wild and free, it doesn't come much freer than a beautiful butterfly, so I'd like to share another swap from our recent team training, this time from Jane. Jane used Watercolour Wings, which I do not yet have – shock – horror – gasp – I know! Of course it's on my list, just having to pace myself a little! Isn't it beautiful – elegant and simple, but stunning nonetheless.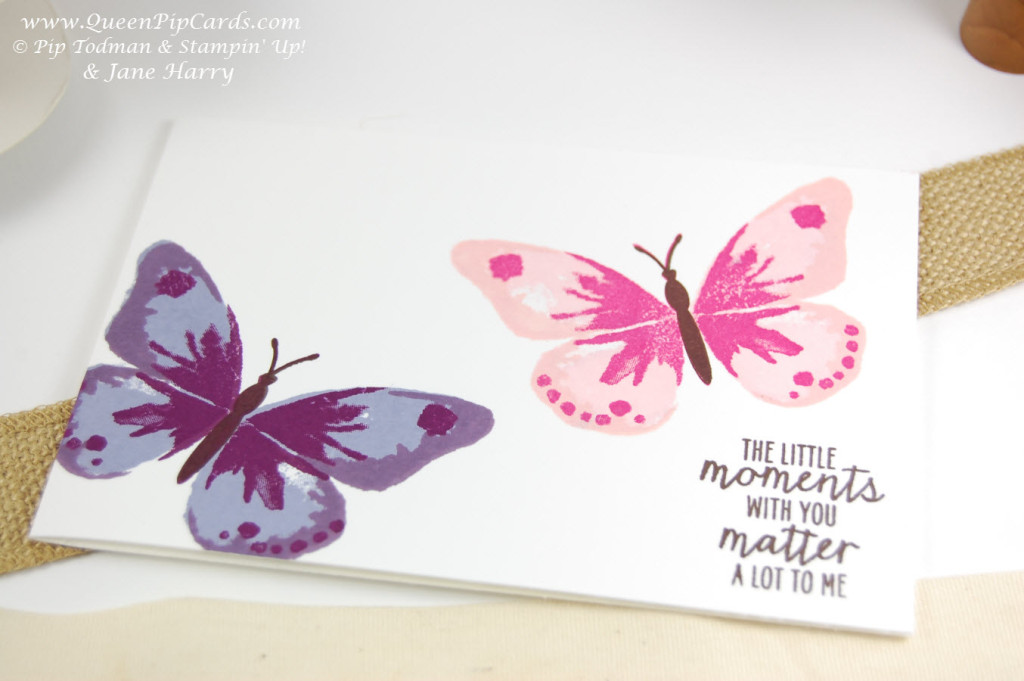 The colours really pop and although in this card Jane has left the butterflies as one dimensional, the stampset comes as part of a bundle with the matching framelit dies – so you can save 15% if you buy them together! It's a three step stamping set, but because it's Photopolymer it's a lot easier to line things up! The words spoke to me too as this weekend I'll be having some quality time with my hubby and enjoying the time out together at the zoo.
I'll be back next week with some creative crafting which I did do last week as I said I would, but sadly didn't have time to get it photographed for this blog post! Organisation Pip – that's the key!!! Next week you have TWO helpings of me, as it's again the fourth Saturday in the month, so Stampin' Creative time – how does it come around so fast! Best get cracking – have a lovely week, see you next week and soon I'll be showing off my Project Life albums of this last adventure in the Isle of Wight! Take care, hugs Pip x