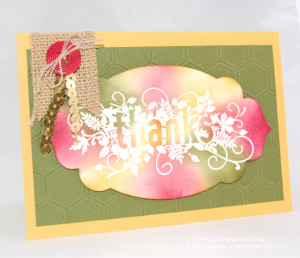 Hi everyone, just a quick post in my normal slot this week, did you see the last blog post – wow what amazing projects everyone did, I really hope you managed to hop around and see them all … if not check it out here. So today I wanted to just do a lazy Sunday catchup post for you all.
I wanted to share with you some more of the cards that we made last week at Technique Class. I really only gave you a sneaky peek last Sunday.
So here is the beautiful Seasonably Scattered Stampset in all its glory. This stampset comes with 3 large stamps, Merry, Love and Thanks – they all have their own backgrounds (snowflakes, hearts and leaves/swirls respectively). You'll see more of the other stamps in the coming weeks because I just love this stampset.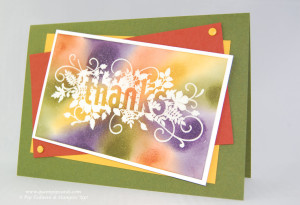 They are large enough to create an individual card just with one stamp and the sentiments really keep you going all year long – valentines, weddings, engagements (Love), Christmas (Merry) and Thanks – well that's just a brilliant everyday note for all those people who help you along in life or go the extra mile or just give you a smile!
I decided to use autumn colours, because afterall we're in autumn, I saw my first fallen conker on Thursday just gone – that really brings it home that the seasons are turning. I LOVE autumn because of the wonderful array of colours and people often talk about how everyday things can influence their crafting – for me autumn influences me a lot, the merging of golds, reds, greens, browns, yellows, even purples – just beautiful – and for some reason I think of feathers this time of the year too – not sure why, maybe it's because the birds recently moulted ready for their migration flights – but it all says Christmas is coming to me!
I also used this Burlap ribbon, which I'd always shied away from before because it was big and thick and I wasn't really sure what to do with it! Then I saw some amazing ideas on Pintrest and some US demos that I follow and I thought, that would be just the thing for my card, throw in some sequins and and button and it really lifts it, don't you think? Here I used Mossy Meadow as the background with the Honeycomb Embossing folder (honeycomb another image of autumn).
Whereas in this one I decided to go for a half removed background in Cherry Cobbler again using the Honeycomb folder.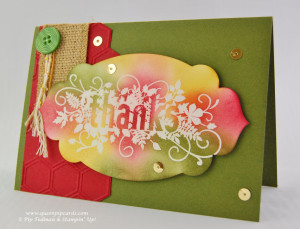 I like all three, I got a little carried away with these because they were such fun to make. If you're sticking the burlap ribbon on and buttons, I'd recommend using Crystal Effects as a really great permanent adhesive – but it needs some time to dry and set.
I hope these have put you in the autumnal mood and I'd love to see your creations with this or any other stampset with autumn in mind. Ping them to me via my facebook page: www.facebook.com/QueenPipCards and I'll upload them into my gallery! I've sadly had to remove Comments from my blog due to the sheer number of spam comments to moderate (over 300 this week!), which takes time away from crafting!
So until next week, happy conkering and stamping! Thanks for stopping by, oh and here are the items in case you'd like to purchase any via my SHOP (don't forget to use the Hostess Code VWPERMEZ (valid until Monday 29th September) on any order under £150 and I'll send you a gift of appreciation for doing so, if you order more than £150 then you'll get your own Hostess Pounds to spend ), thanks again, Pip xx