Hello stampers, I'm back with my weekly helping of inspiration and a bit of instruction today too. I want to share with you 3 of my Happy Cards that I made for today's Simply Stylish card class using of course my Stampin' Up! products. I had a full house today, and we made 5 cards in total, but these are all from one set, so I wanted to share them together.
They use the Watercolor Words (spelt the American way!) stampset and they are both big and beautiful. They coordinate with the Garden in Bloom set and also with the Watercolor Thank You that's a single stamp – Watercolouring is on trend in a BIG way, and this catalogue Stampin' Up! have got it (in my humble opinion) just right!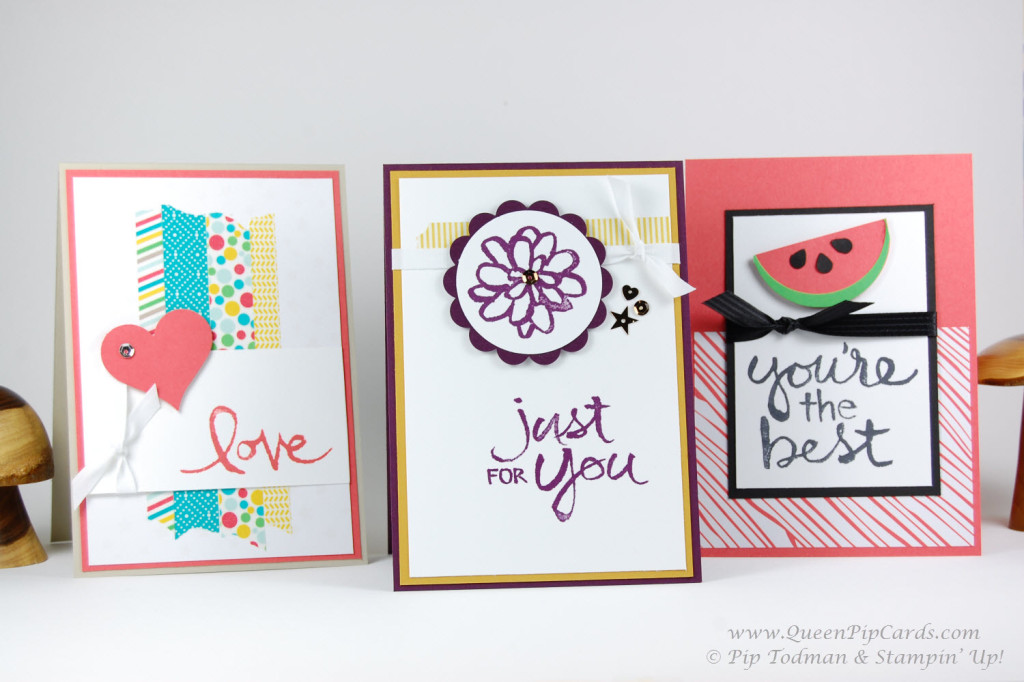 These cards though show that you don't actually need to use them in a watercolour theme for them to still be really useful sentiments or even the main feature on a card.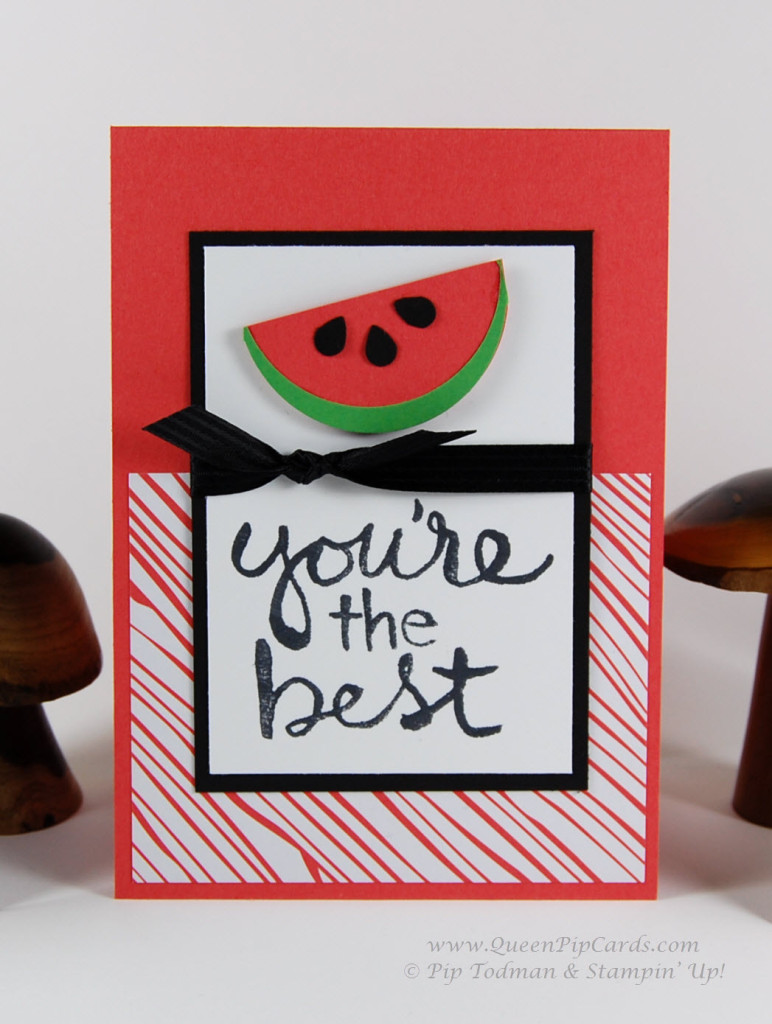 I'd like to explain how to make the Watermelon card as it's got a bit of punch art on it that is really clever (I did NOT come up with this – it's all over the net, but I CASE'd Ronda Wade for this one).
Firstly the card base is A6 Watermelon Wonder cardstock (A5 folded in half).
Then I cut a piece of the new Envelope Paper 10 x 10.5cm.
A piece of Basic Black cardstock 7.5 x 10.5cm and a piece of Whisper White 7 x 10cm.
Stick the Envelope Paper onto your card base.
Stamp your sentiment in Tuxedo Black
Stick the Whisper White onto the Basic Black cardstock
Wrap and tie a piece of Basic Black Stitched Satin Ribbon (yummy)
Then using a 2″ Circle punch cut half a circle in Watermelon Wonder cardstock
Next using a 2″ Circle punch cut out a slice of Cucumber Crush for the skin of the melon (punch half a circle & then punch a little bit more – you get like a sliver of moon shape)
Punch 3 of the rain drops from the Tree Builder punch and stick the watermelon together – base, skin and pips! I used the tiniest amount of Tombo glue, then stick the watermelon onto the Whisper White mat using Stampin' Dimensionals
And there you have it – a Watermelon Wonder watermelon card – simples?!? Speaking of "simples" check out these amazing photos of us at the Isle of Wight zoo last weekend for our behind the scenes VIP tour – we had the most amazing day, and if you get a chance you really should go, they are brilliant and the animals are so well cared for. Check them out here: Isle of Wight Zoo
So a little crafting inspiration and instruction, plus Meerkats – what more could you want from a Sunday blog post? Ok the details of how to purchase the items I used for the cards above are listed below, do the normal thing & don't forget to use the Stampin' Reward code (RUF9BDT3 valid until 7th Aug) if your order is less than £150 and I will pop you a thank you in the post – but make sure you don't say No Contact – otherwise I don't get your details, and I can't send you your thank you!
Back next week with more from my Punch Board class. Sadly, I won't be taking part in this month's Stampin' Creative Blog Hop as I ran out of time, but please hop around the rest of the team next Saturday morning, they'd love to hear from you.
So, happy stamping, have a great week, thanks for stopping by, hugs Pip x