Hello folks, happy Sunday – it's nearly the end of September – already! Not sure how that happened again. I've just come back from a lovely week in Wales where we saw some beautiful landscapes and some great wildlife – including some baby seal pups! Seals are not what you'd call elegant, unless they're underwater, they're large and don't move well on land! However, today's card is very elegant indeed using the beautiful Timeless Elegance Designer Series Paper from the annual Stampin' Up! catalogue.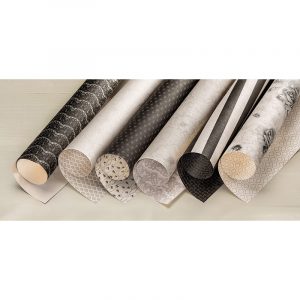 I know that this technique has been shown widely on Pinterest, but my inspiration came from a US demo called Selene Swiridowsky Kempton who is a good friend of my friend Bekka Prideaux! We're all very international us Stampin' Up! demos. So Selene showed that this paper can be coloured in using our Stampin' Write Markers for those of us who prefer less messy crafting!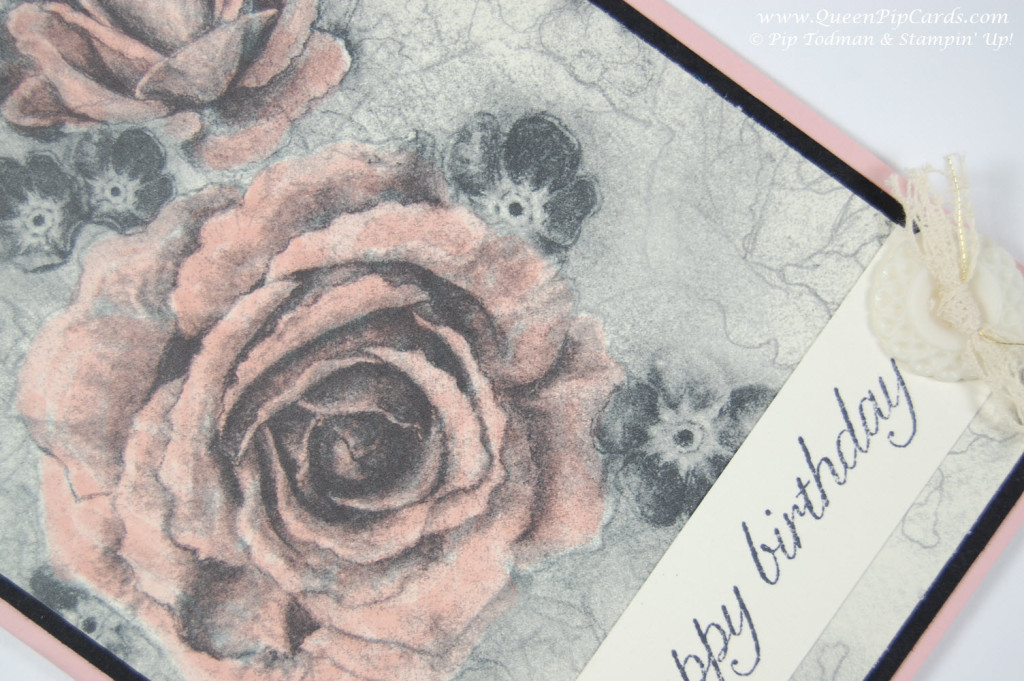 Don't get me wrong, a good dauber or sponge is a great friend, but when you're looking to make a few and don't want to get too mucky this is the way to go.
I used Wisteria Wonder Write Markers to colour around the outline of the largest flowers from this one sheet of DSP and then coloured in the rest – really quick, didn't take a long time over perfection, just a quick colour and it's done. Because the flower shows through, you don't need to be ultra careful with the colouring or worry about trying to blend it together – which is why I liked it so much!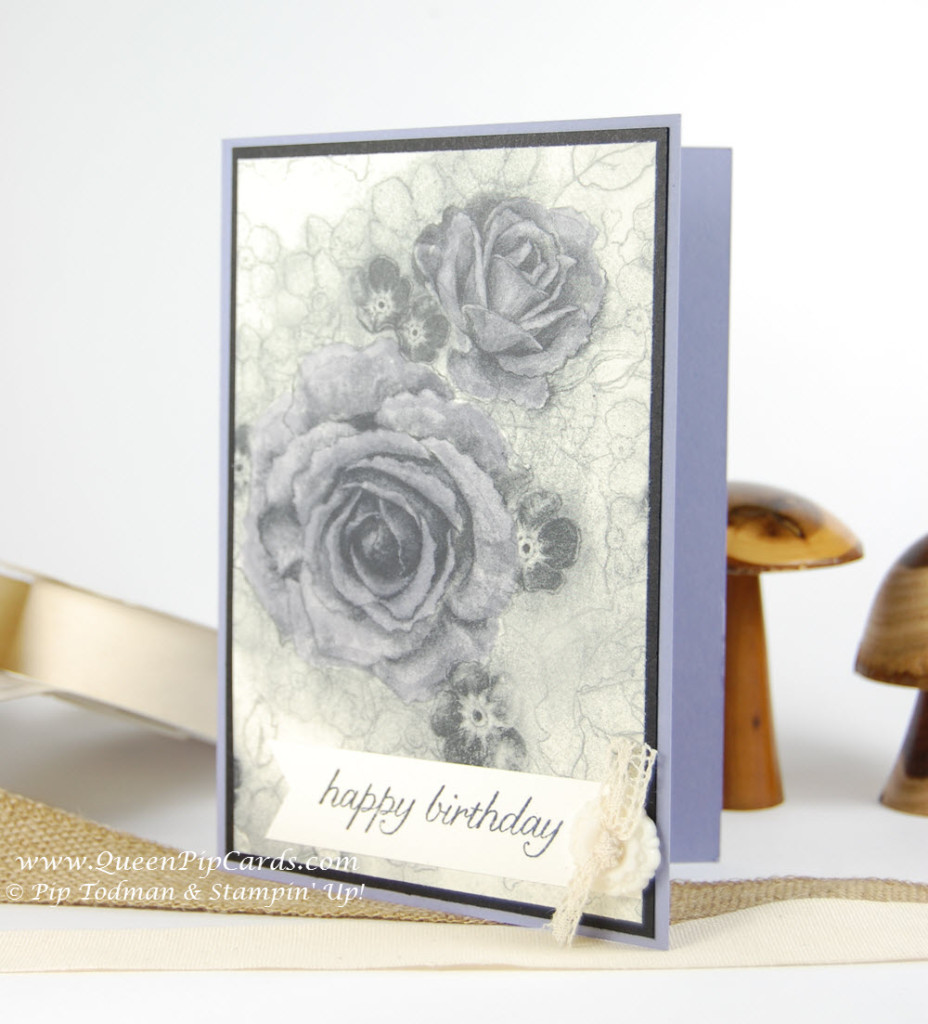 A button, and the sentiment from Birthday Blossoms and of course some Venetian Crochet Trim and you're done! Like it?
So, that's my quick & simple card for this week. Measurements are: A4 card cut in half along the long edge at 14.9 cm, fold in half to make your A6 card base. Cut the Basic Black layer 14.4 cm x 10 cm, and cut the DSP 13.9 cm x 9.5 cm. My sentiment was about 2 cm wide and 10 cm long before I cut it using the Triple Banner Punch.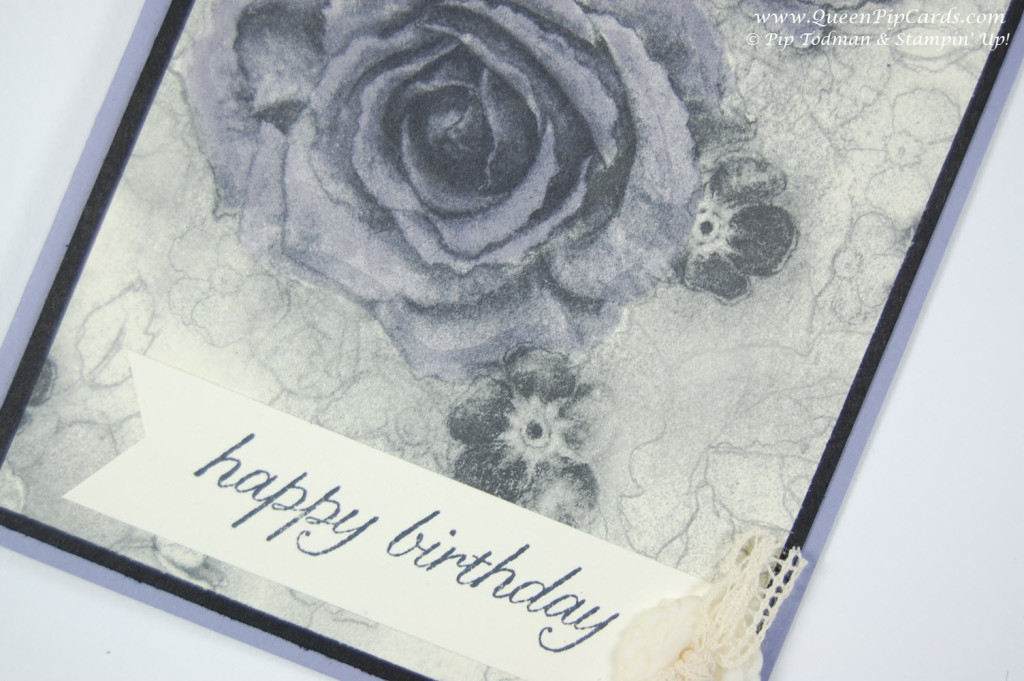 Hope you like making this, all the products are below, I will be placing an order tonight, so any last minute items from the Weekly Deals or Clearance Racks – please use the Stampin' Reward / Host Code: WSTSHX97 and remember to allow Contact from you Demo so I can send you a thank you.  I would like to put a big shout out to all my new customers who have placed an order with me over the summer months – but sadly you hid yourself from view so I can't thank you properly – if you didn't check the box to Allow Contact from my Demo then I can't see your details & I can't send you a thank you – so if you would like to get a card from me and a gift for any orders placed using my Stampin' Reward code – then please go into My Account, My Demonstrator & tick the box. See the two photo's below: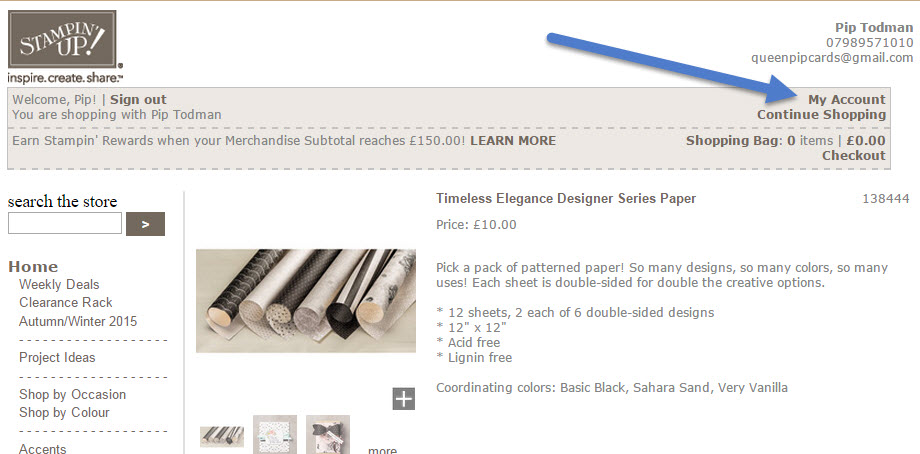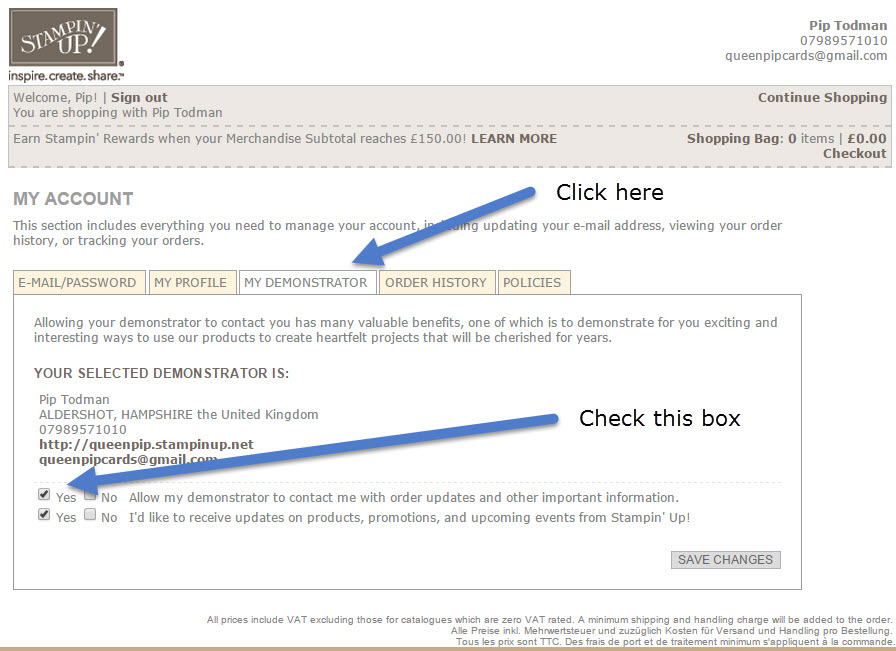 If you do that, then next time you place an order with me I'll be able to see your details and send you a proper thank you!
While we're on the subject of orders – please be aware that the warehouse used by Stampin' Up! has moved over the past 10 days and there are known delays at the moment, so please place any orders early to avoid disappointment, rest assured they are doing all they can to get back up to normal pace but they are also putting additional quality checks in to ensure what is shipped is accurate during this transition phase. They are doing a good job behind the scenes and I know they'll be up to full speed shortly, but thanks for your patience at the moment.
In the meantime, thanks to you all, and have a great week of crafting, see you next weekend for some more! Thanks, Pip x