Happy Sunday everyone, and I hope that you saw my first Autumn / Winter Catalogue 2015 sneak peek yesterday in my Stampin' Creative Blog Hop? Well today the Autumn sneak peek continues as I wanted to share some of the other amazing products that are launching on Tuesday!!!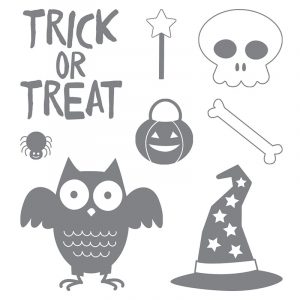 I don't generally do Halloween, I'm not a big fan of trick or treating as it's done in the UK, but I do like some of the images that are in this years catalogue because I think they would work all year round – especially this stamp set Howl-o-ween Treat and matching framelits – available in a Bundle & Save offer giving you 15% off the price of the items separately!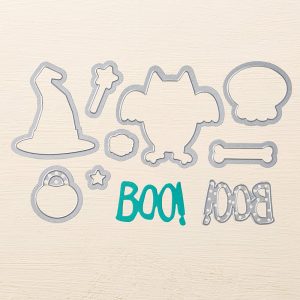 The stamp that first caught my eye was the Owl – anyone who knows me and my hubby knows we really love birds of all varieties but especially Owls and other birds of prey. So this of course was a winner – and then I started looking at the other images – a hat (could be a Harry Potter hat for children's birthday cards), a bone (could be added to a new puppy or dog feature card), Skull & Bone (could be used on a pirate kids card) – see it doesn't have to just be for Halloween, so I decided to go for it!
Since it is coming up for Halloween, I thought I would stick with the traditional use – so here is my card – what do you think? It's a larger card – A5 size (an A4 sheet folded in half) I love the new Black Glimmer paper! and it's nice to get out my Pumpkin Pie, Tangerine Tango, Tangelo Twist! In fact we have loads of gorgeous orangey colours to be used! Have you spotted the new addition to the photo family? My hubby decided that since we were doing Halloween mushrooms were not spooky enough – so he made me a ghost (or two) instead!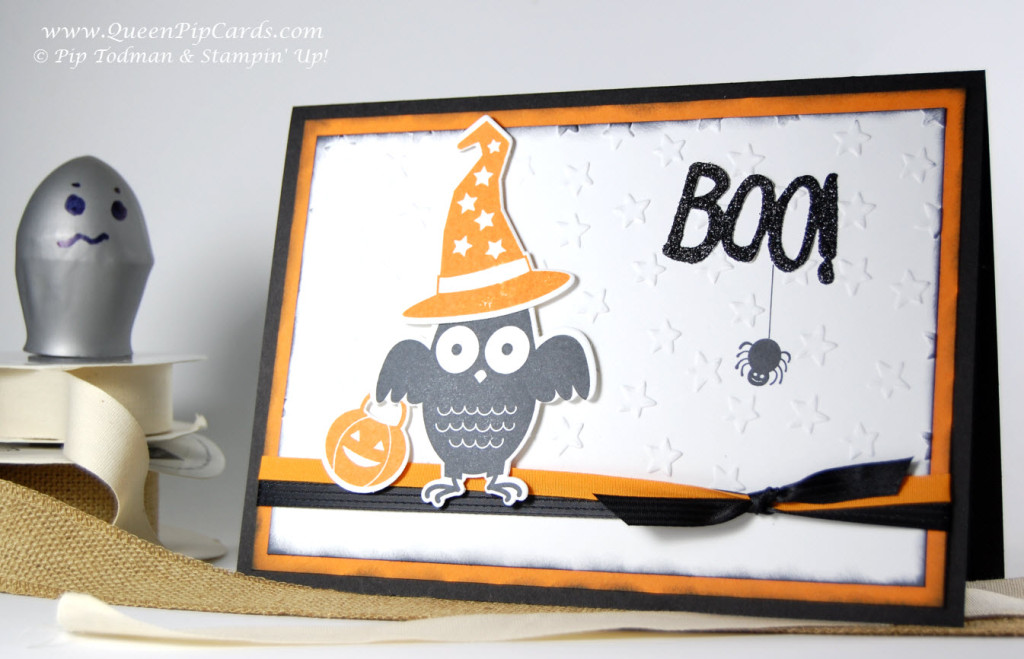 I did a matching Square Pillow Box (new Thinlit alert!!!) too – just to show case it's not always just about cards! These would make great trick or treat gifts if you go in for that or if you're having a Halloween party for adults! They fit the lovely 2 pack of Borders Biscuits inside (just to give you an idea!!) so they are quite large. You'd easily get some party sized chocolate bars or sweets inside too. I stamped up some tissue paper and wrapped my biscuits in that so that the paper showed through the cut out section I added to the treat pouch.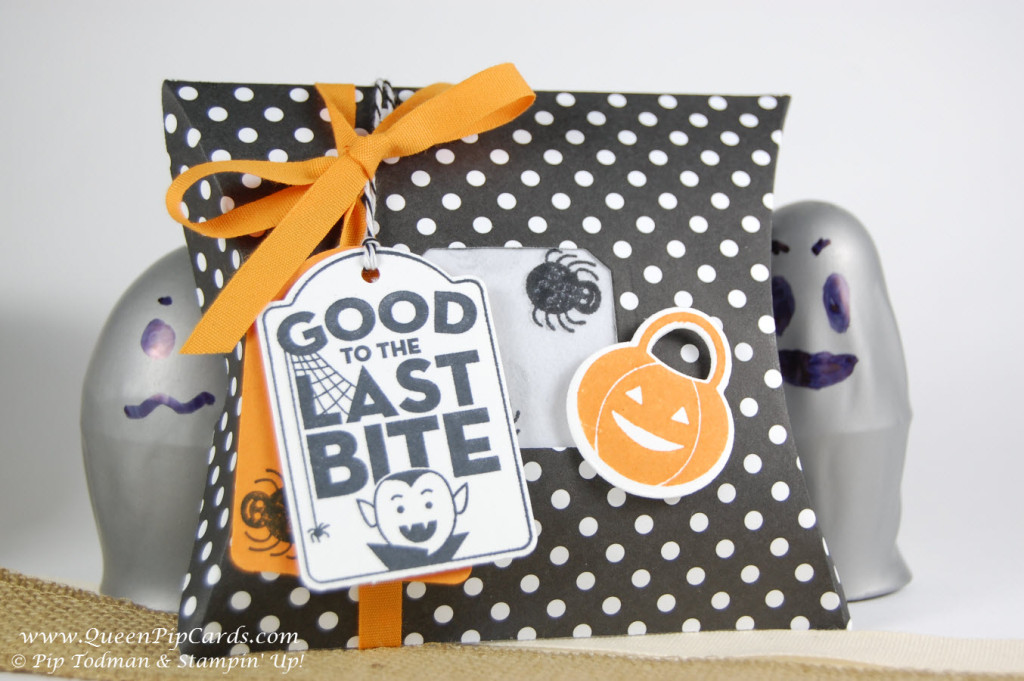 I used the Annual Catalogue stamp set Merry Everything for my tag, just to show you how easy it is to mix and match the stamps together with what you've already purchased. This also comes as a bundle with the matching punch!!! Another 15% saving! Everything you can currently purchase is shown in the shop links below.
This image shows the new Black Glimmer Paper – it's really beautiful, and not just for Halloween! I also added some star embossing using the Lucky Stars Embossing Folder to match and compliment the stars on the hat.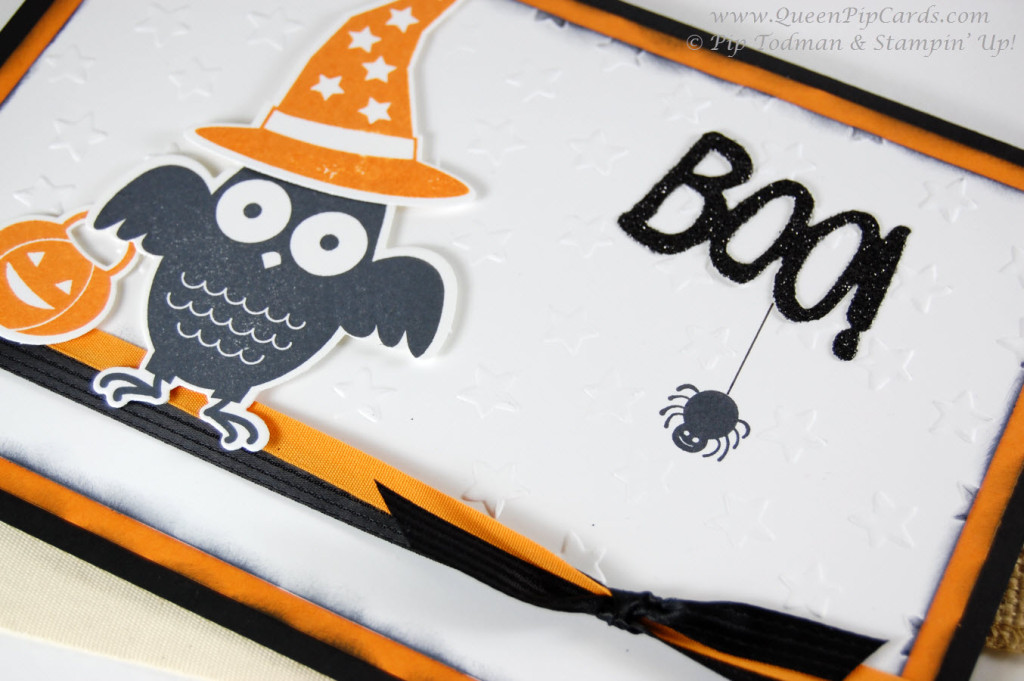 This week I also wanted to just share a new location where you can find me demonstrating Project Life & Stampin' Up! next month – on Saturday 26th September 2.30 – 4.30pm I will be the guest demonstrator at Make, Create, Craft studios in Woking (see the page HERE) and we'd love for you to come along and see what's available. I will have some Kits available to purchase on the day, plus I'll be doing a prize draw – so if you're in the area and are interested, please book via the Make, Create Craft website HERE. Tickets are just £3 and spaces are limited!
So, that's my Autumn / Winter 2015 sneak peek continued – I hope you liked them, leave me a comment if so – I'm still doing the comment give away! Check back in tomorrow for MORE craftiness and come back on the 1st for my final reveal & the launch of the Catalogue online for purchases. In the meantime, happy weekend, and thanks for popping by, hugs Pip x