Happy Easter folks! I hope you've had a wonderful and peaceful day, celebrating with family, friends or on your own with a chocolate egg! Yes it's that time of year when Easter Eggs are in everyone's baskets – although this year Shaun and I had Chocolate Rabbits instead! Yum, but I digress… the historical use of an egg to represent the new life of the Christian faith has been around for a very long time (back to early AD in fact!), there's something miraculous about the fact a fluffy little chick comes out of an egg and the shell left behind represents the empty tomb of Jesus – but did you know it's been nearly two hundred years since the European confectionery artists decided that they could make them in chocolate and how much better would THAT be – genius creations and the first UK egg was made in Bristol in 1873!
So it seemed only right that today of all days I celebrated Easter with a chick, and what better chick than a FREE chick from the Sale-a-bration set Honeycomb Happiness – it's been a real favourite this year and why not, 3 gorgeous images; balloons, ice cream and of course the chick!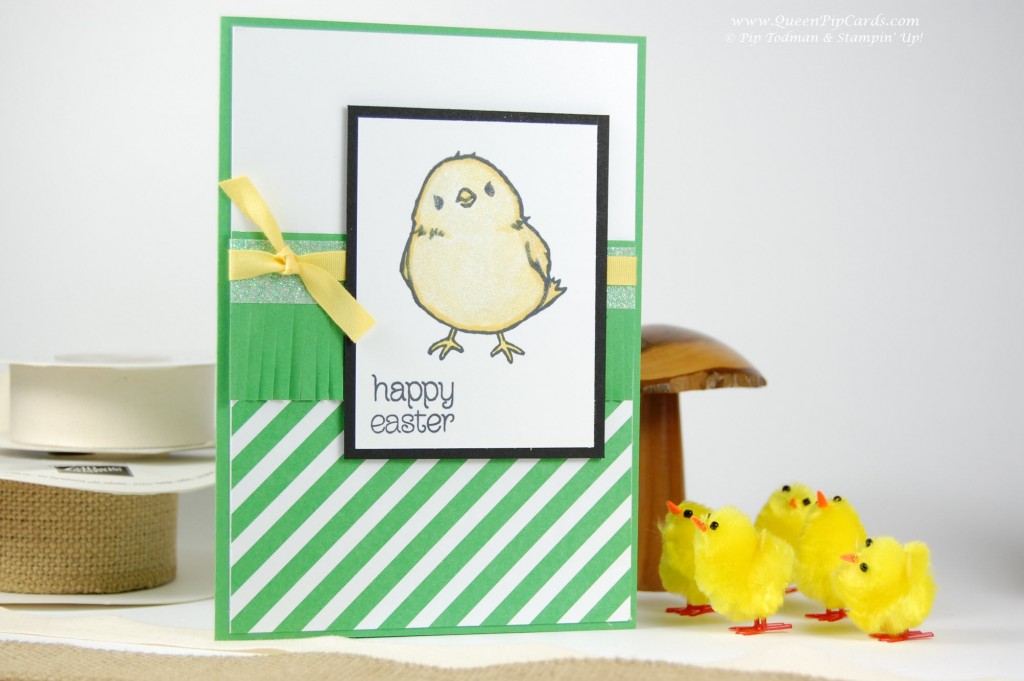 So Happy Easter to you all, I hope you like my little card and history lesson on this lovely Easter Sunday. Shaun can't resist adding a few extra touches to his photos of my cards – and those little chicks looking up at the card are adorable in my humble opinion! Items used are listed below as normal for you to click & buy if you'd like.
With blessings for the week ahead and the hope that you didn't eat too many chocolate eggs and so don't now feel sick! Have a great evening, and tune in tomorrow for my monthly Memories Made Easy post about some of the things I've been using and getting up to in the Memories department recently! Happy crafty hugs, Pip x