Hello folks, I hope you're having a lovely weekend so far and enjoyed your morning lie in with the clocks going back – it was blissful for me! This afternoon I'm holding my Christmas themed Simply Stylish card class, so I'll be sharing some of those projects over the coming weeks, but today I wanted to focus on Packaging and how you can make some really easy, quick and simple yet beautiful packaging to show off (or hide) your presents. Sometimes we get caught up with the card making and the buying of the gift – but we forget that a gorgeous bit of packaging can really give your present that WOW factor!
First up, is the quickest and easiest of all the packaging ideas – buy the Cellophane Gusseted bags from Stampin' Up!'s page dedicated to packaging in the Annual Catalogue (page 151) and the Christmas Oh What Fun Tag Project Kit from the Autumn/Winter Catalogue and coordinating stamps – stamp the tags & assemble and that's it!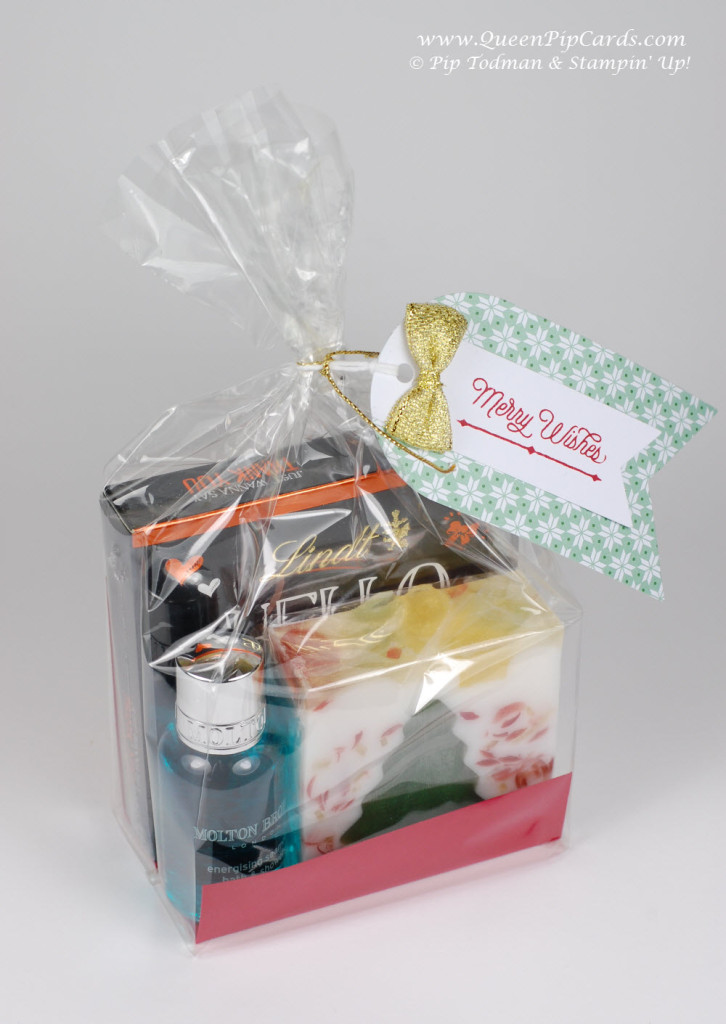 These were my pillow gifts at my retreat this year and as you can see there's quite a lot of room in these bags, the size is 10.2 x 25.4 cm when folded; with gussets open, approximately 16.5 cm wide and they are food safe. Just tie on the tag, and you're ready to go.
For a bit more work, buy a box (or use the box the present comes in) and stamp out & punch some snowflakes using this year's Flurry of Wishes Bundle (15% off the price of both items when you purchase them together) – coordinating stamps and punches are always handy and here it's just one punch that cuts two sizes of snowflake – using the stamps and punch together makes creating a fun snowflake, like this one, really simple but so effective – and this isn't too "girlie" so would do for gents gifts too. I used a retired box here, but it would work on the current boxes or on the actual present itself.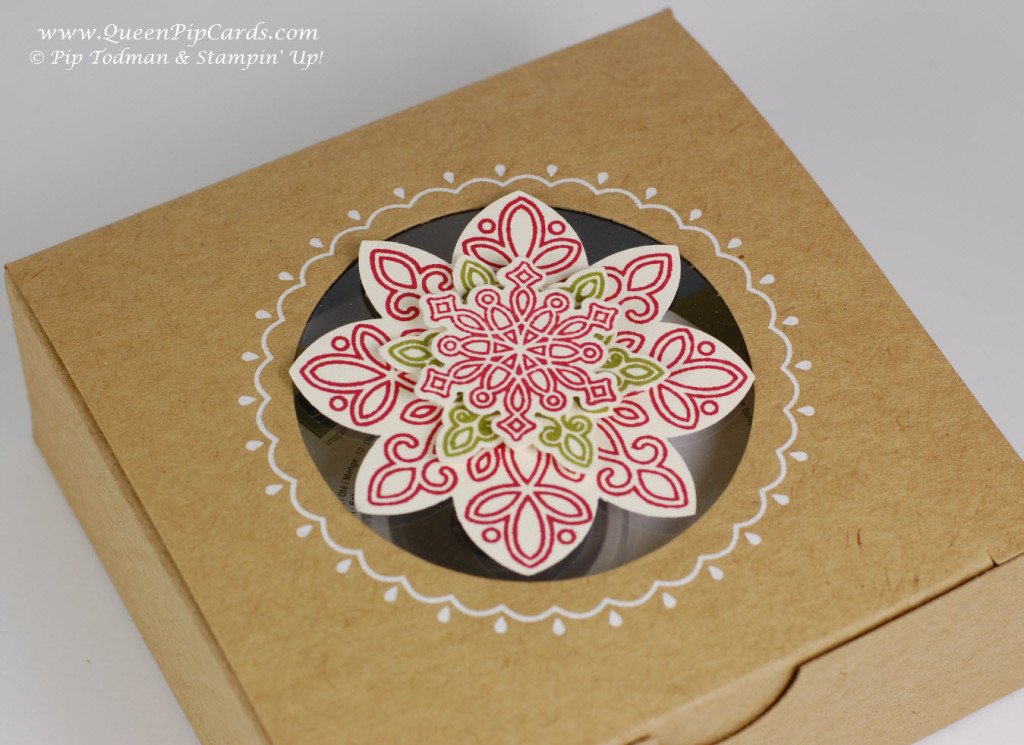 My final offering is using the new Square Pillow Box Thinlit and matching stamp set – which YES comes as a 15% off bundle too! Cut out 2 box sides from 6″ x 6″ Designer Series Paper and glue together the tabs – that's your box made, the sides are pre-creased so they will fold in easily.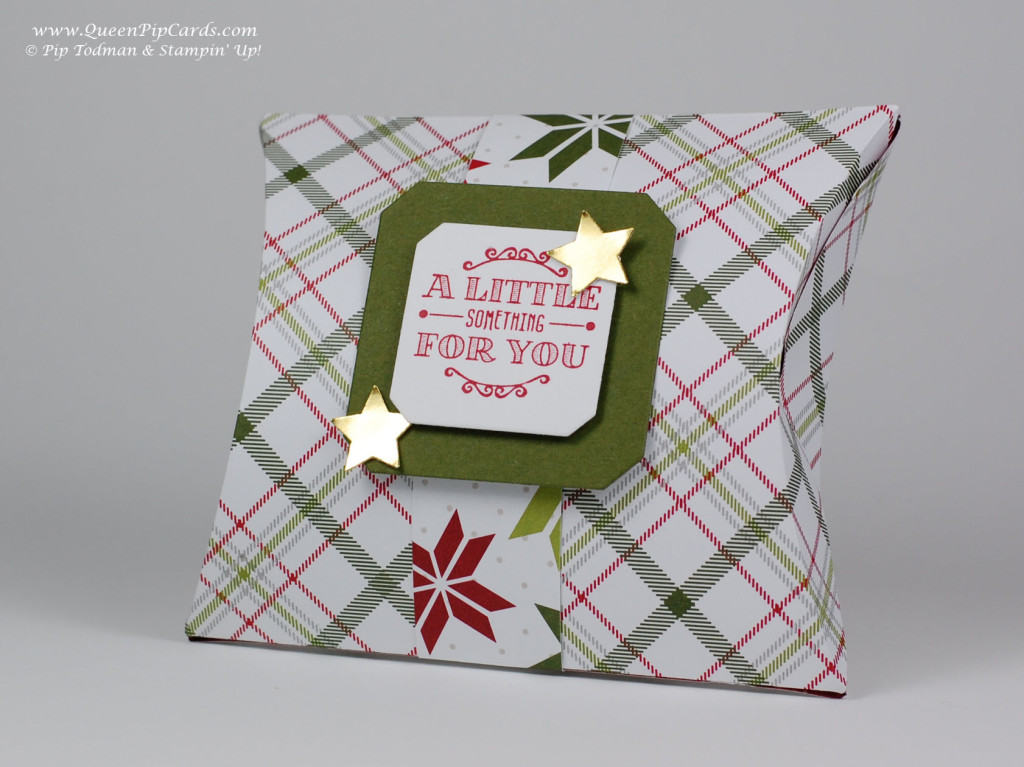 Next cut a strip of Designer Series paper 1″ wide and approx 10″ long to wrap around your box like a belly band. Stamp the words from the stamp set in Real Red and cut out with one of the frames in the set, mount on another frame (there are 2 sizes in the pack) in coordinate with matching cardstock and glue to the belly band. Punch some gold foil stars for some final decoration!
Again this could work for both ladies or gents and you could create your own paper by stamping onto Whisper White cardstock and make it truly unique if you prefer and if you have the additional time.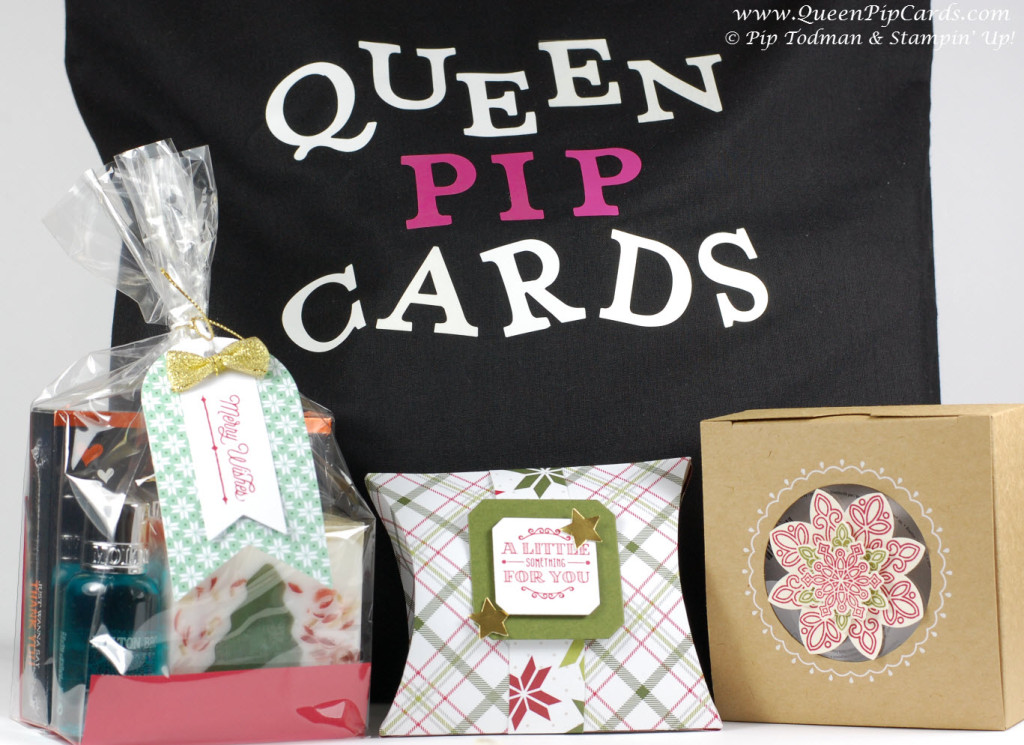 So there you go, 3 packaging ideas – I hope they help you with your Christmas preparations, but don't forget packaging is not just for Christmas, think of all those amazing birthday parties, anniversary dinners, wedding favours that these would work for too. The possibilities are endless – which is what I love about crafting. If you would like to recreate these projects you can purchase the items by clicking on the image below which will take you directly to My Shop, don't forget to use my Stampin' Reward code if your order is less than £150 to receive a share of the rewards as a thank you from me.  This month's code is: Q2VTSRUM. Last but not least – check out my Gallery page for some new additions from my amazingly creative customers! Enjoy!
Next Saturday it's the Stampin Creative Blog Hop so please come back for a visit then, and next Sunday I'll be sharing some more Christmas card ideas to get you ready for the coming season. Have a great week, happy stamping, hugs Pip x