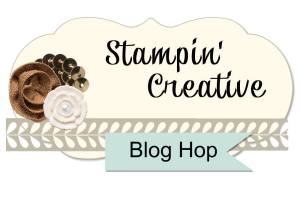 Welcome everyone to a new blog hop that I'm participating in this year – once a month you can join me and some of my friends from around the country bringing you our Stampin' Creative blog hop postings! For our first outing we decided to go with a theme of Valentines. Now this caused me some worry since I'm not really a Valentines kinda girl – my hubby thinks buying cut flowers is sad because they die so what's the point and he doesn't like the hiked up prices in the shops – yes you've guessed it – classic romantic he ain't!
However, as we're still married after 23 years, he must be doing something right – eh!! and I still love him to pieces (aww). I also know there are a few old romantics out there who love valentines – and whether you like the romantic stuff or the fun, modern stuff, or the give a valentines to anyone including your kids stuff – if you go back to basics love is universal and should be honoured and celebrated in all ways! So I decided to break out the Lovely Romance stampset because it says something very true …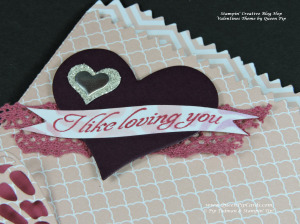 I know awwwww ….
Like it so far? Well this isn't actually a card, this is a gift bag to go with the card … here they both are …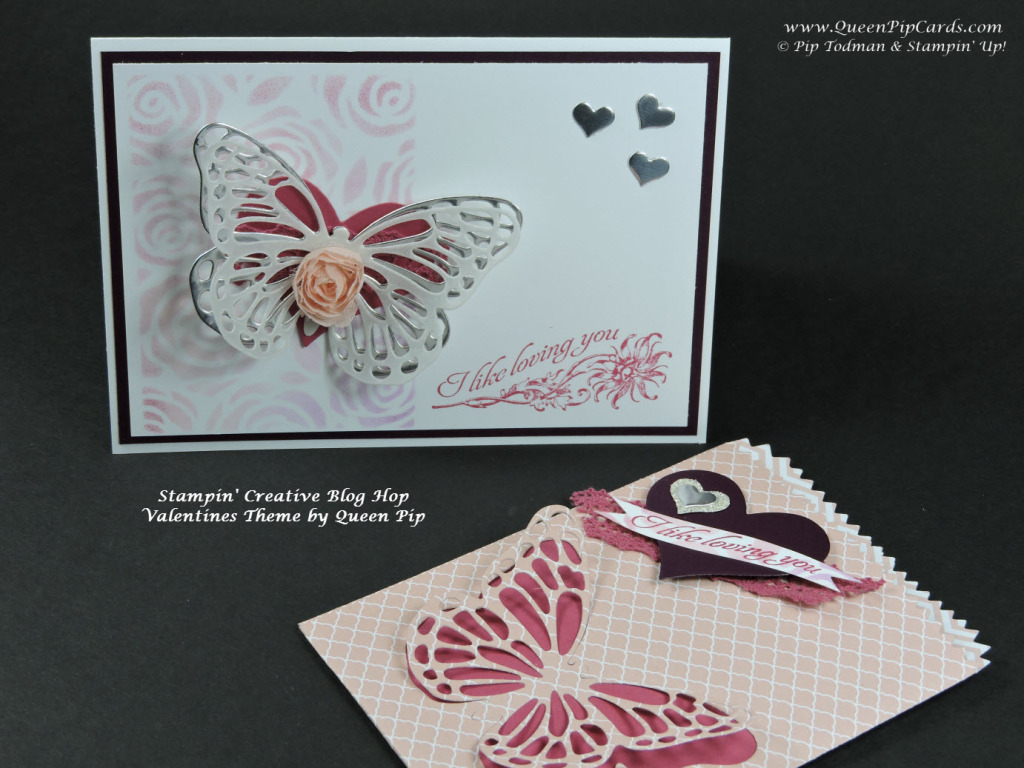 You'll notice it does not say Happy Valentines and therefore you could use it at any time of the year for an anniversary, just to say "I love you" or even from a groom to his new bride. You'll also notice I used the same words on the gift bag and the card, which helps to bring them together – as you can also tell, I've fallen in love with the Butterfly Thinlet Dies!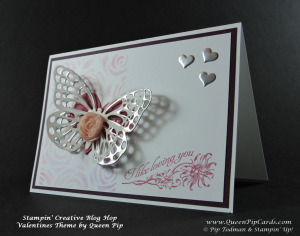 I hope you like it, I had fun with so many new things!!! See a list below of what I used and feel welcome to shop if you like by clicking on the product images – and don't forget FREE Sale-a-bration items when you spend each and every £45!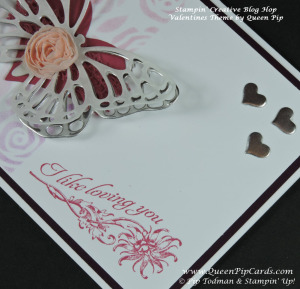 The little hearts are from one of the dies in the Mini Gift Bag Thinlet set – it sounds like a considered purchase item, but when you get them all home, wow lots of fun to be had – although one word of caution it doesn't seem to fit through my Cuttlebug, only my Big Shot – but I will need to play more to be totally sure I can't get it through there somehow!
Before you get carried away with your shopping, take a moment to hop around the Stampin' Creative team – there are only 10 of us maximum each month, so it shouldn't take you long, but you'll get loads of inspiration along the way – just click the image below and on each posting to hop back around to me!
When you return, if you order everything on my list below, then you will get to choose TWO amazing FREE items from the Sale-a-bration brochure – for just a little bit more you could choose up to £130 worth of products and still get TWO Sale-a-bration items or the option of a Spring Catalogue Simply Created kit – how? Join my team today and you get all that, plus the benefits of being a demonstrator – want to know more? Contact me or click here to read all about the perks of being a demonstrator. Why not think about it as you hop over to look at Emily's posting by clicking the image below or using this link.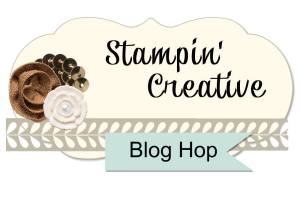 I'll be posting as normal tomorrow too, so until then, happy hopping! Thanks for stopping by, Pip xx