Helloooo folks, I'm back with Pip's Pick of the Catalogue Week 5 and I'm very excited to share with you some of the photo's from this weekends amazing Stampin' Up! UK's Regional Event in Telford.
As a demonstrator I get to attend these great events, meet other demos, celebrate with my team and hear from demos and the Stampin' Up! European Team on what's happening and what exciting things are coming up.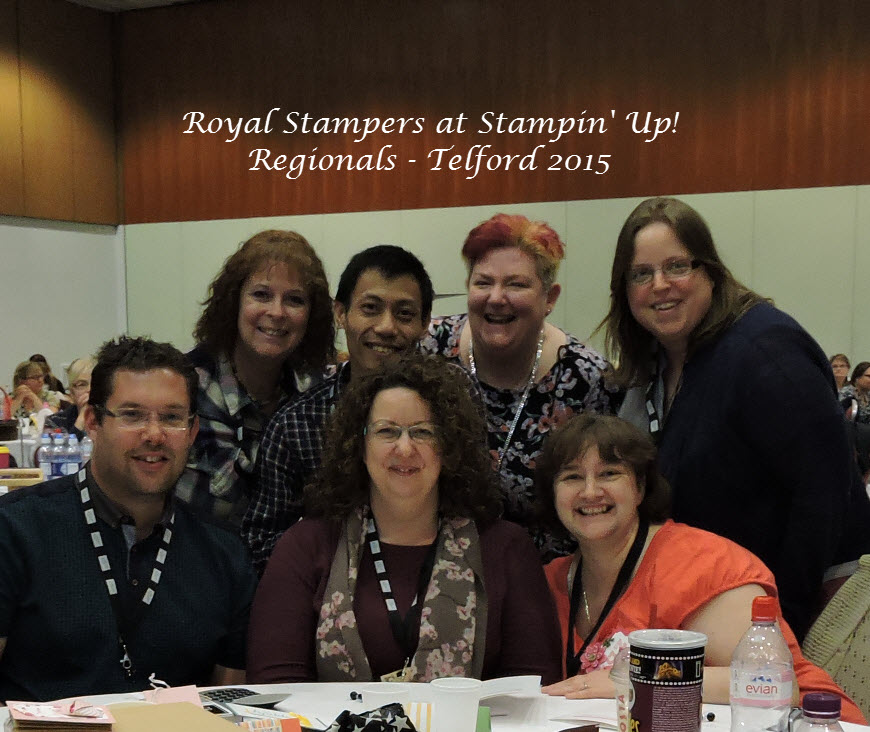 Here I am with 6 of my team members! We have such a good laugh – whether on the journey up, the team meals, during the day itself or on the way home! It was a lot of fun. It was just a shame not everyone could be there – but it's nice to get together with as many as possible at every Event so we can learn and share in the fun together!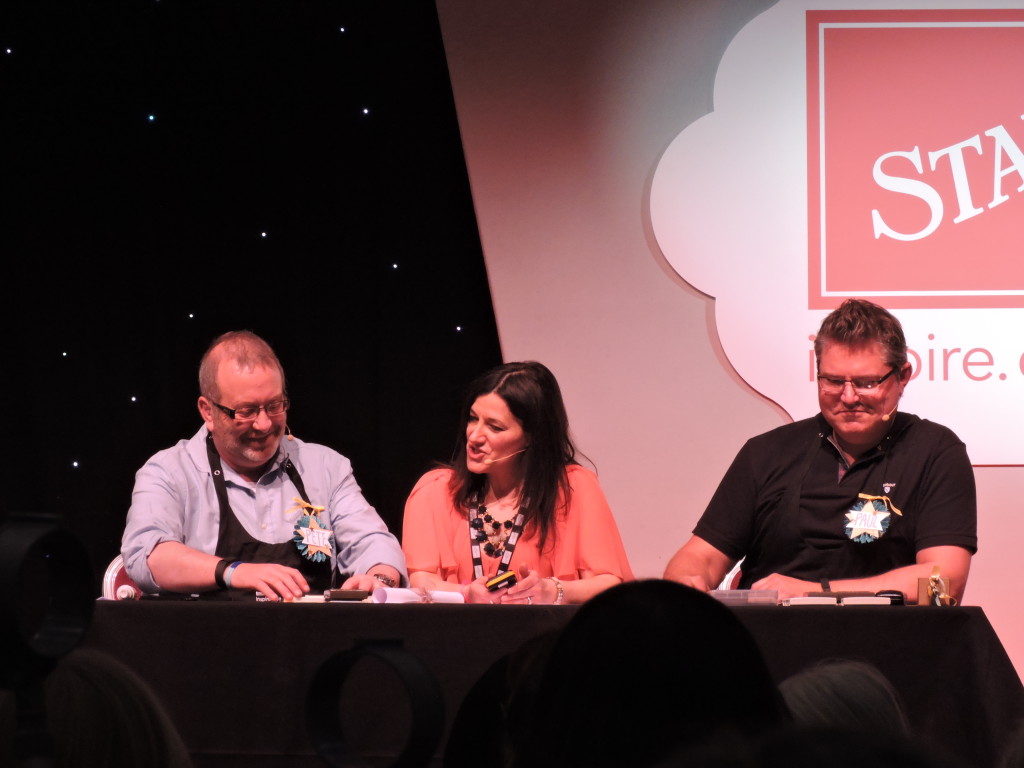 This weekend was a wonderful way to be introduced to the new Catalogue which launches 2nd June, but it was also a time to look back on items that will be retiring – we all make swaps (card fronts, 3D items etc) which we swap with other demonstrators – I got a great stash, some of which you'll see at my launch, some of which reminded me of things I'm going to miss when 3rd June hits. It's a huge perk the ability to see, touch and work with new products before everyone else – and if you want, you can do the same!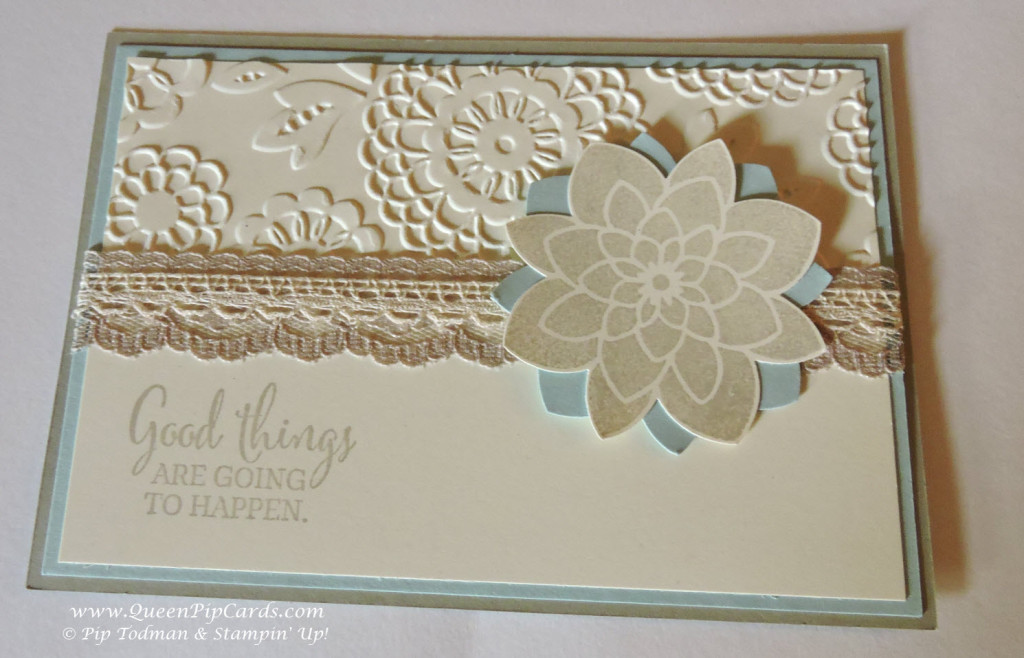 If you can't wait until 2nd June, why not join my team and you can choose from any of the sneak peek items to make up your new Starter Kit! How amazing is that offer?
But if that alone isn't enough to tempt you, here's what you also get:
Choose ANYTHING from the catalogues up to £130.00 and only pay £99! That's £31.00 for FREE!
Plus you save £4.95 on shipping!
Until 30th June ONLY 30% off your first order within 45 days
20% off all your future orders while you are active
Free catalogues BEFORE they are available to the public
Regular FUN gatherings with make n takes, swapping, demonstrations, prizes!
Online crafting/creating support with our Exclusive group on Facebook!
Fun incentives, and contests!
As much or as little support that you need!
Attending Regional and Global Events like Telford – woo hoo
To stay an active demo you need to meet your quarterly minimums, but that's it – how you meet them is up to you – but I'll help you get the most from your demoship.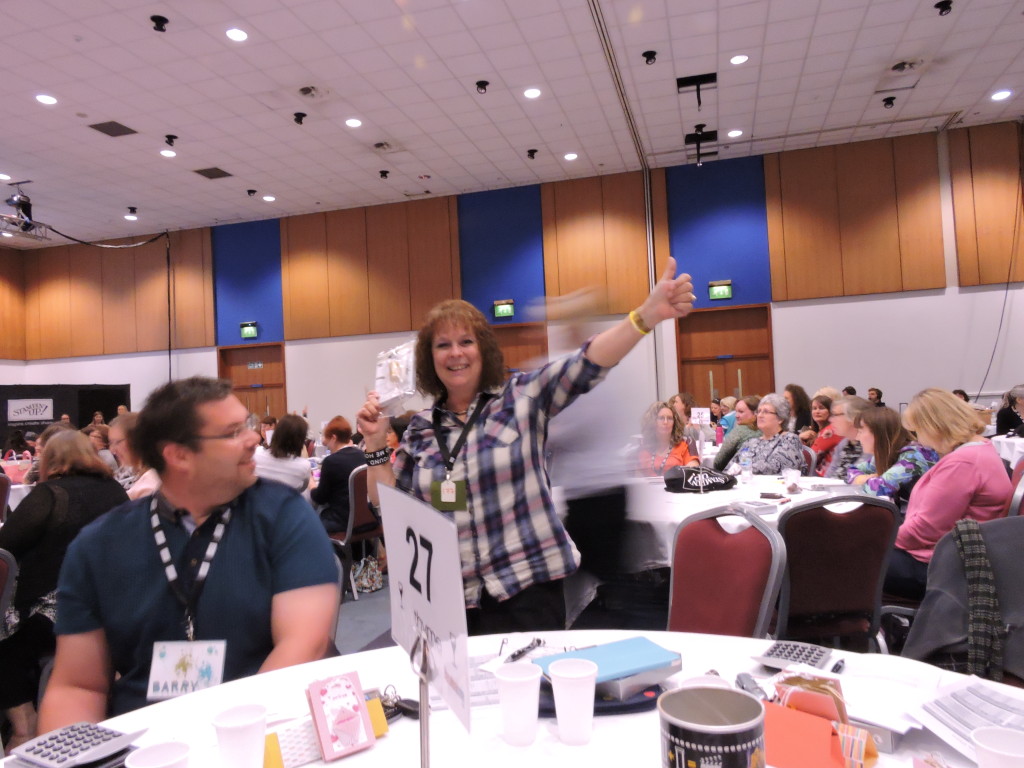 I love celebrating achievements with my team, and it's also great when they win Prize Patrol at the Events too! We had a great haul this weekend – Di our first Prize Patrol winner, Jane who was recognised as one of the top achieving recruiters in her first year, and Emma, Karen and Jane for all promoting this year. Plus Emma won the SAB starters Prize Patrol AND a new catalogue product Prize Patrol – woo hoo – what a brilliant stash by the team!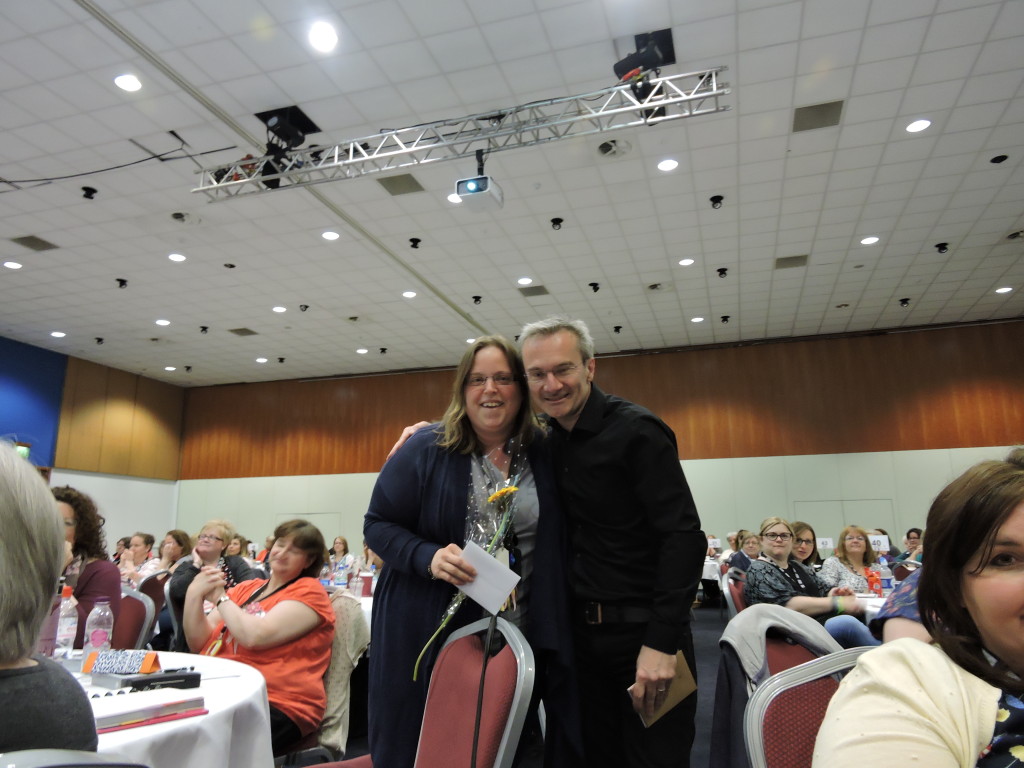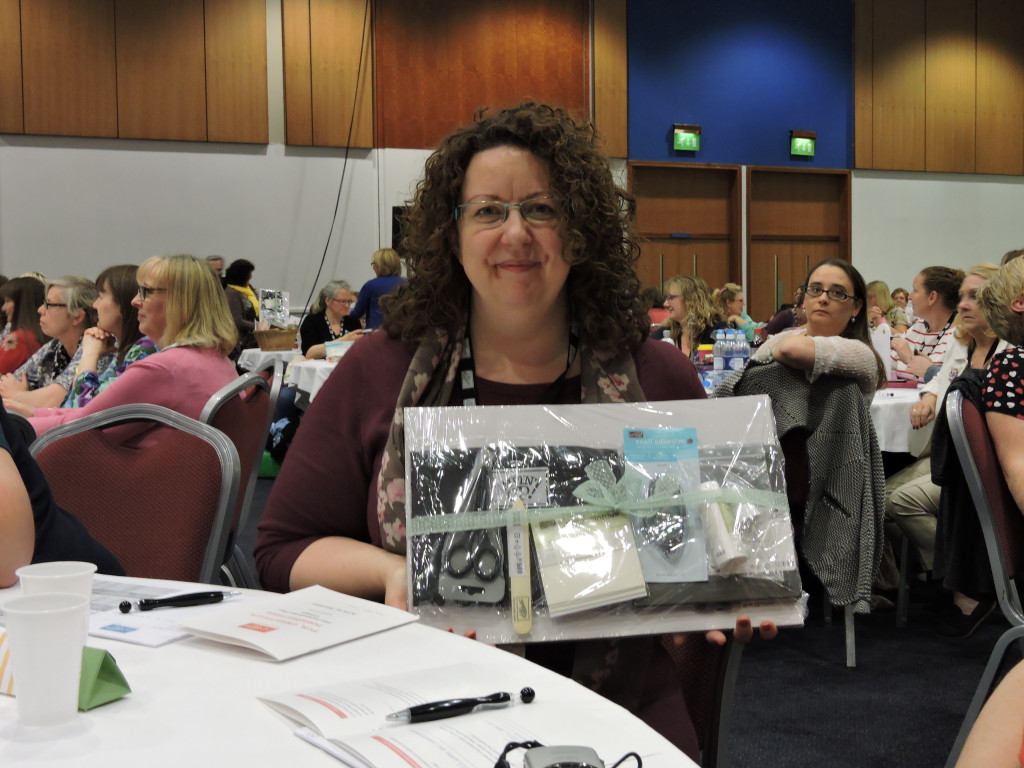 Does all this being a Demonstrator stuff sound interesting but want to read more? Click HERE for some further info, or if you've already decided you want a piece of this fun and a sneak peek at the new catalogue products click HERE to join my Royal Stamper Team NOW. But before you do… check out the 2 PDF's below packed with a look at the sneak peek new products and samples from the 2015-2016 Annual Catalogue.
So my pick of the catalogue this week is the Crazy About You stampset, because it's fun, useful and can be purchased as a bundle with the Hello You Thinlits Dies, which I used in my second swap of the Event – this one was just for the girls who are in the Stampin' Creative Team who I blog with once a month, we wanted to finally meet up in person and so we did a swap just for us – my one uses the secret / hidden words technique.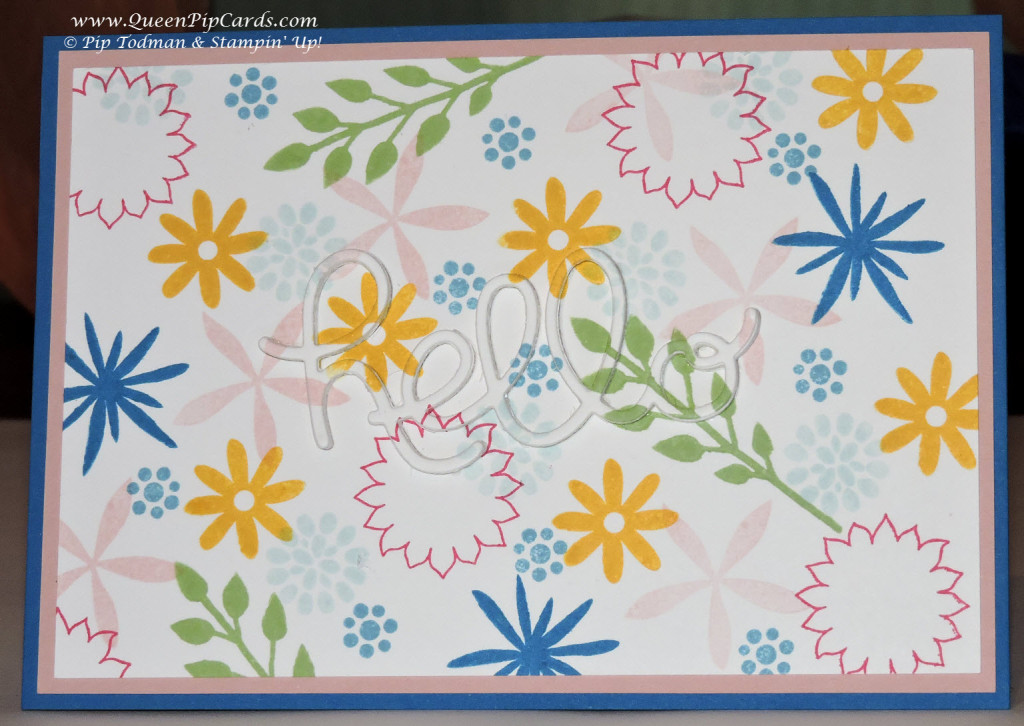 Here's the side view where you can see how the word Hello is actually 3D.
It takes some time, but I think it's really worth it!
Anyway, that's all for this week, see you next week for Pip's Pick of the Catalogue Week 6! Wow time is flying by, but there is still 2 weeks to go before the big reveal, so if you want the chance to get your order in first, Join my team today – you could also add the Crazy about You Stamp Set and the Hello You Thinlits Dies to your Starter Kit – or you can just purchase them by clicking the buttons below.
So, until next week, keep stamping and having fun, thanks for stopping by and take care, Pip x