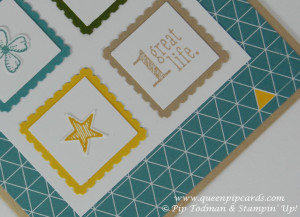 Well we're less than 24 hours away from my Catalogue Launch party and we continue to countdown to the actual launch itself on 1st July – when I'll be posting in the morning for  a change.
So here is a sneak peek of the Make & Take for tomorrow's event. It uses some of the fabulous new products, like new punches, a new stampset, the new in colours and new Designer Series Paper paper stacks – ooh did I make that plural by mistake?!? You'll have to wait and see!
I have 16 ladies who will get their hands on their new catalogue tomorrow and I know a lot of them can't wait to see what's in store for them.
If you'd like a copy of the new catalogue please let me know and we'll work out shipping to your address. They are only £2.50 + p+p if you buy from me within the first 2 weeks of July, or you can add one to your online shopping for the normal price of £5. To be honest, if you're already putting an order in and getting that shipped to you then it's probably cheaper to do it that way – as they are heavy (more pages than ever this year!) the postage tends to be heavy too! But if you're local and can collect it from me, then please do so.
Tomorrow I'll be showing you some more wonderful creations with new products and tempting you to add to what I hope is an already growing wish list.