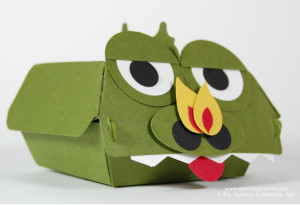 Hello everyone, here is my next posting on my countdown to the launch of the new catalogue – we're up to T-6 days – and today I want to share with you my use of the new Hamburger Box die – yup I made a Dragon (obviously!). Isn't he a cutie?!?!?
This die is easy to use, although I would suggest cutting the corners rather than trying to fiddle with them and stick them down – if you just cut one diagonal edge it works a treat and makes it easier to get a clean fold and connection.
You can dress them up using just super Designer Series Papers, or you an use cardstock and then spruce them up with ribbons and bows; but they also make great punch art creatures; I've seen hippos, crocodiles, angry birds and of course dragons!
I used a few punches to create my dragon – can you name the punch I used for the flames? Or maybe the ones for his snout? Or as an easy question – how about his scales?
Tune in tomorrow for the next sneak peek and the answers, until then happy stamping, thanks for reading, Pip