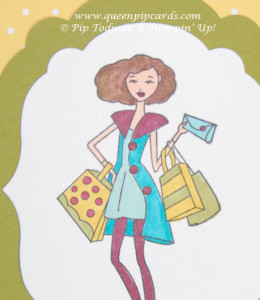 Welcome everyone to my second blog post leading up to the launch of the new catalogue. I hope I've done this T-8 days correctly, maths was never my strong point, but since it launches on the 1st July I reckoned the countdown was backwards from then and so today is 8 days before the 1st! Well that's my story and I'm sticking to it!
So here is my next sneak peek, this time it's from the new We're In It Together stampset – it features some friends and girls who are obviously out shopping or having fun, or just getting ready to party! I used another new product on these cards – Blendabilities, which is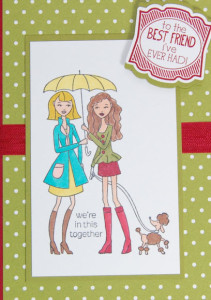 Stampin' Up!'s new alcohol based marker pen set – however these won't be launching in with the new catalogue – so I won't go on about them too much (but they're nice!!)
The stampset is great for girlfriend cards, best friend cards, prom cards and anything else you can think of! I think they're fresh looking and great for younger women and teenagers; and the words are good for anyone who's being helped by a friend to cope in tough times; or is a shopaholic – well who isn't really?!?!?