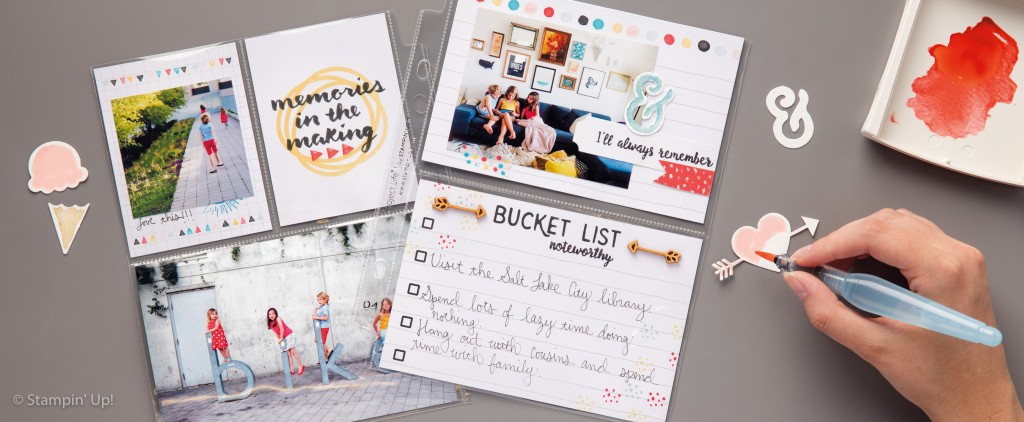 Welcome to my Memories Made Easy Scrapbooking Resources Page! Here you will find information about the various ways you can keep your memories safe from the ravages of time or just the loss of your phone / internet or cloud provider!
Scrapbooking has been a love of mine for years, but I didn't really know that's what it was called – I just used to stick things into project books – I still have one from when I was a child, putting together a book about my visits to Castles in Wales! I progressed to diaries and notebooks, stuffing them full of bits and pieces of information, photos, memorabilia; you name it, it went in there!
Then one day I was shown a "crafters" scrapbook – a beautiful creation, 12 x 12 pages, laid out with photos, single or multiple, with decorations, stamping, embellishments, the works! Now I'll tell you I was amazed, but also a little bit scared! How was I going to create all of those amazing pages, I was a stuffer and note taker, not a creator of amazingly beautiful pages that should go on a wall somewhere! So I decided I wasn't a scapbooker at all, and just carried on with what I was doing! Then along came Project Life by Stampin' Up! and I was once again amazed, but also, finally sure I could do this!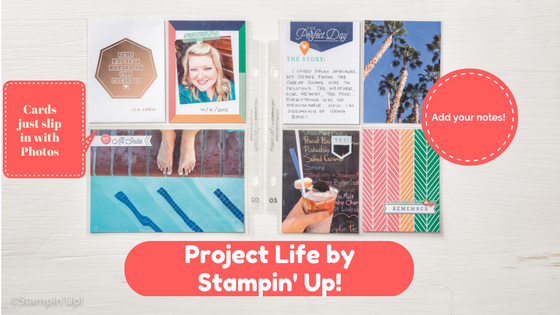 This was more me – pop your photos into the pockets, add some writing, stuff a few other bits into the hard protector pockets and you were off. There is washi tape, coloured cards to pop in along with photos – I was sold! 12 x 12 or 6 x 8 two sizes to get you going, you can use all the same layouts or mix them up with the variety packs!
What then happened was really a bit odd; I started making both Project Life by Stampin' Up! AND normal scrapbook pages to go in my albums! Weird I know, but because I could just do the one page and then mix it up with the pocket pages, I wasn't scared anymore! Nor did it take the hours and hours I'd seen the other scrapbookers taking over 1 page. Finally, I feel I've found my scrapbooking world.
So if this story resonates with you at all, then you really should check out Project Life by Stampin' Up! (PLSU) below are just some of the pages I've made (both "traditional" and the PLSU versions, just click on the small images to see the pages full size.
Here is a link to all the current list of items you can purchase to help you with your scrapbooking and memory keeping. Suffice it to say, I'm continuing my long tradition of scrapbooks – just with a modern twist and a not so scary, not so time consuming system.
Check out all of the Project Life by Stampin' Up! items by clicking this link, or check out some selected items below.
Just click on each product image to go to My Shop to purchase.
I run classes monthly in Ash Vale, Surrey / Hants border, if you'd like to come along – just check out my Memories Made Easy events on my Events Page (click here).
I really hope this has inspired you to give it a go, and as I add more information, ideas and layouts I'll add more blog post links to the section below, so bookmark this page & come back and see what I'm up – or subscribe to my Crafty News (just complete the form below) and hear all about it in your inbox.
#scrapbooking #scrapbook #ProjectLife #ProjectLifeByStampinUp #MemoriesMadeEasy