Do you want a weekend of crafting bliss and friendly company? Fancy getting away from everyone and everything and having some ME time? Does the idea of a weekend full of crafting and making new projects fill you with delight? If so, then these are the weekends for you! Read on for all the details of the 2018 Craft Retreats with Queen Pip!
Can't get away for a whole weekend? Why not book on to our new Summer 1 Day Retreat! Click here to read all about it.
Where are they held?
Located in the Warbook House Hotel the accommodation is clean, modern and the perfect size whether you're on your own or sharing with a friend. The food is amazing and fully inclusive for the entire weekend. Crafting classes are included in your package along with a stuffed Goody Bag of crafting supplies from Stampin' Up! Your table is huge (160 x 80 cm – yep I measured them!) and yours for the entire weekend, no need to tidy away for others!! Bliss. Craft Retreats with Queen Pip are an experience.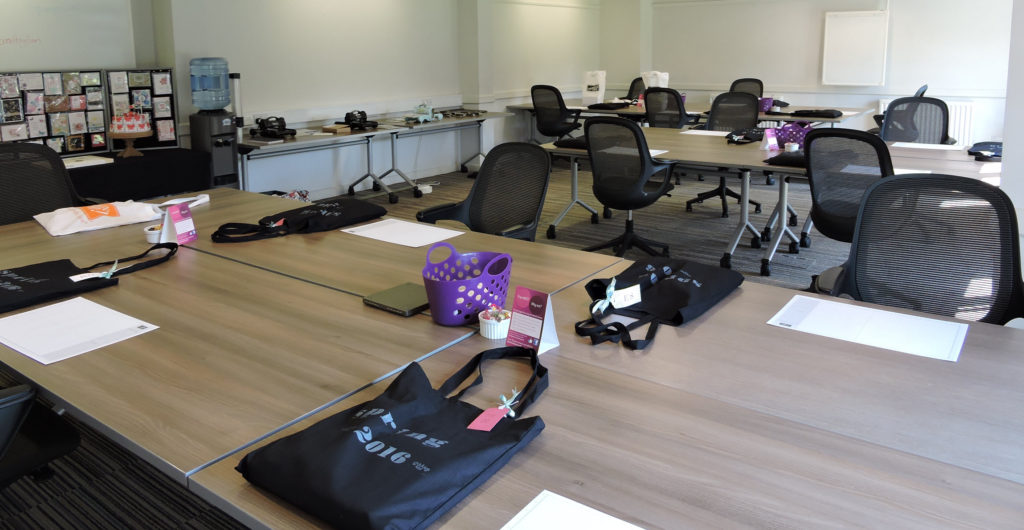 Your goody bag provides all the supplies you need to complete the projects for the 4 classes run throughout the weekend. You will have lots left over to take home too! The Goody Bag and everything you receive at the event will be more than £110 in value and is fully included in your package price.
What happens at the Craft Retreats with Queen Pip?
You can keep up with the class pace or do you own thing or just do a bit of what you like, it's up to you, this is YOUR weekend. Most guests will complete some of each class, some more, some less depending on your crafting speed. There is no pressure or rush to finish everything. The key words are fun, friendly, relaxing, crafty and satisfying! I am very lucky to have help from the Spring Fairy and Father Christmas during my retreats, so always watch out for the surprises they might bring!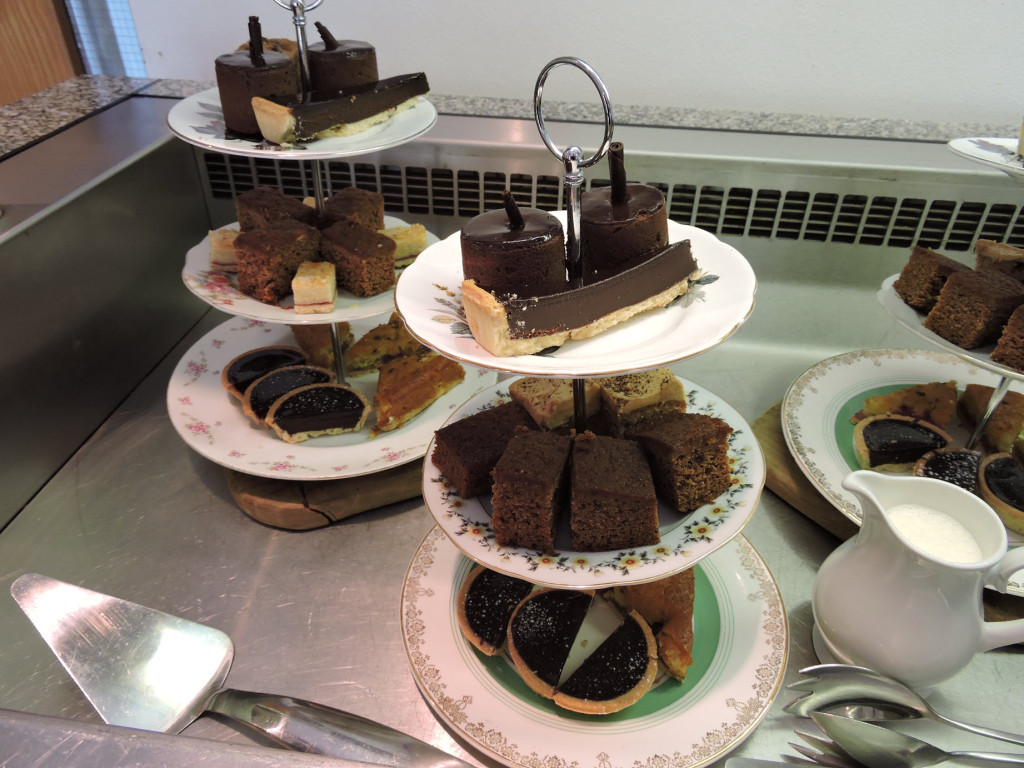 Evenings we have private dining, games and fun; and more crafting if you wish! The days will start at 9 am and finish 4.30 pm with breaks for lunch and you have access to unlimited water, tea, coffee & hot chocolate throughout. Saturday afternoon you can continue to craft up until 6 pm if you wish, or break for a walk or a relaxed chat in the lounge. Craft Retreats with Queen Pip are relaxing but you will make lots too!
Testimonials
Don't take my word for it – here are some testimonials I've received from guests:
A fabulous opportunity to immerse yourself in crafting whilst trying out new things & learning different techniques that you might not be brave enough to try on your own. All done in beautiful surroundings with lovely food & helpful staff & the icing on the cake – Queen Pip of course…

Well – what can I say Queen Pip has surpassed herself yet again! She is a lovely lady, who knows how to deliver a crafting weekend that is 100% pure pleasure from beginning to end! Crafting fun with the best crafting products, in a lovely hotel as a weekend break – what more could anyone wish for! I had a fantastic weekend it was brilliant. I don't ever want to miss out, so will be starting my savings ASAP!

Self indulgent crafting haven with good food, lovely people and lots of fun. Lots of goodies too.

I didn't think it possible but that retreat was the best yet! Thankfully only 4 months to wait for the next one!
When I asked "Would you recommend my retreats to others, one survey respondent said "Yes. But only once my own place was secured!" I love that! What's amazing is that most people rebook immediately for the following Retreat. This means spaces are limited so book your spot today to avoid disappointment, all the retreats are partially filled, so don't delay! Email me at pip@queenpipcards.com to start your booking process.
Craft Retreats with Queen Pip Cards 2018 Dates
Spring Retreat Dates
Friday 27th – Sunday 29th April – FULLY BOOKED
Friday 11th – Sunday 13th May – 2 places left
Complete this form to be sent an email with how to reserve your space now!
Christmas Retreat Dates
Friday 12th – Sunday 14th October – FULLY BOOKED
Friday 19th – Sunday 21st October

Retreat Pricing for 2018:
You will love the price of this weekend. It is a fully inclusive price for 2 nights accommodation (Friday & Saturday), 3 course dinner Friday & Saturday evening, breakfast and hot & cold buffet lunches Saturday & Sunday, unlimited tea, coffee or hot chocolate & snacks, 4 crafting classes and a goody bag worth more than £110 including Stampin' Up! products. The rates are as follows:
Single occupancy is £380 per person or
Double occupancy is £350 per person
NEW FOR 2018 – Summer 1 Day Craft Retreat With Queen Pip!
Fancy a Day full of crafting fun? Can't get away for a weekend? You need the Summer 1 Day Craft Retreat with Queen Pip! With all the luxury you expect, but just for one day! You will get a goody bag worth over £30, plus a delicious lunch and unlimited tea, coffee and hot chocolate! Pillow gifts and craft classes are included too! All for just £95 per person. The only thing you won't get is any hotel accommodation because it's just a one day retreat. Starting at 10 am and finishing around 4.30 pm you will still have lots of time for crafty fun! Craft Retreats with Queen Pip don't have to be a full weekend to be an experience you don't want to miss!
How do I book Craft Retreats with Queen Pip?
Is this your kind of fun? Email me at pip@queenpipcards.com and I'll be in touch to confirm if space is available and also with payment details. I offer a payment plan so you can split the cost into monthly payments (depending on when you book). Please note though there is a cancellation fee should you need to cancel.
Craft Retreats with Queen Pip Terms: Legal & important stuff
A Deposit of £55 for weekend retreats and £35 for day retreats is required to hold your place on a first come, first served basis. All payment plan instalments must reach me by 1st of each month. If you are late by more than 1 week, I will assume you are cancelling your place and apply the appropriate cancellation fees (see below).
Cancellation fees & policies apply:
The % of your fee that will be forfeit should you cancel within the time periods shown. If I can fill your place then the cancellation fee will not be applied. The cancellation fee will be based on when you cancel with me in writing. It covers outgoing costs to the venue and the product kit ordered prior to the event. You will receive the balance as a refund via a cheque or bank deposit.
| | |
| --- | --- |
| Cancellation Notice Period | % Cancellation Fee |
| Between 6 months – 3 months before event | 50% |
| Between 3 months – 6 weeks before the event | 75% |
| 6 weeks before – date of event | 100% |
Cancellations by Queen Pip Cards
If Queen Pip Cards needs to cancel more than 6 weeks prior to the event then your payments to date, less the cancellation fee shown above, will be refunded.
If Queen Pip Cards needs to cancel the event in extreme unforeseen circumstances at short notice (less than 6 weeks prior to the event) a refund cannot be provided. The following will then happen:
You may continue to use the hotel facilities as booked & paid for.
Queen Pip Cards will aim to hold the event with another demonstrator where possible to ensure your crafty fun.
Should this not be possible your goody bags will be shipped to you at Queen Pip Cards' cost.
Again, this is only to cover extreme circumstances including but not limited to, death, sickness or accident. Queen Pip Cards' decision will be final.
VAT Increases
If there is a VAT increase or decrease between now & the events, due to government changes, then these will affect your final price (either up or down) since I have to pay VAT at the prevailing rate! Nothing else should impact the pricing, but with Brexit, I feel we might get a VAT change which I'd have to pass on – but who knows!