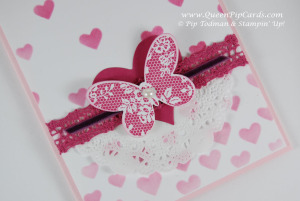 Good afternoon all, this post sounds like a title to a ball or opera! Butterflies and Masks – or maybe a Venetian carnival, but I thought i actually was very accurate for what we got up to at my technique class yesterday.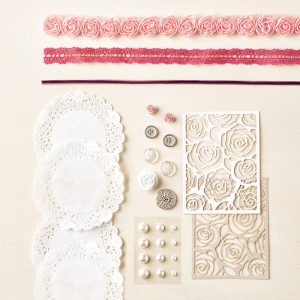 Everyone got one of the Artisan Embellishment kits, some cardstock, and designer series paper with enough to make at least 4 cards and take home a good amount too! Please note the kit only comes with TWO doilies not the 4 shown on the catalogue image – someone got a little over excited with the doilies! They are really cute as they are smaller than the regular ones.
We used the Swallowtail butterfly with the Something Lacy background stamp, Butterfly Basics and Crazy About You for our stampsets. We then added on the Butterfly Thinlits and the Hearts & Stars Masks – so not a lot of supplies, but when you add the Blushing Bride, Rose Red and Blackberry Bliss colour ways and the technique of sponging and daubing we got some beautiful results!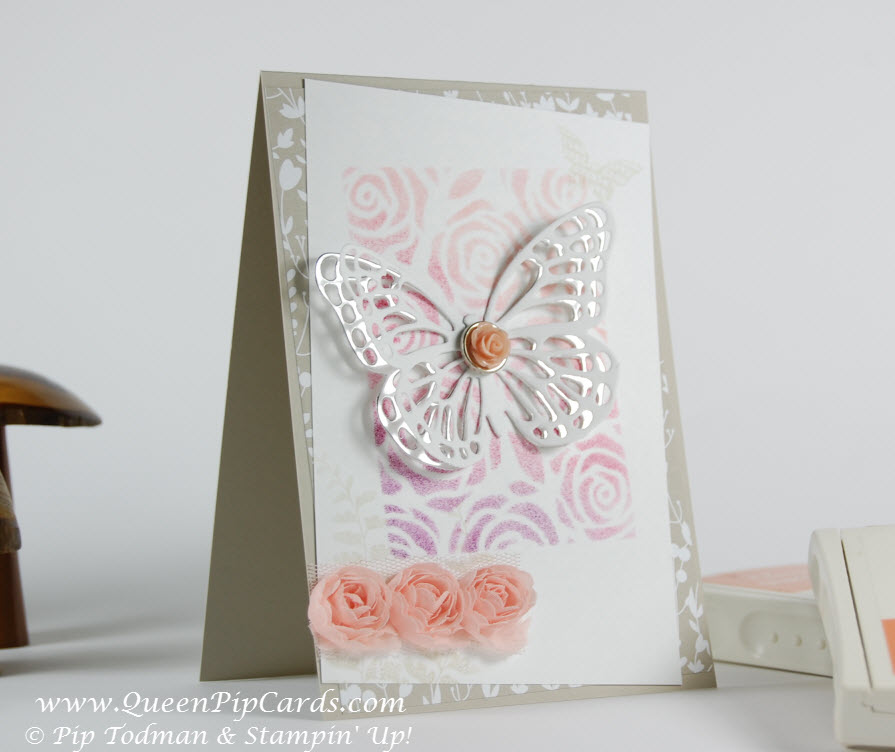 I have two favourites this one, which we created as follows:
Cut Whisper White to 9.5 x 13.9cm
Using the laser cut Rose card from the Artisan Embellishment kit, turn it over (use the back so you can still use the front another time), and attach it gently to the Whisper White card. Make sure you've covered all the edges so you get a clean outline – use very unsticky tape so you can remove it without ripping your cardstock.
Use sponges or daubers to ink through the pattern onto the Whisper White card using a mix of all three colours.
Cut out 2 butterflies one in Silver Foil and one in Whisper White
Use the Something Borrowed DSP as the bottom layer 14.4 x 10cm offset so it's not square and do the same with the Whisper White (this means you can see the lovely pattern from the DSP.
Add some rose trim, a button and rose from the Artisan Kit and you're done!
My second favourite is the next one using the full masking technique of overlaying a plain piece of paper onto the Swallowtail image after you've stamped it & then overstamping with the background image.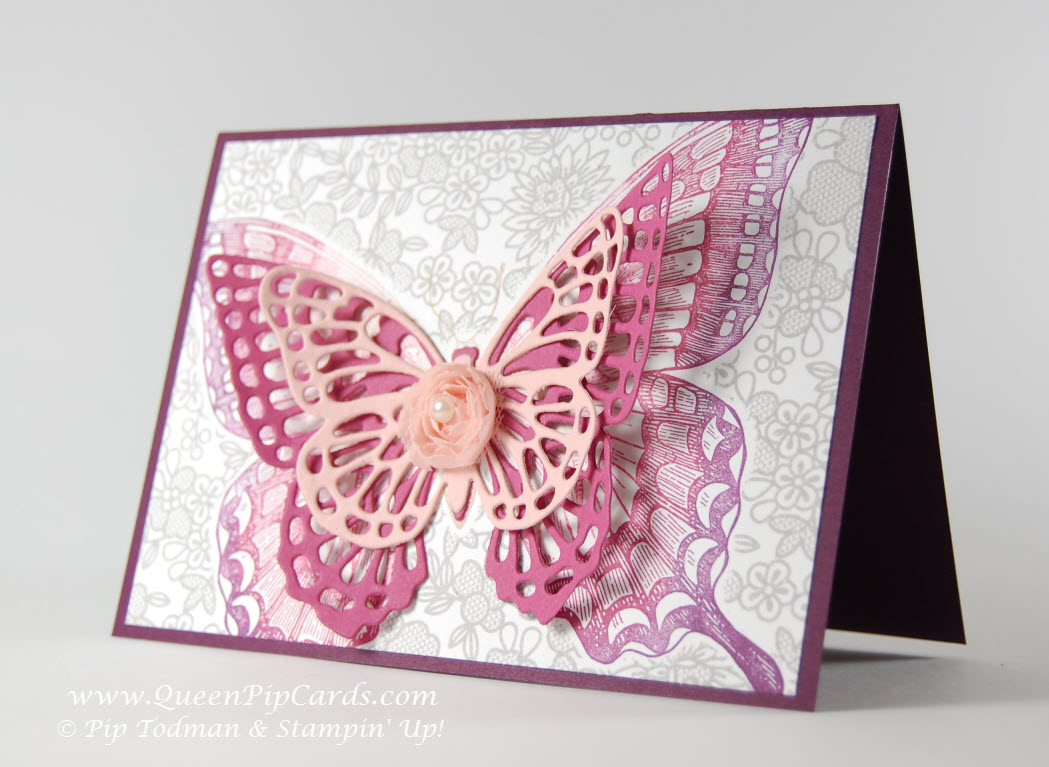 But I like them all really! The final one used the Irresistibly Yours Designer Series Paper you can get with any order over £45 during Sale-a-bration.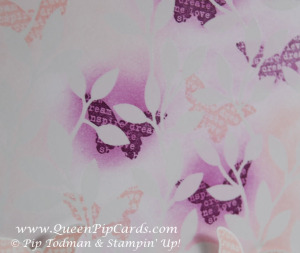 If you'd like to make these cards, then the products are listed below – note you can purchase the Butterfly Basics and Thinlits as a BUNDLE and save 15%.
The tutorial is available over on my Tutorials page CLICK HERE or find it on the menu bar above.
Thanks for stopping by, have a great week and see you next Sunday. Happy stamping, Pip x