Hello everyone, I wanted to say a huge thank you to all my lovely customers and friends who came along to yesterdays craft-fest and memory keeping morning! What a truly amazing launch day we had! If you've ever wondered what goes on at a Queen Pip event just scroll down and have a looksee!
Memory Morning Class: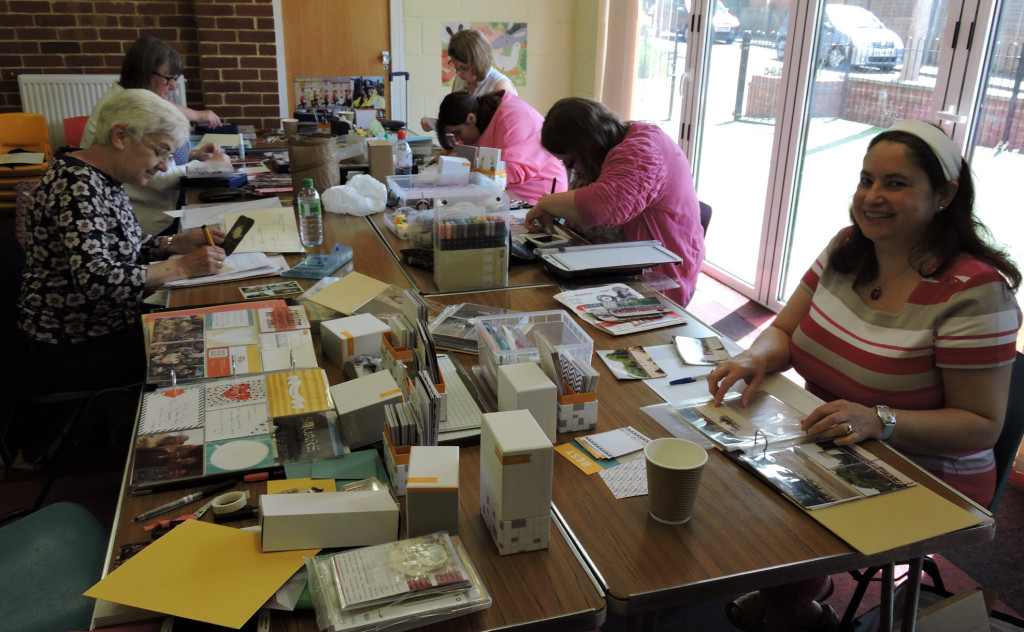 In the morning we had 3 lovely hours of sorting our photo's and memories into a semblance of order! Some did more than others, but we all did more than we expected to! It was great to share the simple, fast and affordable way of organising photo's with Project Life from Stampin' Up! I first got into this a year ago – I'd never heard of it before then – now I'm hooked – it's easy to do, flexible and it won't get overwritten on a hard-drive!!! If you'd like to learn more about it, please get in touch and we can organise a taster session for you. Fill in the Contact Me form on my About Me page HERE.
What I like is that we also had some traditional scrapbookers too – here's Mairi and Jane with their finished pages!
So after a nice relaxing morning, the fun kicked up a notch with an afternoon of launch party mayhem! A big shout out to Jane who helped throughout the afternoon – and to Barry and Jay also from my team who helped people with their orders and starter kit forms!
Launch Event:
Here's the view from my BOGOF table!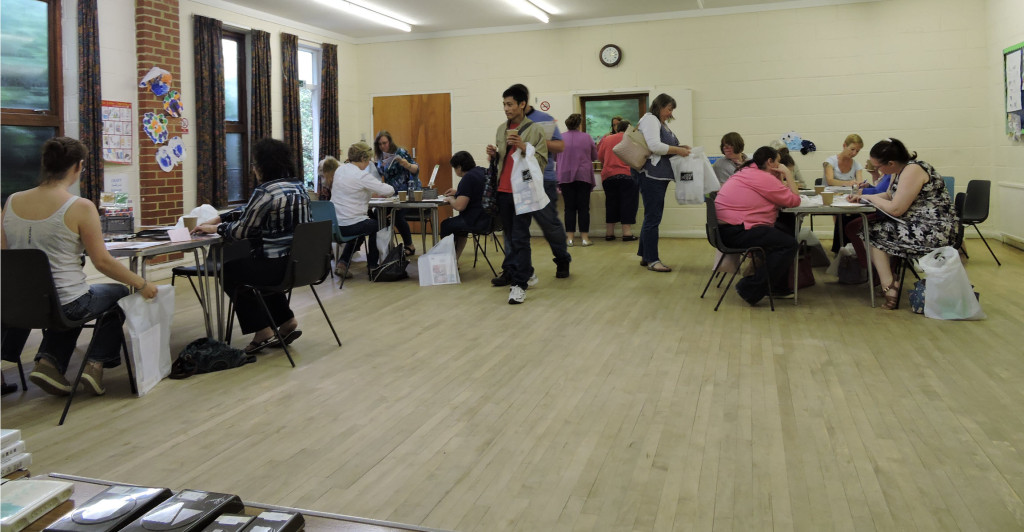 All in all, 23 people had a great time, purchasing from my BOGOF sale and getting the same value of free spend in the catalogue – there was a bit of stamping, some new ideas and a lot of cake!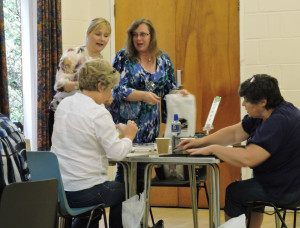 So there you go, a look into the world of Queen Pip Cards and all my lovely customers who came and made the event a special one! Thank you folks!
If you haven't got a copy of the catalogue yet then here's how to get one:
if you've purchased from me this year, you'll be getting one in the post shortly
Or you can host a party or private class and get your hands on a free copy that way
Or get in touch and I'll send you one out with how to order anything that takes your fancy
So next week I'll be half way through my school fairs for June – so if you're coming to the Teddy Bear's Picnic on behalf of Little Fishes at St Peters Ash on Saturday 13th June or to Holly Lodge Primary School fair on 20th June – I'll be there! The kids can make a card, and I can show you the amazing new products and show you how to keep special memories of your children in a safe, fun and snazzy modern way – no creative talents required unless you want to use them!! Check out this video to see what I'm talking about!
Also see below for the products used at yesterday's launch.
So thanks for stopping by and I hope to see you next week, when I'll be back showing off some of the new products I've been playing with! Take care, Pip x