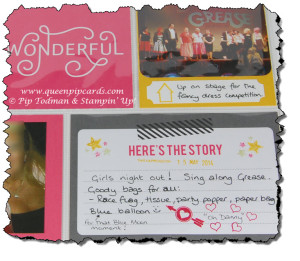 Yep it's me, back again for T-7 days! Today I want to focus on Project Life and how you can revolutionise your memory keeping. For me tradition scrapbooking is kinda scary, but with Project Life I can just print out photo's, pop in some cards and journal tags and be off & running in minutes – it means I can put things down quickly, but still have a sense of the fun we had that day or the hardtimes or whatever it is I'm trying to remember – and it gives me a quick way to record the date / who was there etc because – let's face it I'm getting older and some day soon (ok already happening) my memory is going to forget what I did last summer! (Yes, that's a reference to my age!!)
So with Project Life I can stop the rot and have fun at the same time – I don't have lots of children and parties and weddings to remember – but what I do have is some special holidays, trips out with friends, just general life that I'd like to keep a record of, so I can look back over the last year & see the good times & not just remember the bad stuff that happens as life moves on.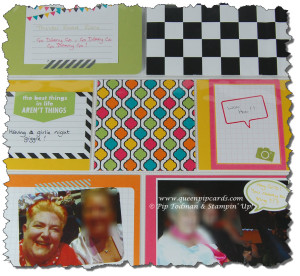 So if you fancy this you can get your hands on your own Sneak Peek, because a limited set of Project Life products are already available for you to purchase, with more coming in the new catalogue – so if you want to get ahead of the game, click on my SHOP above and check out the Project Life category in the left hand menu OR wait to 1st July and see the full range available then – it's pretty awesome.
I got the pre-launch kit with a friend and we made up some 12 x 12 pages – this was me and the girls at a Grease Sing A Long evening in May – we had a blast and I definitely wanted to record that night out!