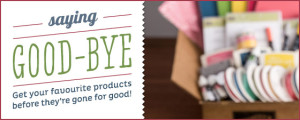 Hello everyone, as promised here is my post launching the retirement lists for the 2013-2014 Stampin' Up! Annual Catalogue.
What do you need to know? FIrstly it's on a first come, first served basis these items are strictly on a "while stocks last" basis. Some items are discounted, some are not. Between now and the end of June I will update my Retirement Page with the new lists as they become available – this will help to show you what is sold out, however please note I will only get updates every week or so, so don't be surprised if when you go to order something that was previously available is now out of stock.
Some additional items may be discounted or discounted further, but there is no guarantee and if you do a "wait and see" your item may get sold out before any discount is applied – indeed some items are never discounted.
All of the Retiring Items will be available to order via my SHOP and that's the best way of ordering during this sale period. Add the Hostess Code YMBAWTKF to your online order and I'll send you a little something to say Thank You for shopping with me.
I will probably place 2 orders between now and the end of June – so if you want to wait until then and get the £1 p+p collect from me that's fine, but if your items have sold out in the meantime there will be nothing I can do to get them at that point.
It's just a great time to get your last chance favourites and some real bargains, but remember all of this is just leading up to the amazing NEW annual catalogue launching with me on the 28th June (orders will be placed following the official release 1st July). So although we're sad to wave goodbye to some of our favourite things, soon we'll have new ones to ooh and aarh over – so don't be sad if you miss out on something, just think you can buy something brand new in just a month!