Today I'm asking you to support our Stamp Out Cancer Challenge this month on 28th September! What is the Stamp Out Cancer Challenge? Let me tell you!
Stamp Out Cancer Challenge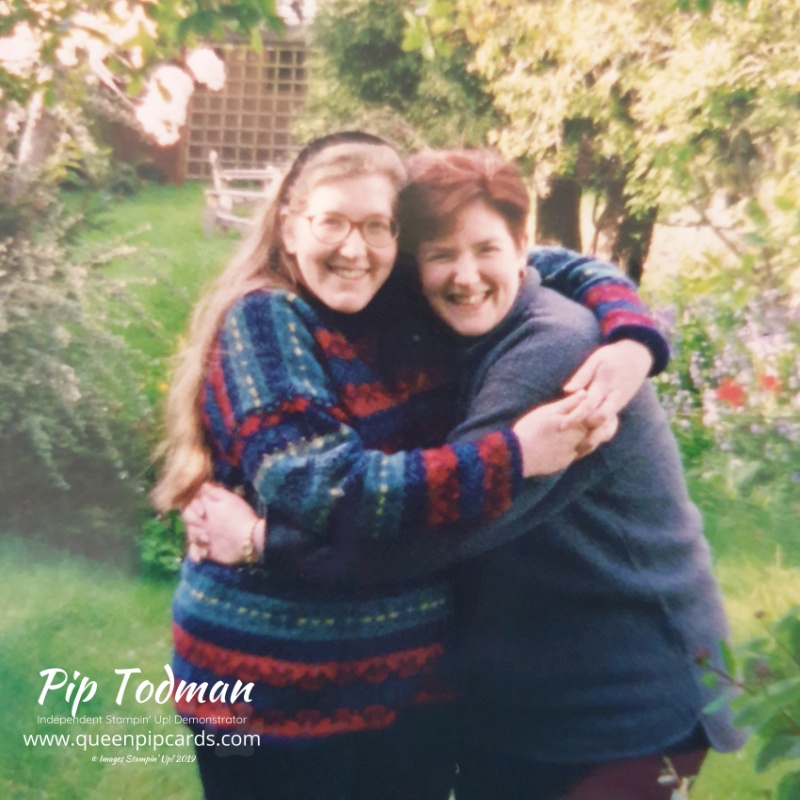 To make 1,500 cards in a day and raise £1,500 in cash too! All to celebrate the memory of my sister Rachel who died 15 years ago this year. She would have thoroughly enjoyed attending an event like this. She probably thinks we're mad as she looks down on our antics! I know however, she approves! This mad cap idea came to me one day at class and I just blurted it out. Before I knew it, it had grown a life of it's own and we were booking the hall and organising the designs! So far we have everything chopped and prepped ready for the big day! It took us 8.5 hours to cut, chop and prepare all of this.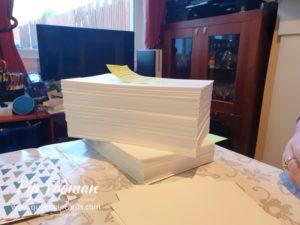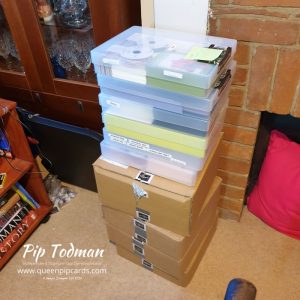 A Huge Thank You
Above all, I owe a huge thanks to my design & prep team Deb C and Allison R! I really couldn't have done it without you!! 10 card designs later and we have a great selection to work with on the day!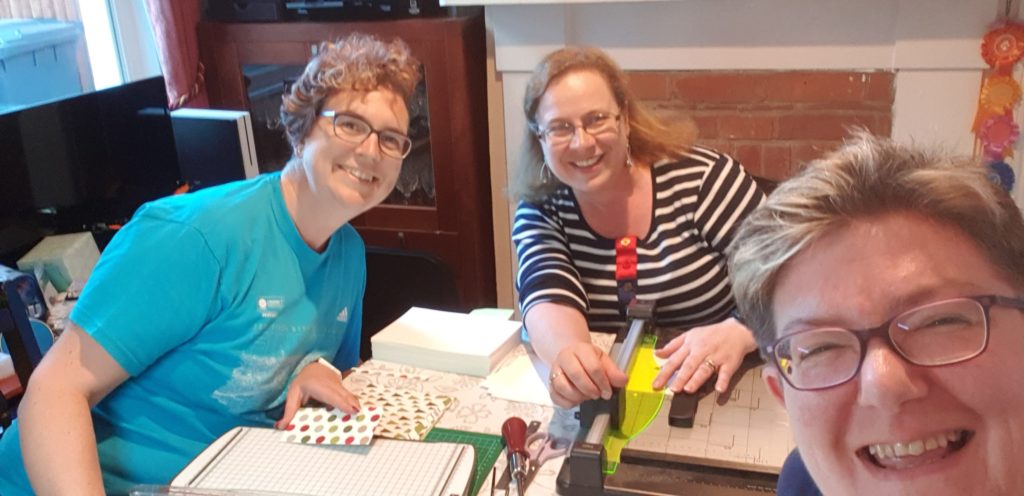 We have utilised a lot of retired Stampin' Up! ribbons, papers and colours, but there are still lots of designs that work in current colours. Consequently, you'll be seeing a few on here or at class too! We have over 20 people coming on the day, which makes the 200 cards an hour look achievable, but the more the merrier!
There will also be raffle tickets sold on the day for some amazing prizes donated by local companies. I am therefore setting up a page to thank everyone and update you with our final totals etc.
Meanwhile, YOU can join in by either booking in to come on the day or donating cash via our Crowdfunding page. We only need to raise the £1,500 now as all the product has been purchased, so every penny you donate (bar payment fees) goes straight to the charities:
Royal Surrey County Hospital (St Luke's where Rachel was treated)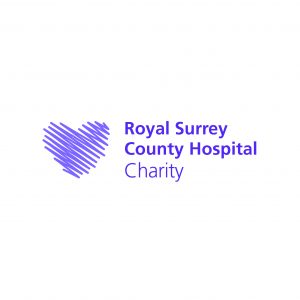 Frimley Park Hospital Breast Care Centre (a new centre for all breast issues)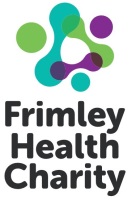 Breast Cancer Now* (my long term charity)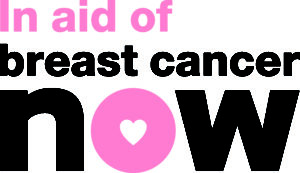 What Your Donation Can Mean for Breast Cancer Now
£5 can:
Buy basic supplies for our researchers
There are loads of bits and pieces of equipment that every researcher needs when trying to save lives from breast cancer. From teeny tiny test tubes for detailed experiments, to microscope slides to get a closer look at what's causing breast cancer, £5 could help kit out the labs to make life-saving research happen.
Buy 50 microscope slides
Microscope slides are thin pieces of glass or plastic which cells and samples of breast tumours sit on, when our scientists look at them in great detail under a microscope. This can help them to better understand what causes normal cells to become cancerous.
£15 can:
Buy 500 tiny test tubes allowing researchers to experiment with small samples. These test tubes are specifically designed to work with small volumes up to 1.5 ml – around a quarter of a teaspoon. They are widely used in the lab for different types of experiments. It is a laboratory staple.
£20 can:
Help prepare a tumour sample from the Breast Cancer Now Tissue Bank
The Breast Cancer Now Tissue Bank stores samples of tumours that have been kindly donated by patients. Scientists can request samples from the Bank for their research, so they can see what happens in real tumours, helping the discoveries they make reach patients quicker. £20 pays for the staff time and equipment necessary to prepare one sample of tumour so it is ready to be sent to a researcher.
£35 can:
Inform people on the causes of breast cancer
Prevention is the best weapon we can have against breast cancer. £35 can pay for the booklets that could provide valuable information for up to 100 women on how to reduce their chances of getting the disease.
To sum up, WOW look what you could help with!!!!
So, don't delay DONATE TODAY and help us reach our goal! Click here to visit my Crowdfunding page. And meanwhile tell all your friends too!
Crafty hugs, Pip x
Pip Todman aka Queen Pip
Stampin' Up! UK Independent Demonstrator
#QueenPipCards #StampinUp #papercraft #simplystylish
Finally, don't forget to use this month's Host Code TFMTYUXU too!

Subscribe to MasterStampers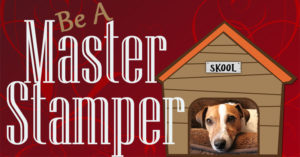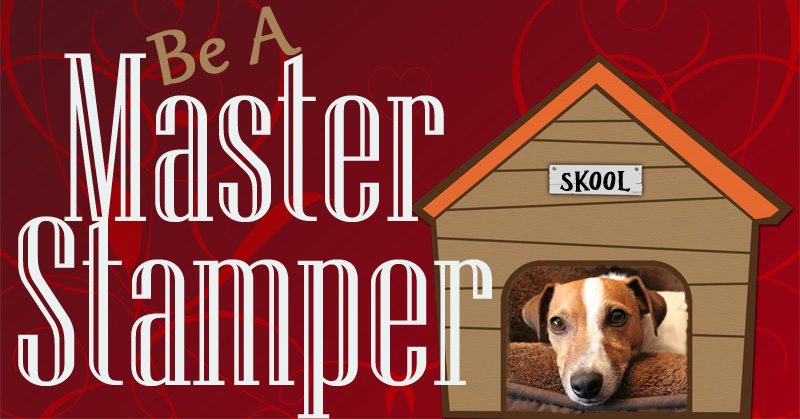 Weekly tutorials, exclusive to the group. A Facebook Group and lots of fun! Join us as we improve our stamping, one impression at a time!
Fill in the Subscribe form below or on my side bar to keep up to date with all the news, special offers and exclusive projects from Queen Pip Cards & Stampin' Up!
* Breast Cancer Now is a working name of Breast Cancer Care and Breast Cancer Now, a company limited by guarantee registered in England (9347608) and a charity registered in England and Wales (1160558), Scotland (SC045584) and Isle of Man (1200).