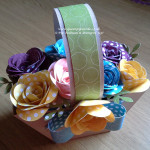 I know Flowers and Envelope Punch Board is a slightly strange name for this month's Technique Class but it does describe what it was all about today. Ever since the board arrived I've been asked to run a class that shows some of the things you can make with it, other than envelopes of course!
However since I attended the Stampin' Up! Convention last November and had a sneak peek, I've also wanted to run a class using the new Spiral Flower die. So there was nothing for it, I had to come up with a class where I could cover both and this was it. I must give credit to Crafty Hallet for the design of the basket, she did one for Christmas and I immediately thought Flower Basket! So the group made a flower basket and a matchbox, and the ladies also left with instructions for both small and large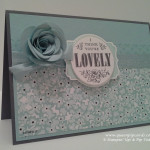 boxes, plus because it's Sale-a-bration I gave them a bonus project of a card with a flower!
This card was totally CASE'd from the amazing Ronda Wade whose projects I love. I loved the use of the Flower and the Sale-a-bration Designer Series Paper.
If you'd like to join in the fun but can't get to my classes then I've managed to do a tutorial on the class so you can buy the instructions and make up the projects at home using your own cardstock and Designer Series Paper. The projects included are: Large & small Box, Matchbox, Flower Basket and Bow (note the Flower card is not included). I give step by step instructions with clear photos so you can follow along. If you'd like to buy this tutorial for just £3, use the buy now button here…. NOTE – THIS SHOULD NOW WORK!
We had a lot of fun again, and I'd really like to thank Michelle for doing a run through on the tutorial to make sure it all worked on the day and for being on hand to help. Everyone seemed to enjoy it. I didn't manage to photo everybody's results from today as they were not all completed, but they were all very good and individual based on the colour choice and the basket width chosen. Everyone managed to make both the basket and the matchbox, or the basket and the card or start all three! I have created a gallery where you can see all of the lovely creations from the ladies today and the original designs. Click here to see them all in their glory.
Supply List:
Envelope Punch Board
Spiral Flower Die
Scoreboard and Paper Trimmer
Perfect Pennants Stampset
Banner Framelits
Itty Bitty Punch
Bird Builder Punch (for the leaves)
Gold Twine
Linen Ribbon
In Color Boutique Details
Various Cardstock – Real Red, Pistachio Pudding, and Whisper White
Various Designer Series Papers – Polka Dots, Sale-a-bration, Subway Soho, and Fresh Prints
If you'd like to order any of the products please pop over to my Shop and order online for just £4.95 you can have all your products delivered direct to your door.
If you order the Class Instructions I will email them to you within 48 hours of payment being received. Happy flower and basket / box making!