Welcome to my 2018 Ribbon and Embellishment Shares! This is new for me. I have done ribbon shares before, and paper shares but this year I have decided to mix it up a litte!
You've told me you want to buy paper all for yourself and not get it chopped up, so I won't be doing any paper shares this year.
Ribbon and Embellishment Shares
These on the other hand seem to be ok with you! So, here is what you can pre-order today. Please be aware I can't get all the embellishments yet, so I can't show you all the amazing goodies that are in the catalogue, but believe me, you'll want a share of some of these beautiful ribbons or embellishments! These images just give you a taster!
Please be aware I can ONLY sell these products to you if you live in the UK, France, Germany, Netherlands or Austria. Them's the rules! So please don't ask me to break them, cos I won't.

Ribbon Share
2 Metres of Mini Ruffled Ribbon, Cotton,Grosgrain,Polka Dot, Textured Weave, Mini Striped, Cord, Satin Ribbon, Velvet Ribbon and 1 Metre of Leaf Ribbon, Tea Room Combo, Metallic Ribbon Combo. That's in ALL the colours they are available in. That's 47 metres of ribbon! Wowzers! It's all of the new ribbons, excluding twines. I figured that would be the most popular.
Embellishment Share
1 or more of each variety, type and colour of all of these Embellishments Candle Embellishments, Leaves Trinkets, Blossom Elements, Flower Buttons, Tinted Faceted Buttons, Tropical Elements, Mini Binder Clips, PLUS a full pot of either the Basics or Metallic Brads (this will be a random choice made by me at time of packaging). That's over 35 different embellishment types you'll get to see in person and use as you wish!
OR BUY BOTH and save!
Pre-Order both the Shares and save on shipping, plus I'll add a surprise EXTRA Embellishment not featured in the list as my gift to you!
To make it super easy I'm using Google Forms for these shares, just fill in your details and I'll email you an invoice to pay, so you can use credit or debit card. If you need to pay by cheque that's also ok, just let me know on the form! I will store your information and send you an email when your share is being shipped.
I cannot store products, so I will order the ribbon & embellishments based on the number of shares pre-ordered. Then when it arrives I will ship it out to you. Nicely packaged with love and a little thank you! You will pay a small amount extra for my time to order, split, sort, package and ship them back out to you. Plus the postage to you. I've included this in the prices. You pay no credit or debit card fees of course! I will order 1st June for all pre-orders prior to 31 May. It takes up to 14 days to ship to me, then I need to cut, sort, package & post back out to you, so I expect to get it in your hands 3rd week of June.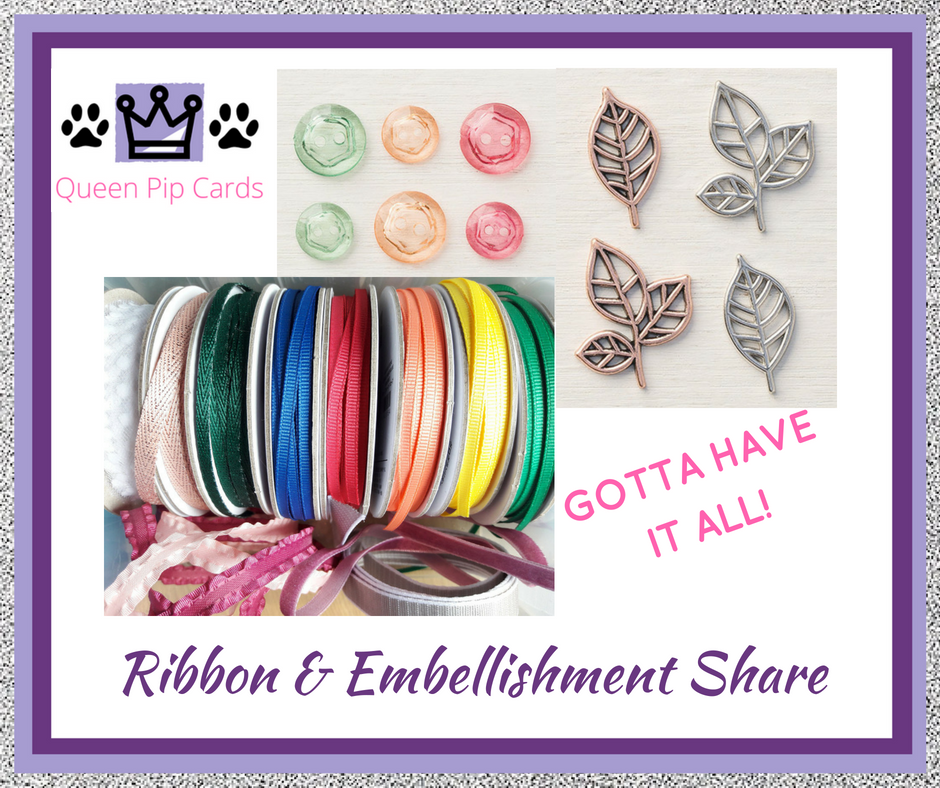 It's a really great way of getting a bit of lots of new things without having to purchase them ALL  Of course if you want them all, then go for it (but I recommend you chat to me about joining first!) Phew, so I hope you're excited about these new beautiful products! Until next time, don't forget to place your pre-order today.
Crafty hugs, Pip x
Pip Todman aka Queen Pip
Stampin' Up! UK Independent Demonstrator
#QueenPipCards #StampinUp #papercraft #InspiringYourCreativity
Click HERE to Join Stampin' Up! for just £99. Choose £130 worth of product and don't pay shipping! Plus 20% off until at least Sept 2018! WOW what an offer. Join my fabulous team the Royal Stampers today or Click here to read about us!
Use my Monthly Host Code EAFQNUF7 for all orders under £150 in the Host Reward box on your Basket screen online. I will send you a special thank you gift from me. Ordering over £150? Keep the rewards for yourself & still get my gift! Click here to read more .
Fill in the Subscribe form below or on my side bar to keep up to date with all the news, special offers and exclusive projects from Queen Pip Cards & Stampin' Up!