Today I'm giving you a Party Pandas Product Spotlight rundown! This is by far and away the favourite choice of Sale-a-bration to date. You people cannot get enough of Party Pandas!!! I really understand, I mean they are sooo cute!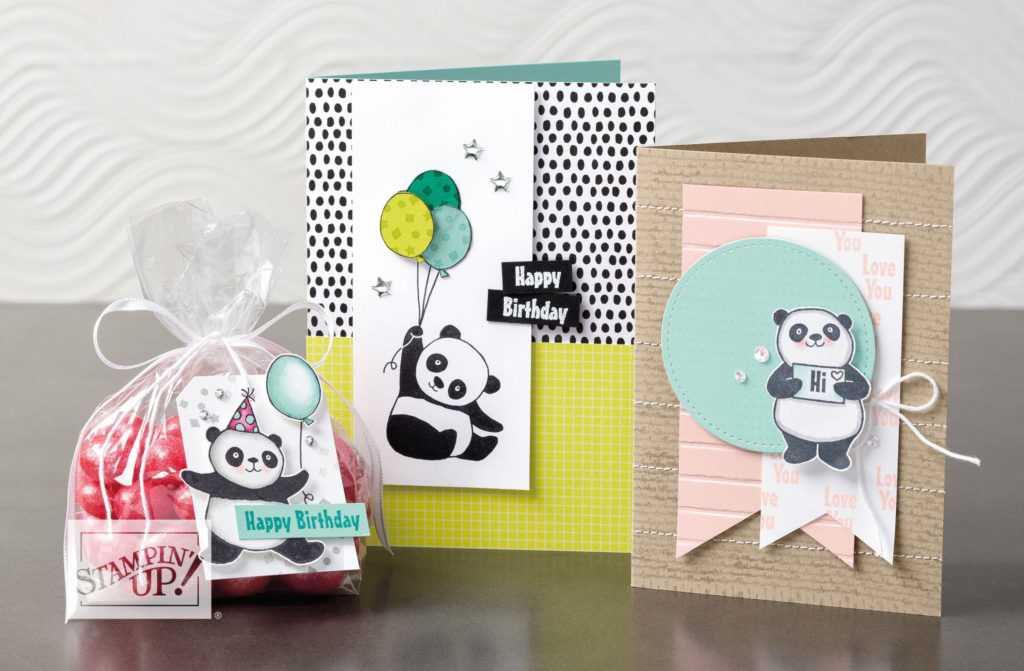 This weekend saw my Royal Stampers Team Training and we focused on the Party Pandas for the card class I gave them. The designs were inspired by Ronda Wade in the US. Here is my favourite of the set I made.
Party Pandas Meet Tutti Frutti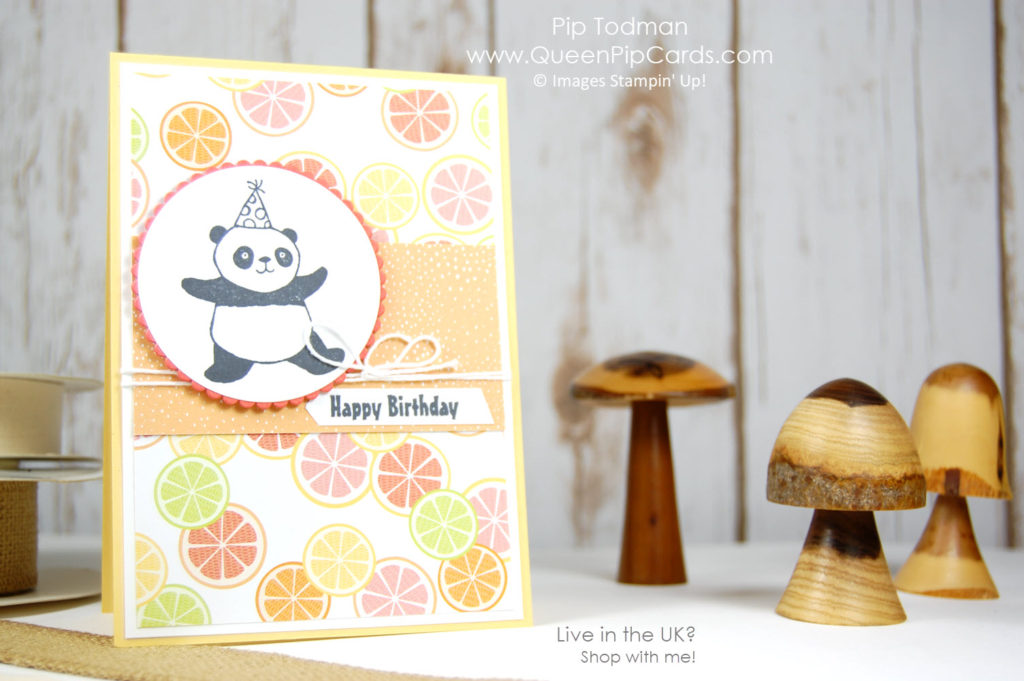 Don't you love it when something surprising happens? I was really surprised by how much I liked the Pandas with the fresh lemons, limes and oranges! It shouldn't work, but it does! Probably because these Party Pandas work with just about everything I've tried!
This is a really simple card design and only takes 1 sheet of Tutti Frutti (the strip is the other side of the fruit side!) With 4 of each sheet, you'll be able to make loads of cards! I would love to hear your thoughts on Party Pandas, why not COMMENT HERE and tell me what you love the most!
There are 3 Panda images in the set, together with 3 sentiments and some sprinkles for added glee! There is even a Balloon! What more could you want?
Queen Pip Tip:
Play with different sizes of layering circles until you find one you like best.
Also don't be afraid to chop off the end of the Classic Label punch to give it a different look!
The Whisper White layer is 14.4 x 10, and the Designer Series Paper is 13.9 x 9.5 with the strip cut at 9.5 x 5 cm.
Now you can't buy the Party Pandas, but you can earn them for FREE with a £45 order of any Stampin' Up! products via my Online Store. I've included a list of the products I used below, just click on the images to shop.
Don't you think the Party Pandas will be a great addition to your crafty cupboard? I think you know what you need to do!
Crafty hugs, Pip x
#QueenPipCards #StampinUp #papercraft #InspiringYourCreativity
Join during Sale-a-bration and get the best offer going! Choose £130 plus TWO additional Stamp Sets (of any value) and pay just £99 with NO shipping charges. THEN get 20% off your future shopping until July 2018! WOW isn't that amazing? No catches, just a great opportunity to get all your favourites at 20% off and join Stampin' Up! and my team the Royal Stampers!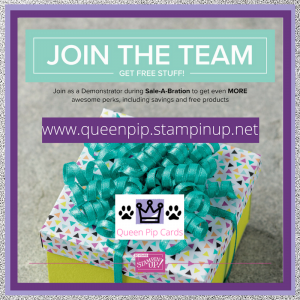 Click HERE to Join my fabulous team the Royal Stampers today or Click here to read about us!
Use my Monthly Giveaway Code for all orders under £150 in the Host Reward box on your Basket screen online. I will send you a special thank you gift from me. Ordering over £150? Keep the rewards for yourself & still get my gift! Click here to read more .
Fill in the Subscribe form below to keep up to date with all the news and get exclusive projects from Queen Pip Cards