Today is our Love and Appreciation with Stampin' Creative Blog Hop! Yes this month we're getting all appreciative and loving in our theme for our designs! Whether you've hopped over from Eimear (weren't her designs gorgeous?) or joined me here, Welcome to you!  I'm Pip Todman owner of Queen Pip Cards from Ash Vale, Surrey in the UK and I'm glad you're hopping with us today. We also have 2 guests this month, in fact this year you're in for some treats with international and UK guests every month!! It's so nice to get additional inspiration from Linda and Laura this month.
Love and Appreciation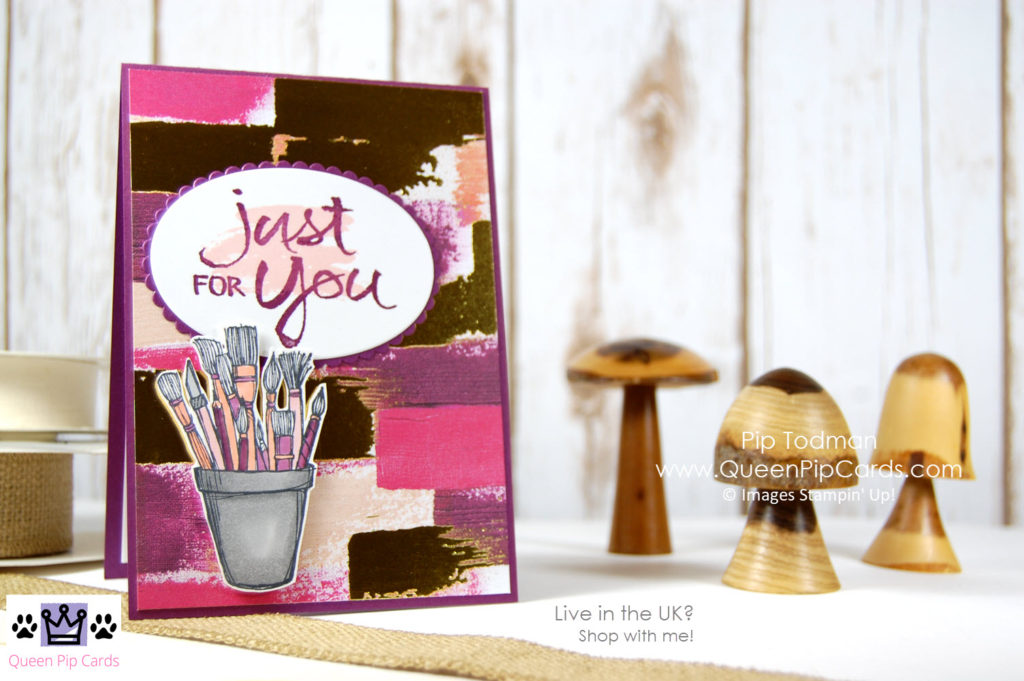 So on with my project for today. It's not what you immediately think of when you see the theme Love and Appreciation, but bare with me! It's made with Painted with Love Speciality Designer Series Paper. It also uses the Crafting Forever stamp set image "made with Love" a bit of a stretch? I don't think so, especially when you consider the main thought – do something creative everyday. That in itself speaks to me of love and appreciation of the creativity we all have and show through our card making. We send cards to share love with others and as a demonstrator I love what I do and share what I love … in this I (we all) make a difference. If that's not love and appreciation I don't know what is! Stampin' Up! themselves have the #makeacard #sendacard hashtags to remind us making cards is not enough, we need to send them too! Thus spreading the love as widely as possible!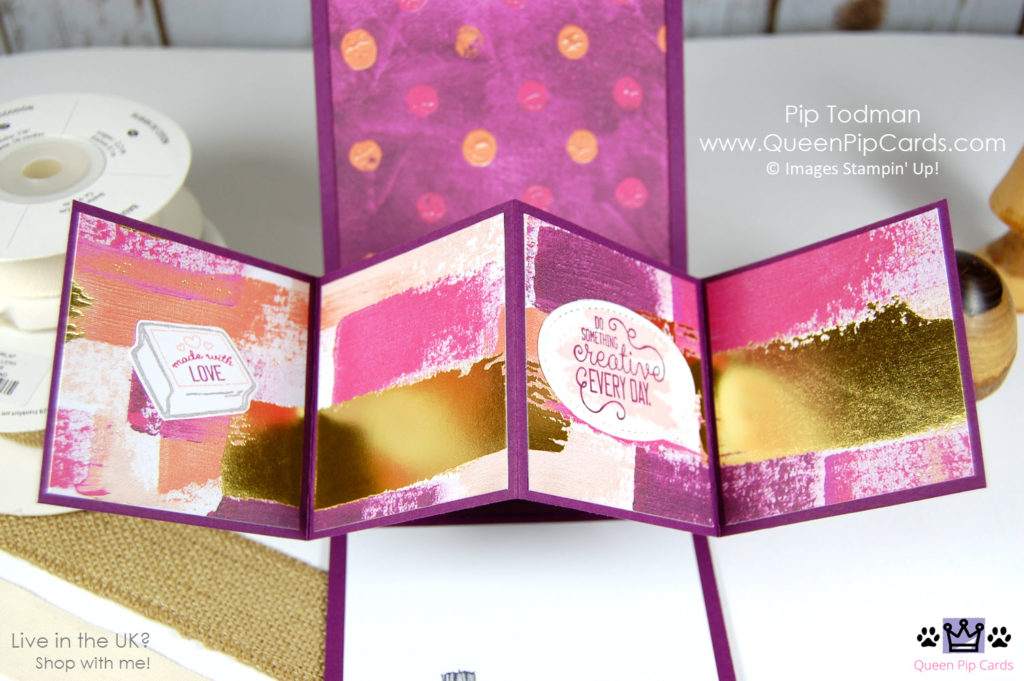 Pop Up Card
This card design was inspired by my teamies Mitosu Crafts (they're so clever) and was also one of the techniques at our Moving / Popping Card class in early January. That one I made with Eastern Palace and I wanted to make a more girly version, so of course Painted with Love Speciality Designer Series Paper was the answer.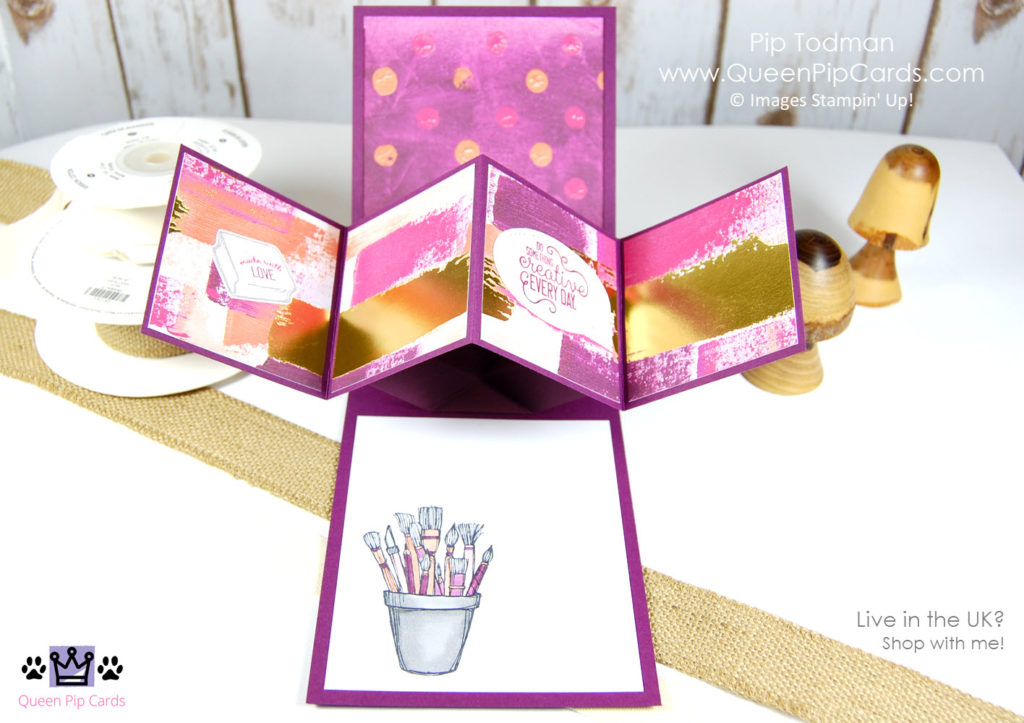 Queen Pip Tip:
The most important thing for these cards is to make sure the mechanism is working correctly, if it sticks or doesn't close flat, it detracts from the overall effect. Once you've got that sussed, the decoration is just a lot of fun! I did fussy cut out the paint pot for the front, but it really wasn't as hard as I thought it was going to be! Also, if you don't have Stampin' Blends (why not!!) then you can always use a Blender pen and ink or Stampin' Write Markers instead. I used Smoky Slate, Rich Razzleberry, Pink Pirouette and Calypso Coral Stampin' Blends combo packs here. I did colour in my Handmade with Love using Write Markers from my Many Marvellous Marker collection, but you could just stamp it all in Rich Razzleberry too.
Time to Hop On
I hope you've enjoyed my card design today, if you'd like to leave me a message or ask me a question, please COMMENT HERE I do read and respond to them all. I hope you've been inspired, if you'd like to recreate this card or make a similar flat based one, please see the list of products below which you can buy from me via my Online Store! All the links are below the hop list.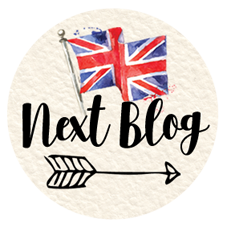 Now it's time to hop over and see what Linda has in store for you.  Until next time, happy stampin!
Blog Hop List
Crafty hugs, Pip x
#QueenPipCards #StampinUp #papercraft #InspiringYourCreativity
Join during Sale-a-bration and get the best offer going! Choose £130 plus TWO additional Stamp Sets (of any value) and pay just £99 with NO shipping charges. THEN get 20% off your future shopping until July 2018! WOW isn't that amazing? No catches, just a great opportunity to get all your favourites at 20% off and join Stampin' Up! and my team the Royal Stampers!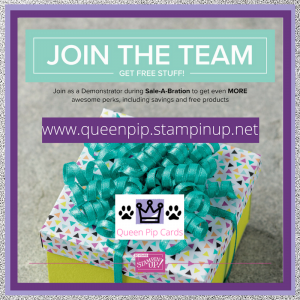 Click HERE to Join my fabulous team the Royal Stampers today or Click here to read about us!
Use my Monthly Giveaway Code for all orders under £150 in the Host Reward box on your Basket screen online. I will send you a special thank you gift from me. Ordering over £150? Keep the rewards for yourself & still get my gift! Click here to read more .
Fill in the Subscribe form below to keep up to date with all the news and get exclusive projects from Queen Pip Cards