Today I'm sharing my top 5 product picks From Stampin' Up! of all time! I've been a demonstrator now for 6 years, but some things are timeless and I just could not be without. It's not just me either! I asked my customers recently what they loved the best and all of these were on the list! So what are my top 5 product picks?
Stampin' Scrub & Mist
Stampin' Trimmer
Paper Snips
Piercing Tool & Mat
Write Markers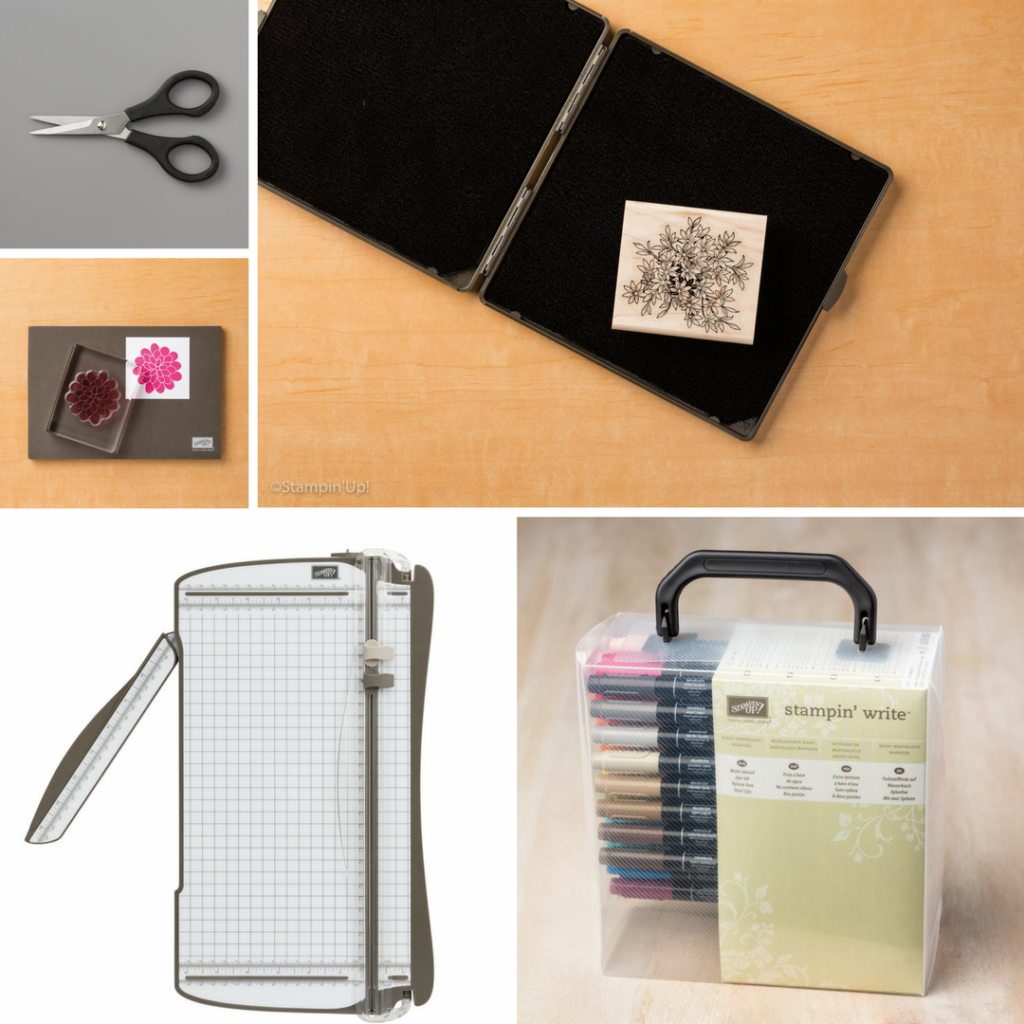 So now you're saying – what? No stamps? No dies or punches? Nope! Don't get me wrong I LOVE all the stamps, ink and paper. I LOVE the coordination that is designed throughout everything, but these 5 products have stood the test of time, I use them EVERY day and I couldn't be without them. Isn't that what a top pick should be? I could actually have picked at least 10 for my top picks list – so I'll do my next 5 another day, but these totally changed my world.
Why Are These My Top 5 Product Picks?
Let's take them one at a time!
Stampin' Scrub & Mist – this changes your life! No more messy baby wipes, no more stray hairs on your stamps! Just scrub & dry and your stamps are kept in tip top condition! Every stamper I show this to has to have one!
Stampin' Trimmer – I can cut an A4 European piece of cardstock in half without getting the arm out. Says everything!! You can also score with it, it's sturdy and just copes with everything I throw at it. You do need to change the blades regularly because they're so fine, but it makes up for that in so many ways!
Paper Snips – best scissors I've ever purchased, and I have quite a collection! Cuts right to the tip, stays sharp, easy to clean, comfy handles!
Piercing Tool & Mat – Use the piercing tool to pick up Basic Jewels and make placement easy, use the mat to get perfect Photopolymer stamping every time!
Write Markers – Colours on the go! Take them anywhere and always have the colour you want! Use them on our stamps, with blender pens or just on their own to journal – AMAZING!
So that's my top 5 product picks from Stampin' Up!, what are yours? I'd love to hear. Comment below or add to the post thread on our Crafty Corner Facebook Group! If I've convinced you, then you can purchase any of the items listed in the product table below, just click to shop, and don't forget to use the Monthly Giveaway Host Code (see below).
Crafty hugs, Pip x
#QueenPipCards #StampinUp #papercraft
– Use my Monthly Giveaway Code for all orders under £150 in the Host Reward box on your Basket screen online. I will send you a special thank you from me next month. Click here to read more .
– Click HERE to Join my fabulous team the Royal Stampers today! Just £99 for £130 worth of products! Click here to Join now! or Click here to read about us!
– Fill in the Subscribe form below to keep up to date with all the news and get exclusive projects from Queen Pip Cards