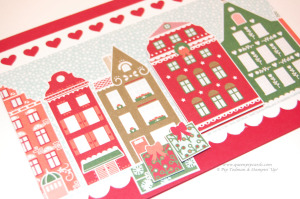 Hello everyone, what a great way to kick off November – my Christmas Special Event was held yesterday and we had a blast! 16 crafters in a room, carols, songs, mince pies, cake and crafting – what more could anyone want? Oh yes tea & coffee and CHOCOLATE – plenty of that too! A special mention has to go to Lou's Millionaire's Shortbread and Rachael's Christmas Stars – yummy! Everyone got a table gift in a Curvy Keepsake box made out of some of Stampin' Up!'s retired Christmas papers – which, of course, also contained chocolate!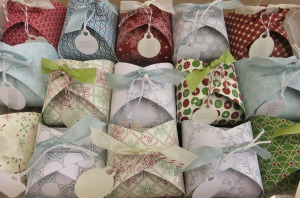 They were lining the hall outside as we'd shut the doors to make sure we were all set out, everyone had a pack and everything was ready … 3, 2, 1 let the crafting begin!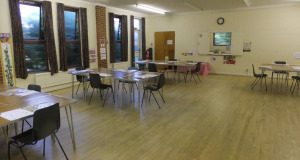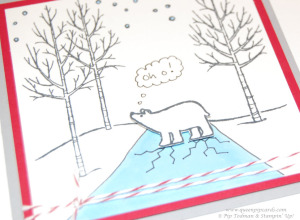 The packs were HUGE and the number of projects matched them! Everyone got the White Christmas Stampset as part of their kit, which I LOVED as soon as I saw it.
In fact, as soon as I saw it … this card popped into my head – I just love polar bears on the ice and sometimes, it's a bin thin! They're so funny when they realise that it's about to go & they're going to get wet!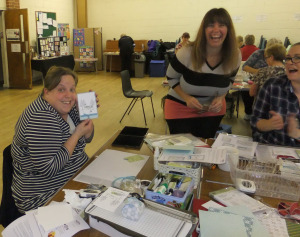 Everyone certainly loved the stampset … and were very chuffed when that first card was made & they were on their way! Jane was a "little" over-excited as it was the first time she'd crafted since Convention 2 weeks ago – a little crafters withdrawal there I think!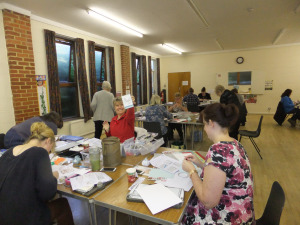 There were boxes too (of course) and bag tags / toppers. This one was based on measurements from Pootles.co.uk and I really loved it because it opens at the end – which is different to a lot of boxes you see designed.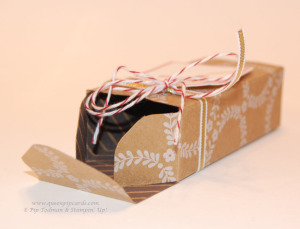 It's really sweet and only made from one 6″ x 6″ square of the new Under the Tree Speciality Designer Series Paper, so you can get a LOT of these boxes out of a pack – 48 in fact if you wanted to! A bit of ribbon and a matching tag and you're set. These would also make great place settings – especially for a set of male guests.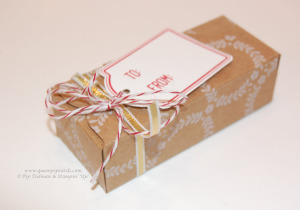 I designed 8 cards, 2 of which were not for Christmas so people could see that this set isn't just a Christmas one – although that is its main purpose obviously. Anyone who loves nature or has an autumn birthday would suit this set – and although I used it here as a retirement card, you could easily have it as a birthday instead.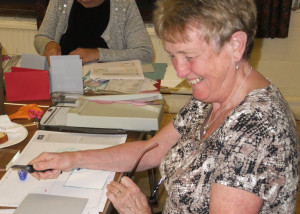 And class wouldn't be class without Barbara and her amazingly dangerous looking knife! It was her mum's and she uses it every time. So I finally managed to snag a shot! She's very happy with it! I think it's a paring knife in real life, but apparently it works brilliantly for red tape, card stock or anything that gets between her & her crafting!
Finally, I have to show you the fabulous Curvy Keepsake boxes again, this time done with our gorgeously lush Vellum and with little LED Tea-Lights inside – I just LOVE these.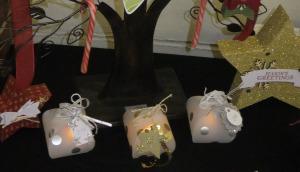 I don't want to share ALL of my projects now, I'm saving some for my run up to Christmas blog which will count down the first 12 days of December, along with some of my Project Life memory keeping, so keep an eye out for that.
If you want to purchase any of the products used in any of the projects above, then please scroll down and click on the associated links which will take you straight to them in My Shop – alternatively just hop over to My Shop and browse away!
In the meantime I wanted to let you know of a new Event just announced, I've added this class as all my other classes are now fully booked and people were still wanting to do some Christmas preparation – so in response I've come up with ….Pip's multi class – Sunday 30th November (just to get your last bits in before the rush), you have 4 classes to choose from, each one lasts just 1 1/2 hours and they'll run alongside each other – so you could only sit 2 classes on the day – but you can pay for all and take 2 home if you wish. Or you can just book in to do one if that's all the time you have!
You can do either Class 1 or 2 between 2pm – 3.30pm and either Class 3 or 4 between 3.40pm and 5pm.
Class 1 – Christmas Winter Wonderland (2pm – 3.30pm)
4 cards of different designs with a watercolour theme
Everything pre-cut and ready for you to colour and stamp
includes envelopes so you leave with 4 cards ready to send
You may need to leave some to dry off on the way home!
Class 2 – Tags for Christmas (2pm – 3.30pm)
Enough to make 20 tags (minimum) and matching box to keep them safe
Uses the All is Calm DSP colour-way
You may not finish all 20 on the day!
Class 3 – Home Decor or Gift Giving for Christmas (3.30pm – 5pm)
Make 5 of the Many Merry Star Boxes – one of each size & colour (mixed)
All the supplies provided including Hot Glue gun for extra strength if stuffing with heavy items
Class 4 – Project Life by Stampin Up Taster Class (3.30pm – 5pm)
See what all the fuss is about with Project Life – or if you're a Project Life guru already start your December memory keeping early, bring your album and some photos and play for 1 ½ hours!
You'll see a demonstration from me on what it's about
I'll show you how the cards can also be used for card making
you'll receive some of the Hello December Project Life Card Collection to use in your albums or use as card fronts instead.
You'll make a card or a mini page spread on the day with your kit
These classes will be mainly self explanatory as everything is provided for you, I will be on hand to help but will be demonstrating Project Life during Class 4, because of this each class is on a LIMITED basis of just 4 people at each class. Note: You will need to be punctual in both arrival and departure as others will be arriving for the second set of classes.
Each class is just £10 or FREE with a minimum order placed that day.
Book your place today before they go! RSVP here NOW & tell me which class / classes you'd like to book – payment will reserve your place and bookings will close on November 15th to enable me to order enough for the classes.
Finally, for those who saw my sneak peek on Facebook – this is the Bag Topper we made, again a mix of Nordic Noel and All is Calm DSP working really well together on the kraft bag background.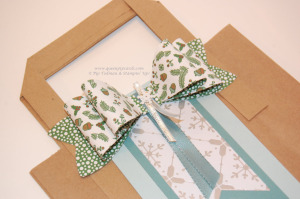 Phew – well that was a long post after all! Thanks for stopping by and I look forward to seeing you soon, in the meantime, happy stamping, love Pip x